I am writing this post from 39,000 feet up! Once again, I am flying high and loving life!
Since I am above the clouds, I felt inspired to reminisce about some of the greatest moments of living my dreams through flight.
I have flown all around the U.S. and traveled extensively on four continents (I have yet to visit Australia, Africa or Antarctica!). Planes make me happy.
I love those hours when you are far above the earth and no one can reach you. Well, of course, now that there is WiFi on airplanes like this Southwest jet, technically you could reach me via email.
But no phone calls, no texting and no need for anyone to know that you are reachable! For me, being up in the air is like a mini-retreat. It's me-time.
I often work on long-term goals; read a spiritual book; or journal about my dreams. I like to feel like I am making giant leaps towards accomplishing all that I dream of when up in the air.
Favorite Flight Memory of All 
I have to say my favorite memory ever on an airplane was the time I jumped out of one. That's right, I chose to jump out of a perfectly good working airplane – who does that?!?
An adrenaline junkie and adventuress like me, apparently!
I have always wanted to jump out of an airplane, but used to think I'd wait until I was 80, had had my kids and grandkids and lived a full and happy life – then skydive! Last year, however, I needed to do something to signify making a quantum leap forward in my life, and skydiving just seemed like the right thing to do.
It took a while to schedule it, because the weather has to cooperate with your jump time. Rain, fog, or too much wind just won't do!
Finally I nailed down a day when I could go with my dear friend Ray. He agreed to go first with the tandem instructor because I was pretty nervous while still on the ground.
I conducted a mini-ceremony for myself, doing a meditation, then writing down all the things in my life I want to give up, as well as all the dreams and qualities I want to claim for myself. I ripped up the sheet of things that I was giving up and threw it in the garbage.
The sheet of dreams I tucked into my jacket, and my tandem jump instructor said he'd help me to unzip the pocket and toss it over the clouds when it was a good time. I'd be releasing my dreams over the clouds and offering it all up to the universe!
Ray jumped first, and when he landed with his hair standing straight up from the wind, was completely exhilarated. I figured that if he made it through alive, so could I.
I was surprised to find that although I was nervous while on the ground, I felt calm as so as the small propeller plane flew up above the Saratoga Springs, NY autumn foliage. We flew around for about 15 minutes just enjoying the views.
Then, the pilot circled back over the main air field, and my tandem jump instructor opened the side door of the plane, while 10,000 up. I felt a total sense of peace and calm envelop me.
My friend Ray had suggested that I close my eyes just in the few seconds as we jumped out of the plane, then open then once in the air. That's what I did, and I was amazed to find myself feeling nothing but peace in those seconds before I opened my eyes again.
At that point, we were free-falling through the clouds. Amazing! It is cold up there, and the winds are rushing at you, but otherwise it almost feels as though you are floating.
Soon after an intense 45 seconds of free fall, my instructor pulled the cord and the parachute popped open. From then on it truly felt as though we were simply floating through the air. I just kicked back, relaxed and enjoyed the views.
Skydiving turned out to be way more fun and paradoxically relaxing for me than I ever imagined it would be. The landing was gentle and soft as well, with my instructor taking the brunt of it, landing on his bum, and me just touching down afterwards.
Easy-peasy. Who knew!
Co-Piloting in Costa Rica
I think my second favorite plane memory was getting to be the "co-pilot" on a small propeller plane while in Costa Rica for a surfing vacation with my family.
Now, I didn't actually get to operate the instruments, but I did get to sit in the co-pilot seat (someone needed to on the small plane which only accommodated six of us). And the pilot took the time to show me what the different instruments do, and to "play pilot" a bit – while of course not actually impacting the course of our flight.
I felt like a little kid whose dream of being a pilot came true for a day! Woohoo!
Flying Reminds Me of Miracles
Every time a plane takes off I feel like I am part of a miracle in action. Here I am, one of a few hundred people seated in a metal tube that is lifting off the ground and hurtling several hundred miles per hour through the air! Tens of thousands of feet up!
I think sometimes we forget how very privileged we are, those of us who can travel, and that 110 years ago, people still traversed the earth via vehicles with wheels, on the ground. Or sailed around the world.
Flying changed everything. Now, friends of mine who are touring musicians and dancers will tour through six cities on three continents in six days sometimes.
It's so fast and easy to reach anywhere on the earth, compared to the past. We are such an interconnected global society!
I am reminded of this, and feel so lucky, every time I step onto an airplane.
The truth is that every trip I make, whether for a writing project, dance event, or family vacation, is part of me living my dream life.
And today I get to write about it via live Wi-Fi! Amazing.
Life is wonderful at 39,000 feet up. Sending love to all of you dreamers from above the clouds!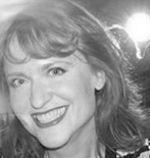 Lisa P. Graham is an inspirational writer, life coach, TED motivational speaker, and globe-trotter whose passion is to help others to find happiness and meaning in their daily lives. A political activist at heart, Lisa would like to empower more women to run for political office as a way to create positive change in the world. You can find her on her website or watch her TEDx speech on YouTube.
Note: Articles by Lisa may contain affiliate links and may be compensated if you make a purchase after clicking on an affiliate link.