Last updated on April 2nd, 2012 at 12:23 pm
When I first moved to San Francisco in July 2005, I was drawn like a moth to the lights, people, energy and Bohemian roots of North Beach.
This is San Francisco's Little Italy, and it is where the Beat poets had lived and spouted out their poems, words tumbling out hot and urgent, creating shocking and sensual, provocative and fierce anthems for the era.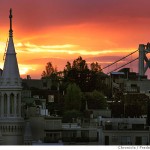 I had looked at other neighborhoods, but none "felt like home." I almost took a studio apartment in the Marina, and then got claustrophobic — it literally felt like the walls were collapsing in on me.
Later I would learn that that part of the Marina was hardest hit in some earlier earthquakes, and that part of the city could potentially be hit hard again. It was as if I felt the future quake, and wanted out!
I Feel My Way Home…
Periodically I get little flashes or visions like this that lead me to where I will land next. This was how it was for me with North Beach — I would walk along Columbus Avenue in the evenings, and see the twin spires of St. Peter and Paul Church and the phallic rise of Coit Tower, lit up against the night, and know that I was home. I felt it in my bones.
I would later learn from my grandmother, my dad's mother, that her great-grandparents had lived right where I lived, at the foot of Telegraph Hill, generations earlier. She said they were told that if there was an earthquake they were supposed to join hands and run to the top of the hill, where they would be safest.
I somehow found my way back to the land where my ancestors had lived, without ever realizing that we had any roots in California (as far as I knew, my whole family was from the East Coast and Mid-West).
I remind myself of that today as I feel my way into the next steps of my life, which include finishing this book. Writing a book is a big undertaking, and a long process.
Creating, One Step At A Time…
I am walking through it a step at a time. I am definitely not immune to self-doubt — it creeps in sometimes — the nagging voices that ask me who do I think I am to try to write this book, when will I ever finish it anyhow, will it be any good?
And yet I keep on going, knowing that my instincts are leading me to write this now — it's just part of what I feel called to do in the world.
Following My Instincts…
Today I followed my instincts to find my new "writing home," a cute little café in Cohoes, New York called Bread and Jam. I normally go to a downtown Troy café to write but today wanted to venture somewhere new.
I had a vision in my head of curling up on a cushy red couch, feet tucked underneath me, feeling content as my hands flew over the keyboard, creating. I instinctively decided to go to this café that I had heard good things about, but never visited. I didn't know how to get there but figured I'd find my way.
And indeed I did — I "felt" my way to downtown Cohoes by following the highway signs that seemed to make sense. I parked in front of Bread and Jam, grabbed my computer, and walked inside.
Sure enough, halfway across the room was a large red plush couch, the kind you just sink into. And when I settled into its soft velvety cushions, it felt how I knew it would feel.
There was great jazz music playing in the background, and hot chocolate flavored with Nutella (heavenly!). I think I've found my new writing home for a while.
Trust The Magic…
I have to keep the faith that life will unfold as it should, and that if I keep "feeling my way" with the book as I have always done with life in general, I will be where I need to be.
How has following your instincts created magic in your life? And where do you feel led to go, what do you feel led to do, next?
Lisa

(Lisa has launched her dream by signing up for Ellen Sussman's "Memoir-in-a-Year" class, speaking her story out loud at a Take Back the Night rally, and committing to a regular writing schedule – 50 pages completed by December 5th, when she also turned in her first book chapter! Her next milestone is to have 100 pages completed by February 6th. Being invited to join 8womendream.com was a dream come true, and she looks forward to chronicling her writing process. Lisa is currently bi-coastal with her home in historic Troy, New York and her heart in San Francisco.  Lisa's post day is Tuesday).
DREAM GOAL:Â  NOVEMBER 01, 2010 COMPLETED MEMOIR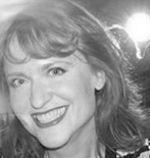 Lisa P. Graham is an inspirational writer, life coach, TED motivational speaker, and globe-trotter whose passion is to help others to find happiness and meaning in their daily lives. A political activist at heart, Lisa would like to empower more women to run for political office as a way to create positive change in the world. You can find her on her website or watch her TEDx speech on YouTube.
Note: Articles by Lisa may contain affiliate links and may be compensated if you make a purchase after clicking on an affiliate link.