Last updated on July 27th, 2014 at 10:24 pm
The traveling bug has hit me again.
Part of my dream is to go to Japan in the near future. I don't think it will be this year so I am planning on going in 2011.
So this year I am thinking of littler trips. Well, maybe not so little. A cruise to Alaska is one goal. Taking my kids to see the Grand Canyon is another. And finally taking them to Hawaii is another.
My husband has stolen my New York dream, and wants to take my youngest daughter there this year. Well, actually, it was my daughter's idea to take my husband, but I agreed. He needs to go somewhere and experience an adventure with his children. Plus, I'll get a week to myself without him. Â A little bonus…haha.
So we'll see where this year leads us.
Meanwhile, I'm still enjoying exploring Northern California. If you're wondering why you're living here with all the high costs of living, just take a drive around Alexander Valley and Napa Valley. Even in January it's breathtaking.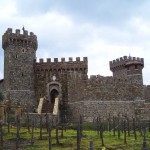 We took a little road trip to Castello Di Amorosa in Calistoga this weekend. Talk about a crazy dream! Building an authentic medieval castle in the middle of nowhere as a winery takes guts! And it's beautiful. The chocolate wine tour was wonderful. I would recommend the tour just to see the underground cellar. Amazing! They even have a dungeon.
As for the other part of my dream to get healthy, I am doing pretty good. Â I'm cutting back on sugar and fat and trying to exercise. As Catherine says, the Bay to Breakers is a great goal for all of us, and I want to make it to the end of the race!
Last but not least, I'm still plugging along with my Graphic Design job hunting, sending out resumes and trying to get interviews. Not a fun process, but it must be done.
Enjoy your week, and take a little time to discover your own neck of the woods! You'll be amazed at what you find.
Till next week,
(Kim has already accomplished her first big dream by traveling to New York with her teenage daughter June of 2009. She lost 20 pounds and overcame her intense dislike (do we say fear?) of flying to accomplish that dream. She rotated off the blog in February 2010, but still hangs out with 8 Women Dream.  You can find her in the comments section)

Enjoy this special 8WomenDream Guest Contributor story submitted by new and experienced big dreamers throughout the world, edited and published to capture a dream perspective from different points of view. Do you have a personal dream story to share with 8WomenDream readers? Click here to learn how to submit dream big articles for consideration.
Note: Articles by Guest Post Contributors may contain affiliate links and may be compensated if you make a purchase after clicking on an affiliate link.