Last updated on January 22nd, 2019 at 01:57 pm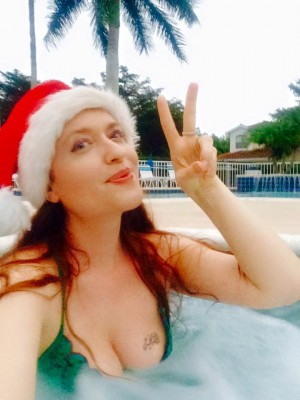 NOTE: I am updating this holiday-themed post from two years ago with new photos and news, while my family is busy celebrating Christmas in Florida again! Wishing everyone great blessings, abundance, love, peace and joy during the holiday season and always.
Once again, my "White Christmas" this year will consist of white, sandy beaches, edged by palm trees, balmy weather and lots of sunshine. I am finding lots of happiness in a nontraditional Christmas this year!
For me at least this is "nontraditional," although of course for people born and raised in Florida this is simply the usual. For me, palm trees wrapped in Christmas lights is still a beautiful novelty.
A Lifetime of Snow!
I was born in Chicago, also known as the "Windy City," which of course has blustery, freezing winters and obscene amounts of snow. My parents moved to Massachusetts by the time I was two, meaning more snow and winter cold.
As an adult, I have gone to college in New Jersey and graduate school in Boston, and lived mostly in upstate New York, with a three-year stint in San Francisco. With the exception of this winters in California, which were snow-free and often sunny, this meant a lot of cold, and a lot more snow.
At some point, however, I started turning into a "snowbird," following my family's lead and escaping to warmer climates for the holidays. I have done this for about 10 years in a row now.
Destinations have included: Argentina (three times), Hawaii (twice), California and Florida.
80 Degrees and Sunny!
We lucked into beautiful weather this Christmas here on the Southern Gulf Coast of Florida. It's been about 80 degrees and sunny for the past week.
I've been taking advantage of the gorgeous weather with lots of time outside under the palm trees, going on nature walks, and relaxing at the pool and hot tub. Frankly, it has been glorious!
I do not miss the snow or cold. I'm really okay with celebrating the holidays with "Beach Santa" in a place of warmth and sunshine.
I don't mind spending Christmas in a bikini!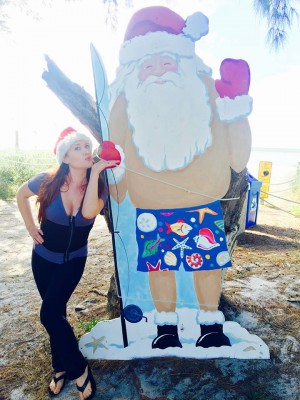 Low-Key Time with Family
For my family, the holidays are more about our time together, and less about the presents. We've generally not exchanged much in the way of gifts for the past few years.
We still decorate a tree and string up Christmas lights. I've been walking around wearing a Santa hat for the past week as well, and will wear it for as long as I can get away with it.
Tonight we are hosting a huge family dinner with aunts, uncles and cousins who all flew into town from various parts of the country to enjoy a Florida Christmas. There will be 13 of us.
I bought sequined jewel-toned Santa hats for the women and elf hats for the men. I'll be wearing my Santa dress and maybe a turquoise sequined Santa hat.
We'll be doing a "Yankee Swap" gift exchange and also sharing our goals for the coming year. I'll be sharing more about that in next week's blog!
In this moment now, I am happy to be with people I love, in a sunny place, having fun.
This week's post is shorter than usual, since we're busy celebrating. Just wanted to wish you all the merriest of holidays, whichever holidays you celebrate, wherever you are!
May this season of miracles bring you love, joy, peace, abundance and the realization that you are a miracle and life is a miracle. Wishing joy to the world!
Love to all!
Lisa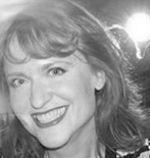 Lisa P. Graham is an inspirational writer, life coach, TED motivational speaker, and globe-trotter whose passion is to help others to find happiness and meaning in their daily lives. A political activist at heart, Lisa would like to empower more women to run for political office as a way to create positive change in the world. You can find her on her website or watch her TEDx speech on YouTube.
Note: Articles by Lisa may contain affiliate links and may be compensated if you make a purchase after clicking on an affiliate link.