Last updated on January 22nd, 2019 at 02:08 pm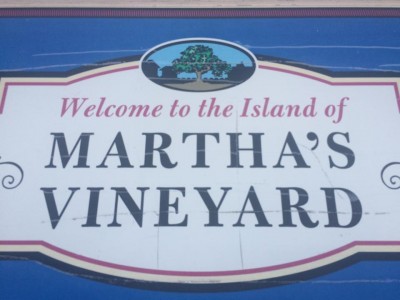 April in New England might not be the time and place that one would imagine taking a "beach getaway vacation" for a long weekend. But my best friend recently move to Cape Cod, Massachusetts, and we spent this past weekend by the ocean, on a boat, and on an island.
It was lovely, and a fun way to rest and replenish after a busy birthday week. I find happiness in all of my travels and adventures, and have always felt especially happy and at peace when around the ocean.
Island Getaway!
When one thinks of an island getaway, one probably envisions the Bahamas or Puerto Rico, white sandy beaches, turquoise waters and frozen drinks with umbrellas in them. April on Cape Cod and the surrounding islands is hardly balmy, and it's not bikini weather.
The temperature was in the 5os most of the time that I was there. We wore sweater and jackets and our long hair was whipped around by the wind.
But it was still sunny and beautiful, after a long, cold, brutal New York and New England winter, and being near the water is a balm for my soul no matter what the temperature.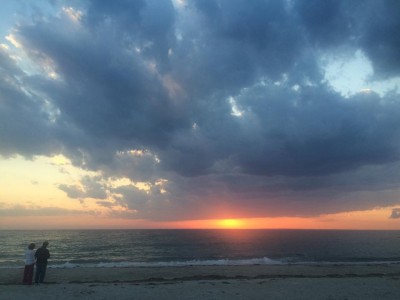 Walking To The Beach!
My best friend Stephanie moved to a cottage that is a ten-minute walk to the beach in one direction, and a 20-minute walk to an even more picturesque bay beach in the other direction.
I arrived in North Falmouth, MA, where she lives, about a half hour before sunset on Saturday evening. We headed straight for Old Silver Bay beach, which faces due west, to catch some of the evening's glory.
It was without doubt one of the most spectacular sunsets I have ever witnessed. The sky was streaked with pink and orange, and the sun was a glowing ball of red fire.
There were sailboats on one side of the bay, cliffs on the other. A bride and groom ran past us, barefoot, en route to get their photos taken in front of the setting sun.
We posted for best friend pics and selfies in front of the brightly painted sky. I kicked off my flip-flops to feel the bare sand underneath my toes and dashed in and out of the ocean, getting splashed by the small waves, squealing at the cold temperature of the water.
We had a low-key Saturday night after that, grilling vegetables on the back deck at Stephanie's cottage, enjoying a vegetarian meal with Steph's dad, girlfriend Ashley and father Bob who was visiting as well. Everyone was tired, and we crashed early.
Off To the Vineyard!
Sunday, we headed to Martha's Vineyard, an island enclave frequented by many celebrities and politicians including the Kennedy family in the summer. We were visiting off-season of course so the island would be quieter than normal.
The ferry ride was still crowded, with the lower deck packed with cars and the upper decks full of island-goers like us, in sunglasses, hats and windbreakers.
The temperature was in the 50s and it was windy on the boat, but the sun was bright, blazing down from above onto the top decks. I ended up getting a sunburn all over my chest, because I forgot to put sunburn on my neck and upper chest (I always wear SPF 50 on my face every day of the year, luckily).
The ferry ride took about 45 minutes before we pulled into the dock area to disembark on the famous island. We immediately headed for lunch at the iconic Black Dog Tavern, which is located just a few hundred feet from where the ferry pulls in, right on the water's edge.
We were lucky to get a corner booth in a far corner of the restaurant, with no wait, which I am sure is rare during the busier summer season. We had views of the water, sailboats and the bustling restaurant, with its wood beams, nautical décor and windblown tourists.
I resisted the temptation to get the famous fish & chips since I am still eating vegan after converting to it during Lent. Instead I split a large garden salad and a quinoa and roasted veggies platter with my best friend.
Then we were off to explore the island!
Gingerbread Houses on Oak Bluffs
Our next stop was to go check out the aptly named, ornate and colorful "Gingerbread Houses" on Oak Bluffs. These adorable cottages have intricate wood work, bright and pastel-colored trim, and are a gorgeous adornment to the island's ocean views and parks.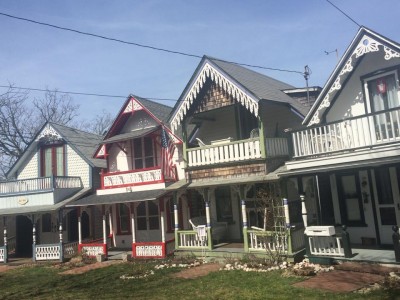 I fell in love with several of them, and decided that renting or buying one someday may have to be added to this girl's bucket list!
We wandered around Oak Bluffs, snapping pics of the charming, colorful cottages for a while, then headed back into the Vineyard Haven "downtown" of the island. Steph and I poked around a few shops, and found some steals at a vintage shop.
For $18 total, I got a new Irish knit sweater in blues and greys that bring out my sky blue eyes, as well as a turquoise knit sweater. Steph found a cute new dress.
I picked up a few new fashionable pairs of sunglasses too for $18 apiece.
Home to Relax!
We took the 5 p.m. ferry home, enjoying more time outside in the wind and sun. The sun and wind always wear me out, so I conked out and took an hour and a half nap when we got back to Steph's cottage.
Dinner was Thai food, ordered from the next town over, and we watched the movie Big Eyes.
Monday was a holiday in Massachusetts, and we spent a leisurely afternoon poking around the town of Falmouth. We had a vegan lunch at the Pickle Jar Kitchen, and I bought yet a few more pairs of stylish and fun sunglasses for $10 apiece.
I took off by 3 p.m. so I would have time to drop Stephanie's Dad at the bus station in Springfield, MA. It was a fun, relaxing, replenishing few days.
Mini-adventures and road-trips have always been a source of happiness for me! To all the future Cape Cod and island adventures with my BFF!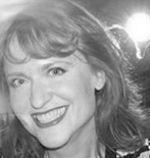 Lisa P. Graham is an inspirational writer, life coach, TED motivational speaker, and globe-trotter whose passion is to help others to find happiness and meaning in their daily lives. A political activist at heart, Lisa would like to empower more women to run for political office as a way to create positive change in the world. You can find her on her website or watch her TEDx speech on YouTube.
Note: Articles by Lisa may contain affiliate links and may be compensated if you make a purchase after clicking on an affiliate link.