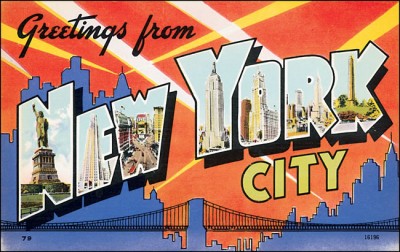 Last week, I took a business trip to New York City, and it turned out to be one of my most fun trips to the big city, ever. This week, I'm sharing stories of finding happiness in the Big Apple, even in the midst of a giant snowstorm, which honestly just added to the drama and fun.
I love it when the universe seems to be conspiring in your favor to make everything run smoothly for you. This trip was one of those times.
I'd originally planned to drive down to the city, which is what I usually do. At the last minute, I decided to book myself a seat on an Amtrak train, and luckily found one that fit into my schedule.
This ended up being my smartest move of the trip, since the snow would start to fall later that night and turn into a windy blizzard the next day. Dealing with a car in New York City under those conditions would have been a nightmare.
Staying at the Gershwin
I had booked myself a room for two nights at the Gershwin Hotel, which is the only nice hotel I've ever found in New York City where you can get a room for under $100 a night. Not only that, but it's an Art Deco hotel run by and full of Europeans.
And it's walking distance from Penn Station, and miraculously also ended up being only a six-block walk from where my business meeting was taking place the next day (I hadn't checked exact distances until I arrived in NYC and then was amazed to realize how close I was to where I needed to go).
There is also an awesome cafe on the ground floor of the Gershwin, called The Birch. Like the hotel, it was full of Europeans, and served strong coffee, breakfast sandwiches, and a few vegetarian healthy lunch options.
There was also a second floor "Library" with a balcony overlooking the cafe, which I discovered on the second day I was there. You can grab a table next to the bookshelves lining one wall, like I did, and peruse the shelves for something fun to read while sipping your mocha.
I even got to practice speaking Spanish, which is one of my big goals for the year, because a number of the hotel staff were from Spanish-speaking countries. I love busting into Spanish and surprising people who don't expect this petite blue-eyed redhead to speak Spanish with an Argentinian accent.
Happy Surprises
The trip was full of happy surprises.
I took the train to the city on Monday to be ready to go for a Tuesday morning business meeting. On the way to New York City, a  green-eyed artist  from the Bronx sat down next to me.
We ended up talking for most of the train ride, trading life stories. It's been a while since I connected with someone while "in transit," and it's always fun to learn more about someone while on a journey to wherever you're going.
My new artist friend walked me to the hotel when we got to New York City, carrying my suitcase for me. We became Facebook friends and agreed to hang out in the city if I had the time during this trip.
I got settled into my hotel, then headed out to grab dinner at a vegetarian restaurant that friends had recommended. Angelica Kitchen is a New York City landmark for vegetarians, apparently.
Making New Friends
I sat at the communal table, which is another famous Angelica Kitchen tradition. It's a big wooden table that seats seven people, and then you can choose to make new friends while having lunch or dinner, if you want!
I started chatting with the gentleman to my left, who was from Venezuela (of course!) so I got to practice my Spanish some more. He'd been coming to Angelica Kitchen for 20 years, and recommended several dishes to me.
We talked about a small fishing village I'd visited in Venezuela years ago, and he told me more about the best vegetarian restaurants in NYC. He gave me a bite of his chocolate almond pie that he had for dessert – swoon-worthy!
After he left, a woman sat down next to me on my right. Turns out that she was from Puerto Rico and her boyfriend is from Spain.
We talked about my trip to Puerto Rico, when I went swimming in the bioluminescent bay. She is from LA, and was in New York on a business trip too.
As it turns out, my new friend is the make-up artist for a big Hollywood TV star. She follows her around and does the make-up for all of her major events.
It sounded like such a fun job! She said that she had to come up with new looks for her actress for every event, and that kept things interesting and fresh.
I loved meeting a successful female entrepreneur, living her dreams in the big cities: NY and LA.
Knocking It Out of the Park!
My business meeting was the next day. When I woke up, it was snowing, hard.
It was a morning of cold wind and driving snow. I was so thankful that my hotel was only six blocks from my meeting, because cabs were hard to come by, and traffic was stopped on some NYC streets.
I popped open a big black umbrella and headed out into the fierce snow. I felt like such a hard core New Yorker, trooping through harsh conditions in my Calvin Klein suede high-heeled boots.
I made it there five minutes early, proud of myself for braving these conditions, still dressing professionally, and making it work! I then proceeded to rock a five-hour consulting meeting.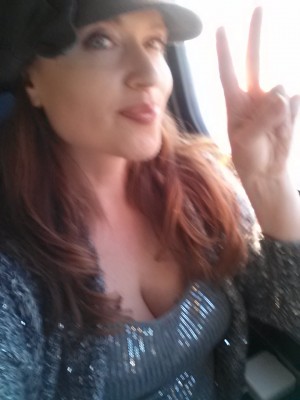 Getting the Job Done!
This new consulting work, with a philanthropic mission, is something I'm really excited about. And I got great feedback from my consulting partner.
"That was perfect!" he said at the end of our meeting. "That was exactly what I hoped for. Couldn't have asked for more."
I was pretty happy with that feedback! I'll take "perfect"!
I was in such a celebratory mood after that. I had to go change out of my business dress and get dressed up in sequins!
I put on black tights, a sequined silver skirt, a silver sweater, and black furry snow boots. Ready to tackle this evening while sparkling!
My new artist friend from the train was available to hang out, so we decided to visit the Museum of Sex, which was just a few hundred feet away from my hotel. That made for an entertaining hour or two!
Afterwards, we hung out at Play Cafe next door, which has little couches tucked into nooks, surrounded by bookshelves on two sides that were filled with erotica. We split a spiked hot cider and some Spanish piquillo peppers stuffed with cheese, and a mozzarella-like cheese served with sliced roasted pumpkin, pea shoots and a drizzle of honey.
Then it was back out into the snow to go meet another dear friend, who thankfully  lived only a few blocks from my hotel as well. My artist friend and I trudged through the still-falling snow.
The streets of New York were deserted, and the swirling snow against the streetlamps was breathtakingly beautiful. It was a glorious evening.
I met Cindy at the bar Grace on 3rd Street and had another spiked cider. We caught up and traded stories; it had been a while since I've been in the city.
The Most Perfect Trip!
I had brunch the next morning with a friend at a fantastic vegetarian Korean restaurant in "Korea-Town." They had us take off our snow boots, and the tables had wells carved underneath them where you rest your stockinged feet.
I had a sizzling tofu clay pot with veggies and rose tea. When we finished we dashed out to attempt to make it to my train on time – and made it with just 60 seconds to spare!
The train took off literally just after I sat down. Phew!
I moved to the cafe car soon and worked on the train on my laptop, while watching the snow-covered Hudson River roll on by. I was still in such a good mood from the day before that I'd opted to wear a silver sequined tank top and sparkly sweater.
The sunlight pouring in the train window reflected off my sequins and sparkled on the window of the train, sparkling like diamonds, like light dancing on the surface of the river.
The train ride home was the perfect ending to a fun and productive visit to one of my favorite cities, New York City! It was a reminder that synchronicity is a good sign that you are on the right path, and that happiness is wherever we look for it.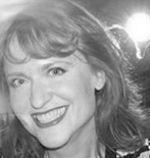 Lisa P. Graham is an inspirational writer, life coach, TED motivational speaker, and globe-trotter whose passion is to help others to find happiness and meaning in their daily lives. A political activist at heart, Lisa would like to empower more women to run for political office as a way to create positive change in the world. You can find her on her website or watch her TEDx speech on YouTube.
Note: Articles by Lisa may contain affiliate links and may be compensated if you make a purchase after clicking on an affiliate link.