Last updated on October 2nd, 2011 at 01:18 pm
I've been falling prey to the tyranny of my own expectations in writing my book — which I want to be inspiring, touching, moving, canonized as great literature, funny, witty, ground-breaking, etc… Yet it can be difficult if not impossible to sit down to write a page if you hold the expectation that this book must be a masterpiece.
Perhaps I need to learn from Salvador Dali here who said, "Have no fear of perfection — you'll never reach it."
Even Spiritual Leaders Aren't "Perfect"
I just read a terrific memoir by Brad Warner (Zen Wrapped in Karma Dipped in Chocolate: A Trip Through Death, Sex, Divorce, and Spiritual Celebrity in Search of the True Dharma). His specific purpose in writing this book, as he describes it, was shattering the false expectations and ideals that people have about spiritual teachers in our culture.
Yes, they are human, he says. Yes, they sometimes screw up. He didn't hide his own difficulties or mistakes — he laid it all out there for the reader to experience.
Letting Go of the Need to Look Good
Reading Warner's memoir helped me because part of what I am confronting is letting go of the need to "look good" for the reader when recounting stories from my past. I'm revealing some raw and frightening episodes from my own life, and when you do that, you have to let go of attachment to image.
Warner shattered the reader's possible expectations of a "perfect" spiritual teacher by acknowledging that he wasn't one. I am going to have to release my own need to look good and shatter the illusions anyone out there might have that I'm anything less than totally imperfectly human.
Of course, I am probably the only one who ever harbored any delusions that I am or ever could be "perfect" (whatever that means!) — most people probably saw through that act long ago. I just had to release my expectations for myself of this imaginary ideal of "perfection."
Differentiating Between Expectations and Possibilities
Meditation teacher Phillip Moffitt distinguished between expectations and possibilities in a 2004 Yoga Journal article that I read while working out on the elliptical machine last week. I'd just plucked the magazine randomly off the rack at the gym – funny and wonderful how the right article always shows up at the right time!
Moffit says, "In contrast to expectations, possibilities are based in the present moment, where you're alive to the mystery of life. You live as fully as you can in the present moment based on your values, which reflect your preferences for the future, but you do not assume that the future will come to pass, because you realize that the future is unknown . . . Real joy, then, is that which is available to you right now."
Living Life As It Unfolds…
Moffitt adds, "Living a life that is open to possibilities is more like a request, a prayer, or an act of witnessing your faith in life. Your well-being is not contingent on the future. Your mind is open and inspired in this moment. You therefore have more access to imagination and intuition. Your mind is clear and less reactive, and you make better decisions. You respond rather than react to life as it unfolds."
Moffitt says we can only we be free when we are released from the tyranny of our own expectations — and I agree.
Moffitt ended the article with a favorite poem of mine by the 14th century Persian poet Hafiz: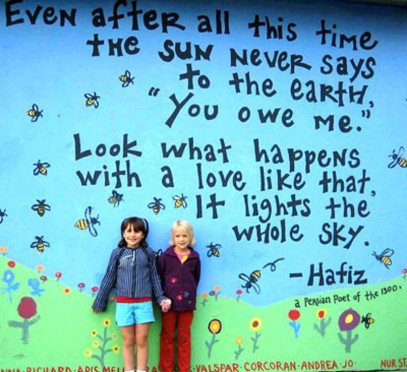 That to me is what the experience of love, dreams, and life, is all about.
Can you practice releasing expectations of yourself and others this week, and see what arises? I find so much more joy when I have no attachment to what happens and simply show up for life.
Let me know how it goes for you this week too! When have you freed yourself from the tyranny of expectations?
Lisa

Lisa Graham is an inspirational writer, life coach, motivational speaker, and globe-trotter whose passion is to help others to find happiness and meaning their daily lives. A political activist at heart, Lisa would like to empower more women to run for political office as a way to create positive change in the world. You can find her on the Madam President Project or watch her TEDx speech on YouTube.
Note: Articles by Lisa may contain affiliate links and 8WD will be compensated if you make a purchase after clicking on an affiliate link.