Last updated on December 8th, 2013 at 11:05 pm
Last weekend, I headed down to New York City from upstate New York for some Halloween festivities in the big city. There is nothing quite like Halloween in NYC!
It made me think about the possibility of reinventing ourselves on Halloween, or anytime that we want to make shifts in our lives. "Playing dress up" is a fun way to be someone else for a night, and a good reminder that we can create ourselves anew as whatever we want to be any time of the year.
It's up to us to decide who we want to be, and then to dress and act the part!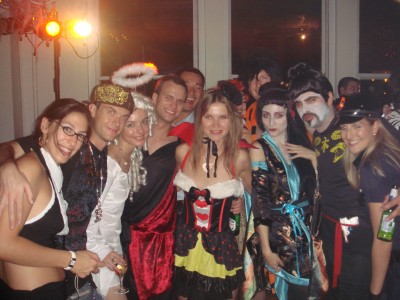 A Wild Night in NYC
My best friend and I got into the city at around 10 p.m. after attending a conference in Kingston, NY during the day. We'd stopped for dinner first at a Persian restaurant in New Paltz, New York.
We then headed into Manhattan, and changed into our costumes at our friend Alex's house, where we'd be spending the night. Stephanie dressed as Disco Catwoman, wearing a little black outfit with silver rainbow accents that gave it a disco ball effect. She wore little cat ears that she'd made out of black washcloths and cardboard. She used black eyeliner to give herself a little black nose, whiskers and pointy cat eyes.
I was thinking that my odd little assembled outfit could be a Rock Star Angel, since the top I was wearing had silver sequins in patterns on the sleeves that looked like wings. I was wearing sequined "rock star" pants too and a long red curly wig. Another friend of my host, Alex, told me that he thought I was "Disco Ariel," so a disco version of the famous Disney Mermaid.
My hair was like hers, and my sequined pants were blue and looked like they could be the shiny legs of a mermaid who became human. So I went with that!
It was fun to have the option of either being a rocking angel or a land-walking mermaid. I'd happily play the role of either one; what a fun thing to become!
Sharing the Streets with All Kinds of Characters
We probably should have anticipated it that catching a cab would be tricky on Halloween. There were so many other people out there in costume looking to flag cabs to get to whatever fun house parties or clubs they were heading to next.
The streets were full of cabs at 11:30 when we headed out to catch one, but all of them seemed to be full. It would take us a little while to flag one down.
In the meantime, we got to do some people watching.
Halloween costumes in NYC turned out to be even more elaborate than I'm used to from Halloween parties in upstate New York. People go all out.
During the course of the night, we'd see everything from ghouls and sexy nurses to the Pope. The people catching cabs along with us had painted faces, wigs, or masks, and looked ready for a night of festivities.
We didn't plan to stay out all night, and just wanted to check out my friend's house party. It was fun being out on the streets with other revelers before heading out, however.
The House Party Costumes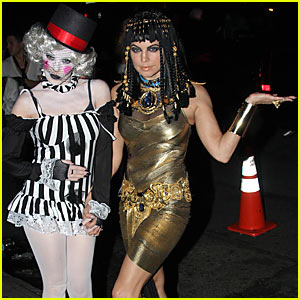 Several of the costumes at the party, which took place in the Manhattan apartment of a friend of mine from swing dancing, were pretty clever. There was a sexy nurse with police caution tape around her – she was supposed to be a sexy government shutdown.
There was a six-foot-plus British man dressed as a"cleaning fairy," wearing a Hello Kitty soft fleece nightdress, pink leggings, and a pink headback that had a sponge attached to it like a little bow. He was with a woman dressed in black with a cloud of netting around her head, and a bunny tail. She was a dust bunny, she said.
There was an inappropriate crossing guard dressed in fishnets and high heels, a lowcut top and smeared lipstick. There was Jay from the show Firefly.
My friend Cindy, the party hostess, was dressed as an old Miley Cyrus, with Spanx, a white pointy bra, and gray hair in little Princess Leia buns.
Another party goer, a swing dancing friend of mine as well, was dressed as the "Old Madonna." She was wearing a pink satin corset top with pointy cones sewn onto the bra top that sagged down to her waist, and a long high gray ponytail.
It was a fun assembly of costumes. We danced and visited and ate cupcakes, and new party goers kept arriving, well past midnight.
We were finally ready to leave at about 2 a.m., which meant needing to catch a cab again. We were able to flag one down after about 10 minutes. Both Steph and I were exhausted, since we'd gotten up at around 6 a.m. on Saturday to head to the conference in Kingston.
We were happy to get back to the apartment. Soon however we'd discover that we'd been locked out accidentally when our friend Alex's friend Kevin, the last to leave, had locked the bottom lock which usually stays open.
Steph first spent about ten minutes trying to open the locks with no luck. Finally we called Alex, who was out at a club called Buddakan in Chelsea. We figured out what had happened, and knew we'd have to head to the club to get the keys if we wanted to go to sleep.
So it was time for another set of cab rides! Once at the club we got permission to wait in the vestibule, since it was starting to rain. Party-goers walked in and out of the club.
The costumes here were elaborate and outrageous. There were drag queens in elaborate Vegas-style headdresses, the Pope in full regalia, people with full colorful face and body paint.
It took Alex about 15 minutes to find Kevin in the crowd before we could collect the keys and go home. In the meantime we enjoyed the wild parade of costumes.
Reinventing Ourselves
All of this fun and inventive costuming made me think about how we can reinvent ourselves. Dressing up is a fun way to try on a new identity. Yet we can reinvent ourselves at any time by practicing taking on the qualities of the person we want to be.
A fun way to do this is to think about someone you really admire. What are there top qualities? Then practice walking through the world with those qualities, even if you have to "fake it 'til you make it" if you're not feeling like you really possess them yet.
We could each pick a quality to embody every day, and practice walking through the world as someone confident, fun, outrageous, bold, adventurous, charismastic, successful, otherworldly, magical, etc.
Who would you like to be? Choose a quality and practice embodying it. Why not choose this holiday season as a time to reinvent yourself?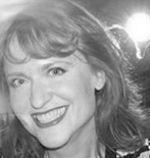 Lisa P. Graham is an inspirational writer, life coach, TED motivational speaker, and globe-trotter whose passion is to help others to find happiness and meaning in their daily lives. A political activist at heart, Lisa would like to empower more women to run for political office as a way to create positive change in the world. You can find her on her website or watch her TEDx speech on YouTube.
Note: Articles by Lisa may contain affiliate links and may be compensated if you make a purchase after clicking on an affiliate link.