Last updated on November 6th, 2019 at 12:43 am
I only aspire to be as sexy, beautiful, worldly and actively humanitarian as Angelina Jolie; to be as successful politically as Hillary Clinton; to write Nobel Prize-winning literature like Toni Morrison; to be as creative as Madonna, and to dance like Janet Jackson.
Of course, while doing this, I should also be an amazing, selfless daughter and friend; revolutionize the world through my work; maintain a beautiful home, and throw killer parties. Not to mention being the world's best girlfriend, and looking effortlessly gorgeous at all times.
Is this too much to ask?
Perhaps, yes… which I have to say is one of the gifts of being a woman in my 30s. Still ambitious, still reaching for the pinnacle of success in everything I do, I also am more comfortable with my own limitations, finally realizing that I have some! I have learned to be content with who I am now.
That is a miracle for someone like me. It is literally only in the past month of my life that I truly learned to "just be" – to love my life as it is, without needing it to be different or more.
I credit an ex-boyfriend with helping me get here. He was "the one who got away" for me, the great love that never came to be.
I found out in September that he's engaged to another woman, someone he just met this past summer. I thought I was over Steve until I found this out. Then, as I sobbed in my best friend's arms, I realized I was still devastated that he hadn't "chosen me." Luckily we are still friends and I was able to ask Steve why I wasn't "the one." It boiled down to one simple thing.
Steve said he felt I was always striving to be somewhere other than where I was. I wasn't content with myself, or happy with life now. Nothing was ever good enough for me.
I've had friends and family tell me before that I am too hard on myself, that I am already enough as I am. I never really listened. Somehow hearing this from a man I had loved deeply jolted me awake. My God, I thought — he's right. The word "content" was not in my vocabulary. I had always equated contentment, or in the past even happiness, with complacency. If I was happy where I was, wouldn't I stop growing?
I am happy to report that the answer to that question is no. Somehow in the past month, I have learned to love my life exactly as it is. This does not mean I am not going after my dreams. Yet somehow I've finally learned that just being me is enough. I don't need to be Angelina Jolie + Hillary Clinton + Madonna in order to be a successful person.
I can be the best Lisa.
That is enough.
Lisa Powell Graham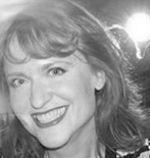 Lisa P. Graham is an inspirational writer, life coach, TED motivational speaker, and globe-trotter whose passion is to help others to find happiness and meaning in their daily lives. A political activist at heart, Lisa would like to empower more women to run for political office as a way to create positive change in the world. You can find her on her website or watch her TEDx speech on YouTube.
Note: Articles by Lisa may contain affiliate links and may be compensated if you make a purchase after clicking on an affiliate link.