Last updated on April 8th, 2012 at 08:03 pm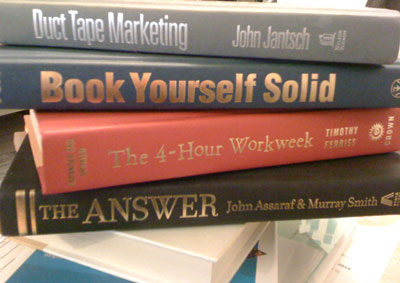 As your resident serial entrepreneur (read: I don't sleep) I want to share the pile of books on how to be an entrepreneur that I am reading my way through in my ongoing quest for what makes my business ventures work.
There are a ton of books out there – some good, some great, and some I'd wished I'd never picked up.
What makes a good successful entrepreneur book in my opinion? Here is  the criteria that keeps me turning the pages:
Not boring. This may come as a surprise, but I have a sense of humor. It doesn't have to be all fun and games, but keeping it fun helps.
Examples. Real world stories stay in your head WAY longer than "revenue streams increased by 10% when this theory was applied". I nodded off too.
Clarity. There are ways to communicate that make complex ideas much easier to understand. Don't jargon me to death and I'll keep turning your pages.
Top 8 Books on How to be an Entrepreneur

I covered The Dip right here on 8 Women Dream and had a great experience with the concepts and ideas.

Why do I recommend it? A cold bucket of water over your head to keep focus at 100%. Otherwise, just quit.
I just finished this book with relish.  I have much to share in the future about how and where I'll be applying Gary's suggestions for using new media to create and grow your passion.

Why do I recommend it? If new media doesn't scare the crap out of you, this is a necessary read.
I've know about Jack Canfield for quite a while, but it took Catherine (of 8 Women Dream)giving up her well loved, dog-eared copy for me to borrow to truly find out what an amazing blueprint this book can be to success of all kinds. I finally gave Catherine her copy back, but only AFTER I received mine from Amazon.

Why do I recommend it? This is my bible for business advice, success inspiration and just great dream focus.
I love Tim for introducing me to the term "New Rich." The entrepreneurs who make it to run on its own, and check in on occasion so they can live their lives doing whatever drives their passion.

Why do I recommend it? If you are at all interested in the world of virtual outsourcing and efficiency, some of the ideas in this book will blow your mind.
I love the way this book kicks off by explaining what it means to work with clients you love. Michael takes you on the ride to find out who your ideal clients are, how to keep them happy, and grow your business.

Why do I recommend it? Anyone who thinks the word "sales" is icky, but is open to changing their attitude
Most of the content that I read from John is incredible. His advice and make-it-work descriptions make it super easy to buckle down and get to applying the ideas to your day to day business.

Why do I recommend it? If you appreciate practical knowledge and action steps, this is a great read.
Holy crap. This book starts out with an amazing inspiration for accepting that you can have your dreams, then the real life, get-your-hands-dirty work begins. This gives you a clue with the time it took for me to read it: first half of book – 3 weeks, second half – 6 months.

Why do I recommend it? This is an intense look what makes us tick in that gray matter, and the guts of finding out what you need to get your business going.
Some of the best advice I ever got was from Guy in the form of what makes a good PowerPoint presentation. But I digress. This was one of the first books I picked up after deciding to become a small business owner. Straightforward, no bull.

Why do I recommend it? If you are at all on the fence about starting a business, open this book up first.
You can tell from this list, I have already read of few of these books but I'm far from done. I'm looking forward to getting into the details of all these incredible resources in the coming months.
What's your favorite book covering how to be an entrepreneur? How many times did you read it?
~ Heather

Heather Montgomery is a fitness writer, triathlete, and serial entrepreneur who is devoted to sharing what she has learned about becoming a triathlete after age 40. She uses her Metabolic Training Certification to help other women struggling to get fit in mid-life. She lives and trains in Santa Rosa, California, the new home of the Ironman triathlon. You can find her biking the Sonoma County wine trails.
Note: Articles by Heather may contain affiliate links and will be compensated if you make a purchase after clicking on an affiliate link.