Last updated on January 23rd, 2019 at 10:40 am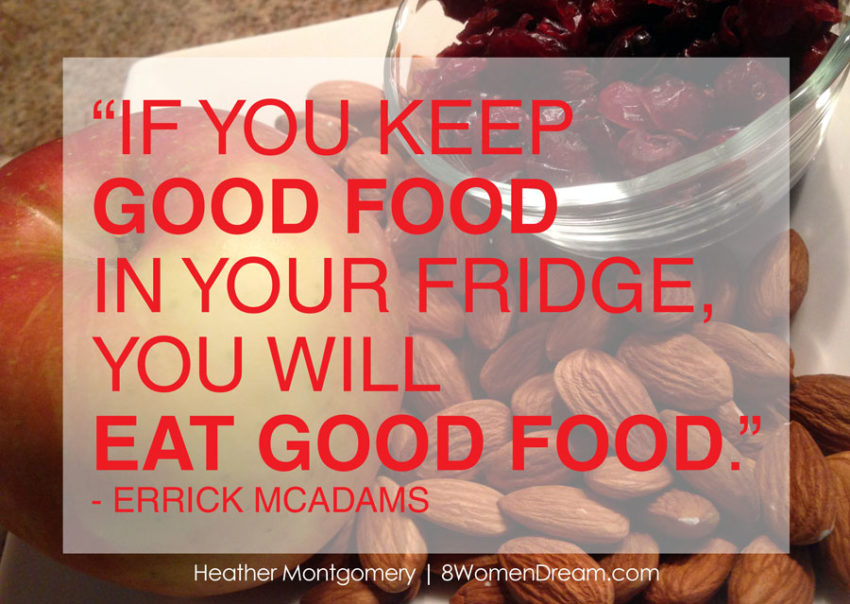 Fitness dreamers think about healthy snack food. A lot. Unfortunately, every time we talk about getting fit pops in our heads it's usually quickly followed by the idea of a "diet".
I really hate the word "diet".
It's been overused for describing a way to eat that is associated with hunger, avoiding foods we love, and generally unappetizing options.
You need to eat healthy snack for your fitness goals.
This is a typical day for most of us. Get crazy busy, forget to pack healthy snacks, keep going like maniacs until we are forced to grab something unhealthy just to get through the day.
The choices we make when we are hungry have been proven to be bigger, more sugar filled and calorie packed.
Do you have days when you are more hungry than others? There are days where I never feel full, no matter how much I've had to eat. That's just the way our metabolism goes, some days are easier than others to predict how much we will want to eat.
Being prepared for those hunger attacks are easy if you have some ideas on how to keep it healthy. Here is a list to get you started toward some great snacking options.
Top 18 healthy snack ideas for fitness
1. Kale Chips
I am not a huge fan of kale, but kale chips are amazing. Easy to bake up in a single layer with a very light drizzle of one teaspoon of olive oil. Lay them out in a layer on a baking sheet and bake at 350 degrees for 10-15 minutes. We cleared out a huge bag of kale in a day with this recipe.
2. Sweet potato fries
This is a big favorite in our house. Cube up a few sweet potatoes or yams lay them out on a baking sheet, drizzle with a little olive oil and bake. These take about 30 minutes at 400 degrees. For a tasty option, try shaking on your favorite spices. Everything from garlic to cinnamon (just not those two together) work well with this easy snack.
3. Paper bag popcorn
I recently discovered this option for my own homemade, not packaged, easy popcorn snack. It was kind of fun to toss kernels into a paper bag and let them pop away in the microwave. I filled it a little too much the first time – but the outcome was delicious.
4. Roasted cauliflower
This is one vegetable I do use as a regular fitness snack and the baked version was better than I thought it would be. I tossed florets with balsamic and a tiny bit of olive oil for a flavor packed healthy snack.
5. Apple
Yes, it's ready to eat and easy to pack. At 100 calories with tons of phyto-nutrients that help regulate your blood sugar, this snack is a no brainer.
6. Avocado
You know that this fat is healthy, and will help fill you up and keep you full. On its own, slice up half of an avocado and have with some balsamic vinegar.

7. Frozen grapes
This is such a great summer treat. Sweet and refreshing, these are a perfect treat that you can have a couple handfuls with no guilt.
8. Frozen banana
Blending up a frozen banana turns it into a frozen yogurt consistency, and you can add healthy toppings like chopped nuts or fresh berries to make it more like dessert than a healthy snack.
9. Veggies and hummus
Savory snacks with a crunch help satisfy while giving you a boost of Vitamin A with your cup of carrots, and fiber packed hummus. Any crunchy vege is a good match for hummus. My favorite flavor is red pepper with a little zest for every bite!
10. Celery and raw almond butter
An adult and healthy twist on the old peanut butter with celery snack. Almond butter is filling and way too delicious.
11. Dried vegetables
If you have a dehumidifier, it is a great tool for keeping veggies dried and on had for snacking on through the week. If you buy dried vegetables keep an eye on the ingredients and avoid added oil and sugars.
12. Greek yogurt
This is one of my own go-to snack options. Protein between 15-20 grams per serving and versatile enough to use in a protein shake, smoothie, dip or all by itself. Greek yogurt provides a healthy balance of carbs, protein and probiotics that benefit your digestive system. To get the most out of your protein indulgence, try it in plain. Check labels carefully, not all greek yogurt is made alike. Check out my favorite greek yogurt brand Chobani for a protein packed versioin.
 Read the ingredients and choose the option where you know the
13. Hard-boiled eggs
Eggs are nature's muscle building food with 6 grams of protein and only 70 calories. Hard-boiled eggs travel easy and are a quick easy snack or breakfast on the road. If you are a fan of egg salad, mix with plain greek yogurt and add your favorite spices for a super healthy option to an old standard.
14. Handful of berries
Take your pick – blueberries, strawberries, raspberries, and blackberries are high in fiber, vitamins and minerals while low in calories – nutritional superstars. A cup of strawberries has only 50 calories with 3 grams of fiber.
15. Almond milk and cacao shake
Want an easy shake that is ready to go when you are? Almond milk, 1 banana, handful of spinach or kale, a tablespoon of chia seeds, 2 scoops protein powder, 1/2 cup of frozen fruit, and occasional a teaspoon of peanut or almond butter should cover all nutritional bases.
16. Dark chocolate with almond butter
Dark chocolate of 88% or more cocoa acts as a strong antioxidant and almond butter is high in fiber and monounsaturated fats.Dip your chocolate in that amazing almond butter and make yourself a grown up peanut butter cup alternative – yum!
17. Almonds
Raw or roasted unsalted almonds are another healthy snack I always have on hand for my day. Keep a container of them in the office to cover the hungry mid-afternoon snack needs. It helps they are rich in Vitamin E, calcium, iron and a bunch more good for you stuff.
18. Homemade trail mix
The store-bought options are loaded with salted nuts and sugar heavy chocolate. Pick some of your favorite and dried fruit, like dried apricots or dried cranberries, and mix it up with walnuts, raw unsalted almonds, or unsalted sunflower seeds.
Healthy snack ideas are a good thing
We need to eat regularly and these healthy snack options make it easy to keep those calories working for us.
What are your favorite healthy snacks? Share in the comments, or let me know how you any of these that you try!
Go get your fit on – Heather
[fbcomments]

Heather Montgomery is a fitness writer, triathlete, and serial entrepreneur who is devoted to sharing what she has learned about becoming a triathlete after age 40. She uses her Metabolic Training Certification to help other women struggling to get fit in mid-life. She lives and trains in Santa Rosa, California, the new home of the Ironman triathlon. You can find her biking the Sonoma County wine trails.
Note: Articles by Heather may contain affiliate links and will be compensated if you make a purchase after clicking on an affiliate link.