Last updated on April 2nd, 2012 at 11:02 am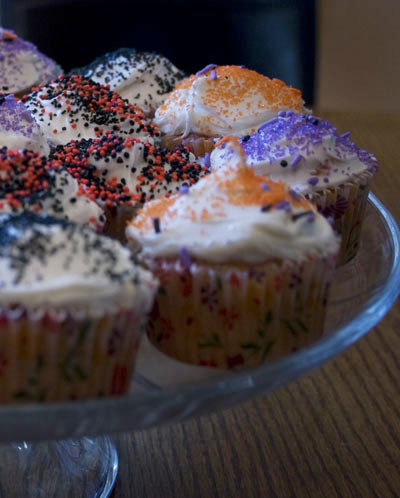 As the dreamer who examines product launches to discover what dream product I am going to launch, I get emails from all over the world asking me to explore new products and write about them here on 8 Women Dream.
Sometimes the products are something as simple as cocktail recipes to push a national cocktail brand.
And I must warn you: this post may seem like a completely torturous for those of us who are in the mode of getting healthy. I know that I have been avoiding sugar for months in order to add up the pounds in the"lost" column.
How sweet it is
Did you know that October is National Dessert Month – before reading my title? I typically call it baking season. The clouds roll in and I start up the oven for a 3 month run of everything pastry throughout the holidays. Food.com has some amazing recipes they are highlighting to celebrate National Dessert Month.
As the resident baker in my family I had to share these recipes for an alternative treat. For those of us for have been known to imbibe in an adult beverage occasionally, it's nice to find something to satisfy that sweet tooth without breaking the calorie bank. Of course I didn't leave all the sugar up to the alcohol. I might have overdone it with the baking.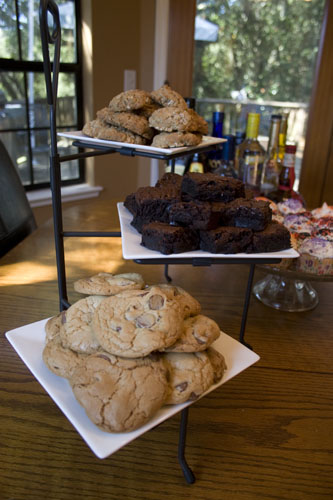 The BBQ came together as a chance to grab the last few rays of sunshine before the rain comes to Northern California to stay. A perfect warm 78 degrees with bocce, BBQ, family and friends made it a great excuse to try these cocktails out on a few very willing subjects.
Let the mixing begin
I'll be honest. I have an extensive bar selection. After several years of large parties, and inheriting some classics from my Dad's bar when they relocated, we have almost everything on hand.
I did have to shop for some of these ingredients and do a little homework before I went. The good news? I learned a little and have a few new favorites.
Iced Chocolate Cake
This is a strange combination for me. Nuts and fruit are great in the trail mix, not so much on the rocks.
1 oz. Frangelico
 1oz SKYY Infusions Citrus
 Combine in a short rocks glass.
**Only 137 calories!
Worth the calories? This didn't cut it as dessert for us, despite my loving Frangelico in general. However the Frangelico web site has a few amazing looking dessert recipes that I just may have to try… soon.

French Coffee Cake
Great name for what was a smooth sweet option. My "scary kitty" stirring sticks didn't hurt the reception of this cocktail at all.
2 oz. CAMUS VSOP Elegance
1 oz. Irish Cream Liqueur
Pour directly into glass filled with rocks.
Worth the calories? If you are a fan of Irish Cream, I do recommend this one for a break from something cake-like.
Passion Fruit Mousse Cake
Another confession – I have never had a good experience mixing alcohol with any milk product (White Russian excluded). I left it out of the mix and it was delicious! Feel like trying the official recipe? Would love to hear in the comments what you thought!
1.5 oz CAMUS VS Elegance

0.75 oz Sweetened Condensed Milk
0.75 oz Passion Fruit Concentrate
Add all ingredients to mixing glass and stir with no ice to mix. Add ice, give a hard shake, and strain into a couple glass.
Worth the calories? This was a clear winner at the party. Loved the flavor even though it could pack a punch.
Chocolate Rum Cake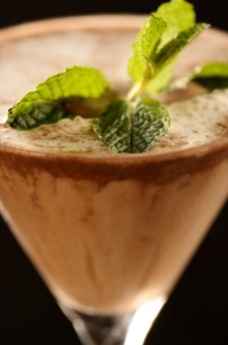 This is one of the first ones we mixed up that day. Mine did not turn out this pretty! I have to admit that I did not go for the caramel foam. Sorry… just a bit too much work for the BBQ scene. I might put the extra work in for a winter sit-down dinner party.
 2 oz. Flor De Caña 7-year Grand Reserve
 4 mint leaves
 1 scoop chocolate ice cream
 ½ oz. vanilla syrup
 ½ oz. Licor 43
Caramel foam**
Pour all ingredients in a mixing glass. Shake for 20 seconds. Serve over chilled martini glass. Top with layer of caramel foam.
For caramel foam:
 2 oz. heavy cream
 1/2 oz. liquid caramel syrup
 dash of cinnamon
 Combine heavy cream with syrup + cinnamon in a dry shaker until emulsified.
Worth the calories? Not as sweet as we wanted it. May be the missing foam with caramel syrup. Definitely worth finding the Licor 43 though!
I know I will continue to be on the lookout for calorie cutting options this season, that still allow me to join in on the fun and celebration of the season.
What's your favorite fall/winter cocktail? Share it – there may be more of us out there willing to try almost anything.  Who knows … it may get you thinking about a product you might want to launch.
– Heather

Heather Montgomery is a fitness writer, triathlete, and serial entrepreneur who is devoted to sharing what she has learned about becoming a triathlete after age 40. She uses her Metabolic Training Certification to help other women struggling to get fit in mid-life. She lives and trains in Santa Rosa, California, the new home of the Ironman triathlon. You can find her biking the Sonoma County wine trails.
Note: Articles by Heather may contain affiliate links and will be compensated if you make a purchase after clicking on an affiliate link.