Last updated on October 3rd, 2012 at 11:21 am

In my research to decide on a dream product to launch, I also look at website launches.  I think selling successfully online can be the ultimate icing on the cake of your product launch dream.
This week I was asked to take a look at The Foundary.
Want a distraction from late night snacks? If online shopping can help keep you out of the kitchen, this site may just do the trick.
The Foundary, a flash sales website that offers a curated selection of home and lifestyle products from coveted brands and emerging designers at up to 70% off retail, will now be offering its members new exclusive night time sales series. Beginning on September 20, The Foundary's night time series promises the same thrill at a new time.  The series will feature cohesive themes to inspire your next redecorating, hosting or holiday occasion.
Oh… pretty, shiny things!
The Foundary brings together a few of my favorite shopping experiences. Gorgeous designer items I love, great prices and the excitement of an auction. Everything from fun totes and bags to unique lighting, housewares and furniture. So far I am impressed that all the items highlighted on the site are beautiful and unusual.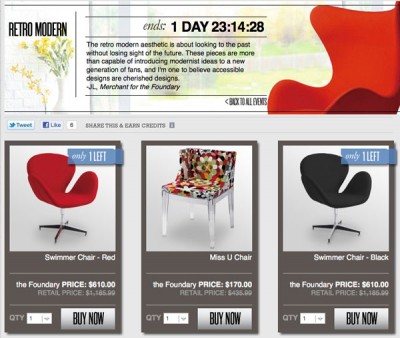 While I was clicking through the other night, the items on one event were over 80% off retail. Discounts vary from event and item, but after becoming addicted to perusing for the past couple weeks, the deals are always good for the quality and unique products offered.
What's so special?
You can find some incredible finds on eBay and Craigslist. Even your local housewares emporiums have cool designer stuff at great prices. Why is the experience any different on The Foundary?
Anticipation. You only have a 3 day notice of upcoming events, and you might get a teaser of the products. Then the race is on.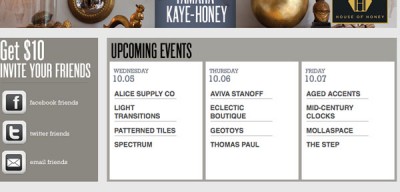 Once the event is available, you are pulled in by the constant countdown on the site. I have a tendency to go for it when the clock is running down and I get attacked by the "i-gotta-have-it's".
This is a bit of problem for me, having self-banned myself from eBay several years ago. I was clued into the fact that impulse buys and an auction environment are not a good mix for me, and we'll just leave it at that.
That doesn't stop me from getting lost in the countdown fun on The Foundary. I guess it's knowing that there are constantly new products coming on board that makes it exciting.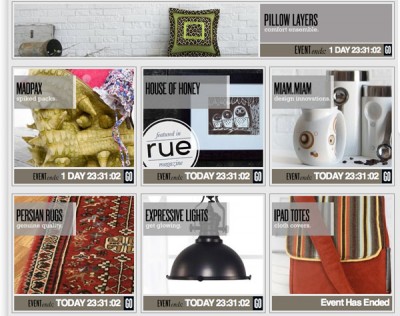 Designers on display
It's no secret that I love design in all shapes and forms. When a friends son makes a comment about all the "cool shaped" dishes in my kitchen, she answers "It's Heather". Guess that does explain a lot.
I haven't heard of many of the brands they highlight on The Foundary, but that may be my complete lack of retail therapy for the last few years. It does give me some insight to trends – shapes and colors – which make the window shopping all that more fun.
It doesn't hurt they have a sense of whimsy with their friendly pup welcoming you in.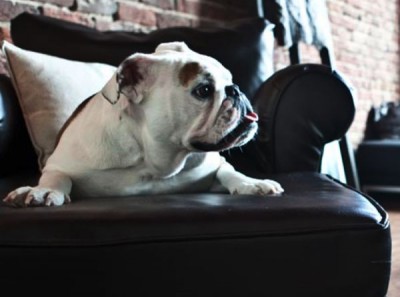 The site is still in beta, having launched about a year ago. What this means is they are willing to listen to your feedback on your experience. It also helps they give you a little incentive for inviting your friends to browse along with you.
Do you have websites you like to buy products from? Let me know what they are and what you think of The Foundary.
Heather
*When I am asked to review a website here on 8 Women Dream, the reviews are based on my own experience. These are my personal opinions and not facts. Everyone is different and may not have the same experience as I did. Results may vary based on a number of factors. I am not liable for any problems that occur due to a purchase influenced by this website.

Heather Montgomery is a fitness writer, triathlete, and serial entrepreneur who is devoted to sharing what she has learned about becoming a triathlete after age 40. She uses her Metabolic Training Certification to help other women struggling to get fit in mid-life. She lives and trains in Santa Rosa, California, the new home of the Ironman triathlon. You can find her biking the Sonoma County wine trails.
Note: Articles by Heather may contain affiliate links and will be compensated if you make a purchase after clicking on an affiliate link.