Last updated on August 31st, 2012 at 11:31 am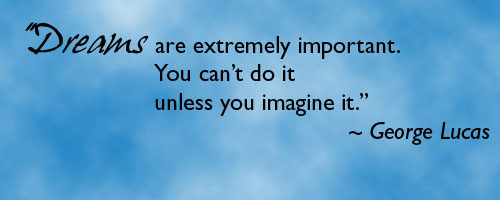 It's not easy to open your mouth and admit the big things that you dream about. That's why we 8 Women Dream are here, doing what we do. Just look at how long it's takes us 8 Women Dreamers to admit we are stuck, scared to take the next step, or to realize what it is that we really want. We put it out there every week, so can you.
Enough of the pep talk.
Let me take a deep breath and outline my big dreams plans for this year.
Landing my dream job. Sooner than later. I've got to finance all these ventures until they take off! (completed in May)
8 Women Dream promotion and marketing for my niche of product launch dreams will be a daily event.
Develop dream products for 8 Women Dream. I've already been picking your brains for the research on this one. If you haven't taken the survey to let us know what keeps you motivated to work on your dream do it now! Plus you can help us work on the next look for 8 Women Dream by voting here. (Completed in March).
Forward Motion Studios re-launch when the blog and site merge and is updated it to better represent what we offer now.
For Your Adornment – launch the jewelry blog and store , develop a posting schedule, and implement an online marketing plan.
My husbands photography blog will have a posting schedule and I'll market the hell out of that too. (I'm counting this in my dream plan since I'll have a major assist to his big dream too). (completed in April)
Will any of this work?
Here is where I am counting on the experts. Over the years I have highlighted the work and success of Gary Vaynerchuk, Tim Ferriss and Yaro Starak at Entrepreneurs Journey. They all offer guidelines on how to be an entrepreneur and recommendation on how to research what can potentially be a hit. There's no way I'm reinventing the wheel on the path to product launch success. Although if I knew what the big hit will be for 2012, I can honestly say I would be selfish and keep it for myself.
But here is the great news. You have to find your own niche anyway. If you aren't working on something that has the potential of being big AND you are passionate about it, it will still fail.
I've hopped on the planning bandwagon that our fearless leader Cath has recommended. The Friday product launch dream posts are planned out so you can keep track of your own progress and success while you follow mine.
Every month, I will be highlighting:
1. Two or more product reviews
Depending on how many weeks are in the month, I will be reviewing about two products a month. I am looking for products that will cover all aspects of our lives as dreamers. Each month will have a theme for the products… and you can interpret the themes very broadly!
Do you have a product or service you would like reviewed that fits perfectly in one of these themes? Contact 8 Women Dream and let us know!
January: Happiness
February: Love and Relationships
March: Renew and Learning
April: Growth
May: Strength
June: Confirmation
July: Relaxation
August: Rejuvenation
September: Health
October: Holiday planning
November: Holiday Shopping Guide
December: Giving Back and Reflection
2. One Interview
I will be focusing on one interview from someone in the product launch space or behind the scenes details on the products I review.
3. Product Launch Progress Status – Last Friday of every month

There is nothing like accountability to get things done. The last Friday of every month, my post will be dedicated to the progress on my own product launch dreams I have made. This is where I promise to share resources and details on what I did. No guarantees it will work for you or your own dream product launch. Tested information is always a plus, just like the mistakes I'm sure I'm going to make.
Writing down your goals and having a business plan are the first crucial steps in launching your entrepreneurial dreams.  You have to be able to set plans to paper (or computer) and carry out those plans within a limited time frame.  But let's just stop and  back this up one more steps.  have you thought about if you are really set out to be en entrepreneur?  Lots of people think the idea of being an entrepreneur is great, until they begin living their life as one.  It's a lot of hard work and it's something that stays with you 24/7.  There are no "days off" when you work for yourself.
Learn how to be an entrepreneur first by finding out if you really are an entrepreneur.
Watch this video to help you define if you really are an entrepreneur —
1. Do you have skills?
2. Do you crave for status of being part of an organization?
3. Are you keen of building high-friction relationships?
4. Do you have the producer's mindset?
5. Can you listen?
6. Do you think in long-term?
7. Can you find ways to be engaged in your job?
8. Are you unsure of yourself and can you handle it?
A great test to see if you have the personality to be an entreprenuer is Bill Wagner's Entrepreneurial Personality Test.
He asks, "Are you curious about whether you would make it as an entrepreneur? Wondering how you would cope and what you would be like if you decided to start your own business?"  This Entrepreneurial Personality Test will provide information both about which aspects of your personality are well-suited for owning a business, and which aspects could be problematic. In addition, you will receive information about your entrepreneurial style, each of which is based on Bill Wagner's book, The Entrepreneur Next Door.
Hop on over to Bill's website by clicking here to take Bill Wagner's Entrepreneurial Personality Test.
I would love to hear how you scored with the test  – put it out there and share in the comments!
Off to launch!
Heather

Heather Montgomery is a fitness writer, triathlete, and serial entrepreneur who is devoted to sharing what she has learned about becoming a triathlete after age 40. She uses her Metabolic Training Certification to help other women struggling to get fit in mid-life. She lives and trains in Santa Rosa, California, the new home of the Ironman triathlon. You can find her biking the Sonoma County wine trails.
Note: Articles by Heather may contain affiliate links and will be compensated if you make a purchase after clicking on an affiliate link.