Last updated on January 22nd, 2019 at 01:50 pm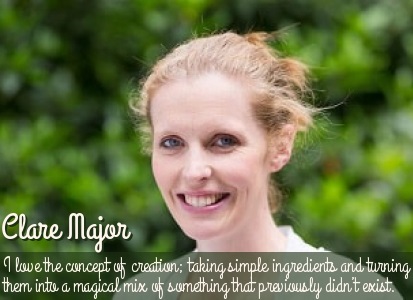 Is your big dream to teach cooking classes, run a cooking school or become a successful food entrepreneur?
Well, I've done all three, so I think your big dream is most definitely possible!
My name is Clare Major, and I am the founder of Season Cookery School in Derbyshire, England. I don't profess to be a business guru, but I do know how to juggle family and a business. I am the sole owner and founder of one of the UK's leading cookery schools, and I grew my business by over 50% while having three children in three years.
Life Before Seasoned Cookery School
I must confess that starting a cookery school wasn't my first experience at owning a business. While still a student at the university, I began a mobile catering business creating quality food as an alternative to the traditional 'burger van.' I ran it for three years, and it was hard work, with eighteen-hour days, but I loved serving fresh, tasty food that made people happy.
Once I graduated from the university, I decided to take a different career path. I was encouraged to get a 'proper job,' so I spent my first two years working at the energy company, EOn, followed by two years working in marketing at the Post Office HQ in London.
To be able to manage a valuable portfolio of products for larger companies at such a young age was a great experience for me, and working for these organizations gave me the freedom to manage them as if they were my business. However, corporate life was quickly proving not to be what makes me tick. I hated to be stuck inside an office on a sunny day. I always knew I wanted to work with food and to do something that makes people happy. No-one ever thanks you for their electric or mobile phone tariff!
I've always loved the concept of creation; taking simple ingredients and turning them into a magical mix of something that previously didn't exist, be it a product or an experience.
Escaping the Big City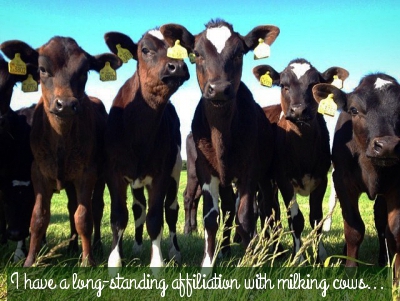 While I was still living in London, I was offered a voluntary redundancy or what is also known as a "downsizing package" from the Post Office. During this time, I met and fell in love with Rupert, the man who would become my future husband.
While I was living in London, Rupert was living at 'home' on his farm. I ultimately decided to take the redundancy (downsize package) and move to rural Derbyshire to be with Rupert and begin investigating my dream of starting another business.
Derbyshire is a county in the East Midlands of England. Dairy farming is considered the most important economic agricultural sector in Derbyshire where dairy milk is bottled, processed into cream, butter, yogurt, and cheeses like Stilton.
So it shouldn't come as a shock that Rupert had me milking cows on my first day on the farm. Trust me; it was to be my first and only time! Being a "traditional farmer's wife" isn't the life for me.
No Quick Routes to Entrepreneurial Success
As with many things in life, there are very few true overnight successes, and being lucky usually has a lot of hard work at its core. I spent nine months researching business ideas before I settled on the concept of a cookery school and then another six months to activate it. During that time, I read a lot of books while focusing on my motivation, personal strengths and what flexibility any business/job could offer me in the future.
I studied a ton of business options, both food and non-food related, that matched my skills and personal strengths. Quite a few matched my strengths, but I wasn't interested in the industry as a business.
And there was always the question of flexibility for me. I hoped to have a family one day, so I needed to find a business that I could run, but that didn't rely on me always being in it. In fact, the one job you won't see me doing at the Seasoned Cookery School is teaching one of the courses. You are more likely to find me organizing the calendar of events, liaising with the team of 25 freelance chefs, helping my team, and marketing the business.
Getting Seasoned Cookery School Up and Running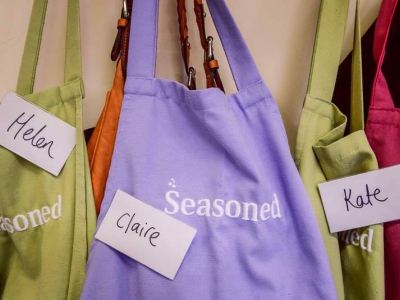 In 2009, when Seasoned Cookery School came into being, I started with a plan with five main areas of focus:
1. Consumer cookery courses
2. Corporate team building
3. Community groups (e.g., carers and patient groups)
4. Hen parties (Bachelorette parties)
5. School groups
I believe you must start small and learn fast. This approach to starting a business might feel a little frustrating and slow to you, but it helps to set a robust framework for the future. This "test and learn"' model meant doing things like running cooking lessons as a pop-up cookery school, taking all of the kits to different venues, with one semi-permanent site in Derbyshire which I rented by the day.
The hen party (Bachelorette party) activities took place in holiday cottages, and I worked with community groups in village halls and corporate groups in their head offices. Eight years in, the business focus is primarily on the first two main areas. I am just now beginning to move back into work with community groups.
Highs, Lows and the Feeling of Success
No one would deny that getting a business up and running is hard. However, it's just the start, and maintaining the momentum is also vital for success. For me, it felt like the business didn't reach a firm footing for the first four years.
My marker of business success is a steady stream of customers who want to book–both new and returning. New, because it means your marketing is working, and returning because you know it says your experience is good and people want to come back!
Creating Opportunities for Women with Families
Because I wanted my business to offer me the flexibility to combine business and family, it's also been a critical aim for me to be able to provide the same opportunity to other women, and indeed men if that is ever a request. I think it's tough to juggle small children and returning to work at a standard 9-to-5 job, mainly for the logistics of timing, school days, illnesses, and holidays.
To me, it seems there is a misfit between what people dream of doing for a living and what is physically possible.
As a business owner, I'm super flexible. Four principal ladies run the Seasoned business: me, Jules, Tania, and Louise and we all work flexibly around the needs of the company, and the needs of our families. I think we get the best out of our team this way, and we can harness the great talent of women who want to care for their family and still have a meaningful career.
Making Flexible Working Work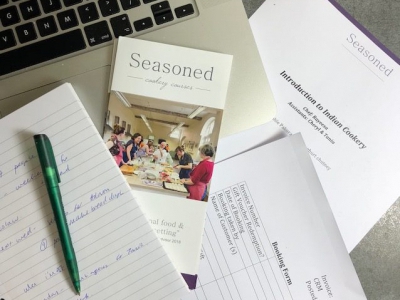 The right tools, particularly technical and online tools, help me and my team maximize our efforts through efficiency which helps build a flexible work environment. Good supportive tech helps us to communicate regularly with each other and manage the business with team members working part-time.
Like many businesses, there are peaks and troughs, which my team can work to their advantage. Also, being a seasonal business helps. We are quiet over Christmas and quiet down for 4-6 weeks over the summer holidays, which is a dream for the members of my team who want to spend time with their children.
Education for All–Not Just the Customers
Because my business primarily focuses on learning and teaching, this educational focal point carries through my Seasoned team, and it's a key thing for me. For the past six years, I've employed a graduate intern. Each year, I've supported them to go down their chosen route for development. Their chosen educational goals vary from photography to digital marketing to events and organization. I give them a training budget and bi-monthly one-on-ones to ensure they are achieving their educational goals, but more importantly, their personal goals.
Breaking the "Farmer's Wife" Stereotype
Besides my only attempt at milking and deciding it wasn't for me, I do stay involved in the family farm, but in a more hands-off way. I contribute to the farm board meetings, and I am also a director of the explosive storage business that's run on the farm as part of the farm's diversification program. I have a good understanding of everything that goes on around the farm, but will never be found milking a cow or driving a tractor.
Likewise, Rupert doesn't get involved in the school, other than to attend an occasional BBQ course…
To run a business 'off-farm' that is entirely unconnected to the family farming business is probably the most significant change to the farm wife stereotype. The cookery school is wholly separate from the farm, being about 25 minutes away from the property. There are some excellent crossover benefits though. The farm provides free range eggs, raw milk, and some delicious homegrown beef. I understand about the different farming methods and the agricultural produce we use, so we can make educated decisions as a culinary business as to the food we want to buy.
There is another crossover, with a lot of the chefs coming to stay on the farm on a weekly basis, we will have one or more chefs living with us, which is an excellent way to get to know them as real people. Breakfast with the three small children and a visiting chef is just part of my entrepreneurial juggling act.
Juggling Business Life and Family Life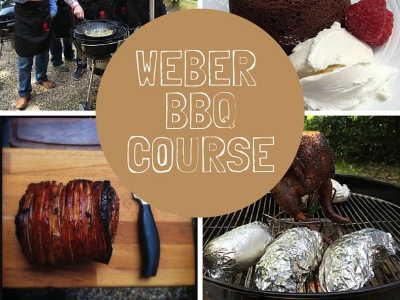 Having a team at work, children, and a husband at home feels like I have two families. I take my responsibility as an employer seriously, and the happiness of my team is fundamental to me.
For balance we invest in fantastic childcare. We have a fabulous childminder who works three days a week when I'm at work. I trust our nanny implicitly with our children, so I can go to work, focus 100% on the business.
Since I began my business before having children, the initial years of hard work building up the company with little or no financial return were handled without the financial commitment of childcare.
The hardest times are when the delicate parent-business balance with the help of good childcare breaks down due to an illness. We do have family living close by, however, so we are lucky to have emergency childcare back-up. Your support system is a significant part of your entrepreneurial success.
My Hope for the Future
It is my hope that the strain of juggling a small family while growing a business will reap more significant rewards in our future. I think I took a total of three weeks of maternity leave while having all three of my children. I recognize that perhaps this scenario isn't ideal for everyone, but I love what I do, so answering some emails and designing new courses while next to a sleeping baby merely is part of life for me.
In the future, I aim to fit work in around the school day and have time off over the school holidays, while running a business that I love.
Right now, my children are now ages one, two and four — my hope and aspirations for the business temper around the needs of my family. I plan to cement in what we have built, continue working with our excellent team of chefs, grow our team to include more of the country's best teaching chefs in different spheres, and focus more on the corporate and community side of the business.
My life is an example of combining an entrepreneurial dream with a growing family. Just don't expect it to be easy but you can do it!
———-

Clare Major is the founder of Seasoned Cookery School. Clare is passionate about inspiring people with food and creating memorable experiences for everyone who passes through the Seasoned door. Clare focuses on running the marketing side of the business. However, Clare can always be relied on to be chief taster, tea & coffee maker and swaps her computer for her washing up gloves at the drop of a hat!
You can find more about Clare on the Seasoned Cookery School website, the Seasoned Cookery School Facebook Page, on the Instagram page or follow Seasoned Cookery School on Twitter.

Enjoy this special 8WomenDream Guest Contributor story submitted by new and experienced big dreamers throughout the world, edited and published to capture a dream perspective from different points-of-view. Do you have a personal dream story to share with 8WomenDream readers? Click here to learn how to submit dream big articles for consideration.
Note: Articles by Guest Post Contributors may contain affiliate links and 8WD will be compensated if you make a purchase after clicking on an affiliate link.