Last updated on July 27th, 2014 at 10:25 pm
As the new year begins and the resolutions start rolling, you start thinking about the little changes that you have to make everyday to make your life a better one.
Sometimes those little changes are easy.
Sometimes not.
Exercise is going well. I put my exercise bike back in front of the T.V. and am used it 3 times last week. I would of walked, but it's been pouring here for a week straight. Love the rain though!
I actually have a great walking route by my house. It only takes a half an hour and has about 4 steep hills. I can easily achieve 3 days a week walking when I'm in my exercise zone.
Now the food.
That's always the issue isn't it?
I actually feel sad when I think about giving up food.
I know that when I get into a healthy routine it really is pretty easy. You don't miss it. But then something snaps in your brain, and you want the food again.
I'm waiting for my brain to snap back the other way.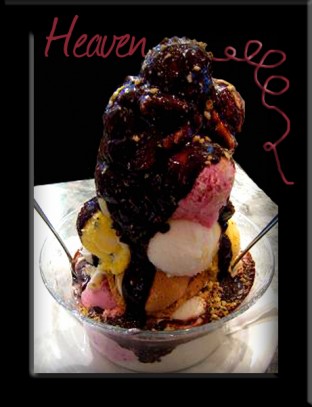 Here are my top ten foods that are so hard to give up, or at least cut back on!
1. Chocolate – of course
2. Chocolate chip cookies
3. Chocolate Ice Cream
4. Bread
5. Pasta – any kind
6. Cheese – any kind
7. Hamburgers – I actually don't eat much fast food, but I love a good hamburger!
8. French Fries – same
9. Eating too much at a great restaurant.
10. Anything sweet
Well, I kind of cheated with 9 and 10, but that's the idea. Now I have to think of alternatives with these starchy, fatty, sweet foods and/or think of ways to bring them into  my week and still be healthy.
What are your weaknesses with food?
Till next week,
Kim
(Kim has already accomplished her first big dream by traveling to New York with her teenage daughter June of 2009. She lost 20 pounds and overcame her intense dislike (do we say fear?) of flying to accomplish that dream. She rotated off the blog in February 2010, but still hangs out with 8 Women Dream.  You can find her in the comments section)

Enjoy this special 8WomenDream Guest Contributor story submitted by new and experienced big dreamers throughout the world, edited and published to capture a dream perspective from different points of view. Do you have a personal dream story to share with 8WomenDream readers? Click here to learn how to submit dream big articles for consideration.
Note: Articles by Guest Post Contributors may contain affiliate links and may be compensated if you make a purchase after clicking on an affiliate link.