Last updated on February 23rd, 2023 at 02:44 pm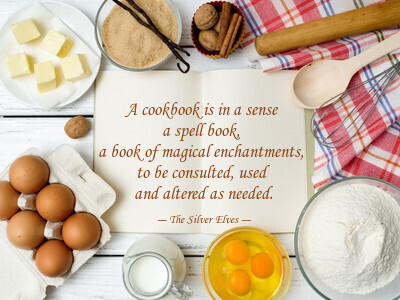 I've been at my dream of being a famous chef for some time now and I must own 2 million cookbooks. Many of them sit collecting dust on the glass bookcase in my office, but I will never part with them.
Now I know that we are in the 20th century with the world wide web offering cooking videos and high-tech ways to whip cream to a soft peak, but it is my belief that you shouldn't give up on the old-fashioned, printed cookbook.
There's something about a printed cookbook, especially the ones with yellowing pages sprinkled with tomato and red wine stains recalling memories of great dinners past. There are the notes you've made from how you changed the recipe and creases from the recipes you've loved through the years.
As I continue to unpack at my new house,  I'm amazed by all of my culinary books. Each has played a part in my cooking development on my big dream journey of being a widely sought-after professional chef.
8 Best Cookbooks For Every Foodie's Kitchen
1. Culinary Artistry by Andrew Dornenburg
If I were stranded on a desert island and I could choose only one "cookbook", then it would be this one. It is a book whose contributors are some of hardest hitting chefs in the world.
The funny part is that it's really not a cookbook per se.
It is a ride through the senses, levels of taste, and the components of a dish. It's basically a culinary guide for your imagination. The book lists almost every type of food you can think of and then matches all of the other items that go well with each one.
It also lists the best ways to cook each food with the idea that you will take the information and run with it. It makes you feel like a real chef.
2. Mastering the Art of Southern Cooking by Nathalie Dupree
I've followed Nathalie Dupree's culinary genius for years. I also have the pleasure of being friends with her on Facebook.  We've chatted a few times and I feel honored every time we communicate.
Nathalie knows southern food. Period.
She is a classy southern woman who just happens to also be a talented chef. She teaches how to master the art of southern cooking in the most elegant way.   She recently won The James Beard Award.
Buy this book.
You will be cooking Shrimp and Grits with your eyes closed before you know it.
3. The Way to Cook by Julia Child
When I was seriously considering following my dream at the age of 30 to leave the medical field and cook as a profession, a friend gave me this book for my birthday.
It was one of the best cookbooks I've ever followed. It deeply inspired me. Besides, do we really have to say how great Julia Child was? I mean, come on. She'd butcher a cow while drinking scotch and never miss a beat.
That's genius.
4. Emeril's New New Orleans Cooking by Emeril Lagasse
I know what you're thinking: "Oh, that's because she's from New Orleans, Louisiana and Emeril is famous for cooking in New Orleans."
Yep. And he's damn good.
I had the pleasure of apprenticing for "The Bam Man" when I was in culinary school in New Orleans.
He is kind, fun, and magnetic. He is also a passionate chef who believes in promoting staff from being a dishwasher to as high up in his empire as they can go. He was one of the first to return to New Orleans after Hurricane Katrina and get culinary workers back to work. I've lost touch with him and would give my right arm to cook with him again.
This is his first cookbook and everything about him and this book is just so cool.
5. The Soprano's Family Cookbook by Artie Bucco
I was introduced to this book by a friend who is VERY Italian (are Italians ever less than very Italian?)
This book is fun, and has great recipes, although like most authentic Italian dishes, has a lot of steps in the recipe (so break out the vino first). It reminds us what family is about when sharing food– even if you are cursing each other in the kitchen or setting the stove on fire.
It's all good.
6. Authentic Mexican: Regional Cooking from the Heart of Mexico by Rick Bayless
Rick Bayless is the host of the PBS-TV series Cooking Mexican where he takes the audience through the real art of Mexican cooking.
This book features traditional Mexican dishes like tacos, tamales and the like, but the best recipes are the ones influenced by Native American cultures, European-prepared seafood dishes, and some vegetable dishes that my Louisiana friends would recognize.
Step out of your comfort zone and take something that is uniquely a family tradition and combine it with a recipe from this book
7. James Beard's American Cookery by James Beard
James Beard is a culinary institution and if you are a serious foodie, anything you can find that is written by James Beard should be found on your bookshelf. This book offers more than fifteen hundred of his favorite recipes as well as his brand of cooking tips.
James Beard was a culinary teacher and a champion of American cuisine who helped educate and mentor generations of professional chefs and food enthusiasts. (Bio)
8. The Classic Italian Cookbook by Marcella Hazan
The gnocchi with Gorgonzola cream sauce recipe is worth owning this book alone, let alone the Italian-styled grilled vegetables.
This is a cookbook your Italian grandmother would have put together and served you at Sunday dinner. If you use Balsamic vinegar, you have Marcella to thank for that. Her books are filled with background stories to match the recipes, like:
"Granita di caffè con panna was the most welcome sign that Italian cafés used to put out in summer. On an afternoon slowed down by the southern sun, it was one of the best ways to while away the time, watching life dawdle by as you let the granita's crystals melt on the tongue, spoonful by spoonful, until the roof of your mouth felt like an ice cavern pervaded by the aroma of strong coffee."
I am on my way to buy a nice big fresh chicken and get to work prepping and cooking so I'm closing this list with one of my favorite recipes from another great chef, Jeremiah Tower, who prepared the following Casserole Roasted Chicken for Julia Child on her show "Cooking with Master Chefs."
This is a great dish for a holiday weekend to share with your friends, neighbors, and loved ones.  Great recipes don't always have to be hard. I'm sharing Jeremiah's recipe below.
Maria Vieages
———-
Casserole Roasted Chicken with Garlic, Lemon, and Watercress Salad
Serves 6
For the Chicken:
A 5 1/2 to 6-pound roaster chicken
Salt and freshly ground pepper
1/2 cup olive oil
5 large heads of garlic separated into cloves, unpeeled
3 sprigs of fresh rosemary
4 lemons halved crosswise
For the Salad:
1/4 cup of very fresh-tasting walnut oil
Salt
Freshly ground pepper
12 bunches watercress
Special Equipment Suggested:
A covered casserole or roaster just large enough to hold the chicken comfortably
A bulb baster
A pastry brush
An oven-proof serving platter
Instructions
Timing: Count on a good 2 hours in all – 1 hour for covered roasting, 1/2 hour for browning, and a 30-minute rest before carving.
Preparing the Chicken: Preheat the oven to 375 F. Place all ingredients and equipment next to your main work area on a large tray or newspapers, and plan to dispose of and/or wash everything (including your hands) thoroughly with soap and hot water when you are through.
Remove the packet of giblets in the cavity and reserve for something else. Remove any visible clumps of fat from inside the cavity, wash and dry them in paper towels, and set aside. Wash the chicken both inside and out under cold running water; dry thoroughly with paper towels.
Salt and pepper the cavity lightly, pour in a spoonful of olive oil, and stuff in a handful of garlic and rosemary. Squeeze in the juice of a lemon, and add the lemon halves. Truss the chicken, brush with olive oil, sprinkle with salt and pepper, and set it breast up in the casserole. Flatten the reserved pieces of chicken fat with your fist and lay them over the breast.
Smash the rest of the garlic cloves with the flat of your big knife and lay them also over the chicken along with the remaining rosemary. Squeeze on the rest of the lemons, tossing the squeezed halves into the casserole.
Ahead-of-Time Note: The chicken is now ready for the oven, and may be prepared to this point two hours ahead.
Roasting the Chicken – 1 1/2 hours: Set the covered casserole in the lower third of the preheated oven. Basting is really not necessary, but a quick peek now and then is useful just to see how things are going. You may also desire quick basting with the accumulated juices, using a bulb baster.
After an hour, remove the cover and turn the thermostat up to 400 F. Continue roasting and letting the chicken brown.
When Is It Done? The thighs will be fairly tender when pressed; the drumsticks will move up and down in their sockets fairly well. When the bird is lifted, the last juices to fall from the vent end will be clear yellow with no trace of rose.
Remove the chicken to the serving platter, cut off the trussing strings, and return the chicken to the turned-off oven, leaving the door ajar.
Preparing the Sauce and Serving the Roasted Chicken and Salad: Drain the juices from the casserole through a sieve.
Using a ladle, push the garlic to extract juice from it as well. Skim the fat off the surface in the remaining juices of the strained liquid. Whisk in the walnut oil and season to taste with salt and pepper. Toss the watercress into the sauce to coat well. Place the seasoned watercress around the chicken and drizzle with any remaining sauce.
———-
Chef Maria Vieages resides in New Orleans and is known for working with clients such as Carlos Santana, Dan Rather, Rue McClanhan, Jeff Bezos, The Manhattan Transfer, Cards Against Humanity, Facebook, Google, P!NK, and Steph Curry–to name a few. She's been featured on HGTV, The Rachel Ray Show, The Hallmark Channel, and various news special interest segments. Maria travels the U.S. and beyond, creating New Orleans and Multi-Regional pop-ups which include cooking demos, classes, wine/spirit pairings, and pop-up restaurants, incorporating these events into her writings, and podcasts.

Enjoy this special 8WomenDream Guest Contributor story submitted by new and experienced big dreamers throughout the world, edited and published to capture a dream perspective from different points of view. Do you have a personal dream story to share with 8WomenDream readers? Click here to learn how to submit dream big articles for consideration.
Note: Articles by Guest Post Contributors may contain affiliate links and may be compensated if you make a purchase after clicking on an affiliate link.