Last updated on April 8th, 2012 at 08:17 pm
Happy Positive Thursday dreamers!
I hope you are all having a fantastic week. If I could describe my week in one word, I would choose overwhelmed. Do you ever feel like that word gets a bad reputation? People immediately think of "overwhelmed" as stressed, worried, upset, but I like to view overwhelmed in another way.
You know I like to share definitions in my posts, so here is the actual definition of overwhelmed:
to load, heap, treat, or address with an overpowering or excessive amount of anything
to overcome completely in mind or feeling
So what's the reason I am feeling overwhelmed? Well, I am coming super-close to achieving one of my dreams. I was recently offered a job at a digital public relations firm in San Francisco and have accepted the job!
Like you can see on my 8 Women Dream Bio page, one of my life goals/dreams has been to "to find a job that allows me to utilize my public relations education and skills." And this is that opportunity.
This Midwest gal is packing her bags and heading to the West Coast to start a new life, to start a new job, to start a new dream. And this is why I'm overwhelmed. I am overwhelmed with feelings of excitement, joy, nervousness and craziness.
When I tell people I'm overwhelmed, they automatically think that's a bad thing. I prefer to look at being overwhelmed as a healthy and happy thing. I'm overwhelmed with blessings. I'm overwhelmed I'm overwhelmed with opportunities.
I'm overwhelmed with a full and purposeful life.
Instead of feeling stressed or worried about my new opportunities, new life experiences and new job, I am choosing to feel blessed. Rather than be worried that I don't have an apartment in the city yet, I am feeling blessed that a beautiful fellow dreamer, Rayne, is offering me a room in her house for a few weeks.
Rather than being stressed about the upcoming whirlwind weeks as I transition from college to "the real world", I am feeling blessed to have a job. To be offered a job in this economy. To be in the position to continue learning and growing both professionally and personally.
In last week's post, Identity: Who Am I Now And Who Do I Want To Be I wrote about identity. I explained,
"Your early 20s is the time you are refining the young man or woman you were created to be! Keep your head held high and continue pursuing the future confidently while enjoying the moments you are in."
This week, I am channeling this mindset and this thought process. I am beyond excited, nervous, and overwhelmed for my future. I am also beyond happy that I can soak up my last few weeks of college with the best friends I've ever met.
Like the image above states, "Stop worrying and live!"
I am not overwhelmed with worry. I am overwhelmed with life!
May today be the day be the day you choose to be overwhelmed with joy and happiness and excitement for life, rather than overwhelmed by worry and stress. Keep me updated on your journeys and dreams; thank you for constantly supporting me!
What dreams have you achieved lately? What ones are you close to completing?
Until next positive Thursday
XO —Andi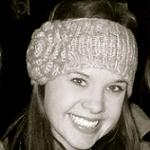 Andrea's dream is to graduate college from Ohio University in spring 2011, to find a job that allows her to utilize her public relations education and skills; to launch her own personal website www.polish-my-crown.com; and to become a certified life coach and motivational speaker.

Enjoy this special 8WomenDream Guest Contributor story submitted by new and experienced big dreamers throughout the world, edited and published to capture a dream perspective from different points of view. Do you have a personal dream story to share with 8WomenDream readers? Click here to learn how to submit dream big articles for consideration.
Note: Articles by Guest Post Contributors may contain affiliate links and may be compensated if you make a purchase after clicking on an affiliate link.