Last updated on April 27th, 2014 at 12:47 pm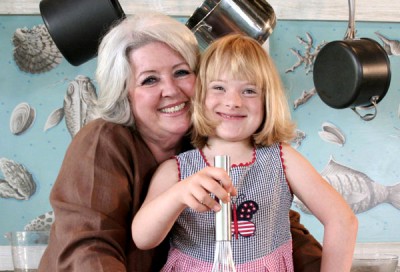 Just when I thought things couldn't get worse for Paula Deen…  her bread and butter, The Food Network cut ties with her, the publishing company who was championing her new cookbook said, "Buh-bye," and her list of sponsors are dropping like dead flies.
Does she deserve this for saying the "N" word? I mean, come on.
She's an older, southern woman with a old southern mentality when it comes to African Americans and it's part of her reality. Surely, we've all said derogatory things about others regarding their race, religion, nationality, weight, height, lack of hair, where they live, and, god knows, how many other things.  There will even be those of you who will read this post and misinterpret what I am saying.
Well, ya'll, I'm a southern woman too, who happens to be adopted, gay and (now) overweight and I've been called by many a nasty name as a chef.  Hell, try writing a blog and read some of the nasty emails you will get when you take a stand.
It does hurt.
Paula Deen has had her own share of adversity in the past and experienced some hard knocks while living as a homemaker in Albany, Georgia. Her parents died, her marriage failed, she was broke and battling Agoraphobia. With $200.00 to her name and a born knack for cooking great southern food, Paula moved to Savannah, Georgia and opened a catering business, "The Bag Lady." Her business specialized in making sandwiches and meals that she and her two sons (Jamie and Bobby) delivered in bags to downtown businesses.
The concept took off and she was able to grow and create her culinary dream of opening a restaurant.
Paula also self-published a cookbook, which got the attention of a literary agent from a major publishing house. Her notoriety grew further when she promoted the cookbook on QVC. Paula's relationship with The Food Network started in 1999 when she was introduced to Top Chef, Gordon Elliot.
The rest, as they say, is history — and that's an understatement.
Fast forward to the lawsuit by Lisa T. Jackson,  a former employee of Deen and her brother, Bubba Hier at the restaurants, "The Lady and Sons" and "Bubba's Seafood and Oyster House."   Jackson alleges that "Paula and Bubba allegedly committed numerous acts of violence, discrimination and racism which led to the end of her 5 year employment."   Paula admits to using the "N word," but only when a black man burst into the bank many years ago and put a gun to her head.
Give me a break.
Whether Lisa Jackson's allegations are true, or she is just in the market to get rich on Paula's dollar,  Paula Deen certainly has learned a really hard dream lesson.  We all know what difficult life lessons feel like and they are something that either cause us to change our more negative traits –or reflect on  it for a while then blow it off  and continue the bad behavior.
If I had an opportunity to help Paula "do it a different way"  I would offer her these few tips:
Let your attorney and publicist handle it from the beginning.
Lose the ego and stop thinking that just because you are famous means you can get away with anything.
Keep your mouth shut more than you have in the past including eating with your mouth open on national television.
Whether you choose to forgive Paula Deen or not is strictly up to you.  I personally think part of this is a double standard.  Many people make a living from saying asinine things about others and degrading people's race, gender and sexuality on television or on the radio, and yet, that seems to be fine.  I guess if I wanted to be mean too I could call Paula a fat, obnoxious, former Food Network puppet who was probably told to "kick it up a notch" with tripling the "Ya'lls" and whatever it took to dance to the tune of higher television ratings.
But I won't.
As a chef who is all of the things I mentioned above and who has also overcome a lot of adversity,  I am hyper-sensitive to anything derogatory.
I presently am experiencing a huge growth in my business and know I am on the verge of a critical mass success.   For the first time in many years, I my work leaves me feeling fufilled and appreciated by my clients.  It's reminded me how much everyone wants to feel appreciated and loved.
Through my own mistakes in hurting others, the biggest lesson I've learned is:
The tongue has no bones, but is strong enough to break a heart.  Be careful with your words.
Perhaps a fun test would be to write Paula a letter and invite her to your home to cook collard greens, eat watermelon, and decorate your lawn jockey and see if she accepts.
Hopefully she wouldn't…
And hopefully she's learned her lesson and the suffering will end soon and the culinary industry can go back to doing what it does best: creating good food with a lot of love, sweat and tears.
This week's recipe is a Paula Deen original.  Throw caution to the wind regarding calories and have fun, y'all.
Maria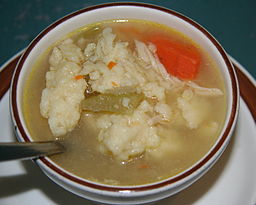 Chicken and Dumplings
Serves 6
1 (2 1/2-pound) chicken, cut into 8 piece
3 ribs celery, chopped
1 large onion, chopped
2 bay leaves
2 chicken bouillon cubes
Salt,  black pepper, garlic powder to taste
1 (10 3/4-ounce) can condensed cream of celery or cream of chicken soup
Dumplings:
2 cups all-purpose flour
1 teaspoon salt
Ice water
Directions
To start the chicken: Place the chicken, celery, onion, bay leaves, bouillon, and House Seasoning in a large pot. Add 4 quarts of water and in water and bring to a simmer over medium heat. Simmer the chicken until it is tender and the thigh juices run clear, about 40 minutes. Remove the chicken from the pot and, when it is cool enough to handle, remove the skin and separate the meat from the bones. Return the chicken meat to the pot. Keep warm over low heat.
To prepare the dumplings: Mix the flour with the salt and mound together in a mixing bowl. Beginning at the center of the mound, drizzle a small amount of ice water over the flour. Using your fingers, and moving from the center to the sides of the bowl, gradually incorporate about 3/4 cup of ice water. Knead the dough and form it into ball.
Dust a good amount of flour onto a clean work surface. Roll out the dough (it will be firm), working from center to 1/8-inch thick. Let the dough relax for several minutes.
Add the cream of celery soup to the pot with the chicken and simmer gently over medium-low heat.
Cut the dough into 1-inch pieces. Pull a piece in half and drop the halves into the simmering soup. Repeat. Do not stir the chicken once the dumplings have been added. Gently move the pot in a circular motion so the dumplings become submerged and cook evenly. Cook until the dumplings float and are no longer doughy, 3 to 4 minutes.
To serve, ladle chicken, gravy, and dumplings into warm bowls.
Chef's Note: If the chicken stew is too thin it can be thickened before the dumplings are added. Simply mix together 2 tablespoons cornstarch and 1/4 cup of water then whisk this mixture into the stew.

Enjoy this special 8WomenDream Guest Contributor story submitted by new and experienced big dreamers throughout the world, edited and published to capture a dream perspective from different points of view. Do you have a personal dream story to share with 8WomenDream readers? Click here to learn how to submit dream big articles for consideration.
Note: Articles by Guest Post Contributors may contain affiliate links and may be compensated if you make a purchase after clicking on an affiliate link.