Last updated on December 20th, 2019 at 10:52 am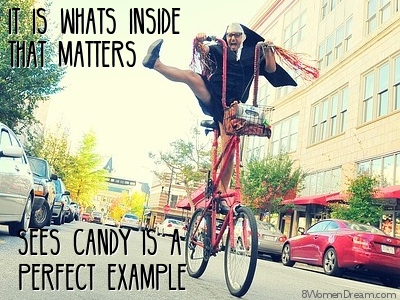 I am beginning to see how this making dreams-come-true stuff works. Much of it is in our heads and how you approach life and that big dream of yours. Attitude is everything.
Is anyone smiling while working on their dream–or for that matter–laughing?
Maybe you shouldn't take yourself so seriously when working toward achieving your big dream.  Maybe you need to laugh a little more and forgive yourself when you are ignoring your dream callings out of fear and self-doubt.
The best medicine for your big dream woes could be a daily dose of laughter.
Melissa B. Wanzer, EdD, professor of communication studies at Canisius College in Buffalo, NY collaborated on research that found aging adults who used humor more frequently reported greater coping efficacy, which led to greater life satisfaction. This was the third study she conducted, with three different types of populations, where the conclusion was the same.
Melinda Smith, M.A., Gina Kemp, M.A., and Jeanne Segal, Ph.D. Found that

Laughter relaxes the whole body. A good, hearty laugh relieves physical tension and stress, leaving your muscles relaxed for up to 45 minutes after.
Laughter boosts the immune system. Laughter decreases stress hormones and increases immune cells and infection-fighting antibodies, thus improving your resistance to disease.
Laughter triggers the release of endorphins, the body's natural feel-good chemicals. Endorphins promote an overall sense of well-being and can even temporarily relieve pain.
Laughter protects the heart. Laughter improves the function of blood vessels and increases blood flow, which can help protect you against a heart attack and other cardiovascular problems.
Laughter dissolves distressing emotions. You can't feel anxious, angry, or sad when you're laughing.
Laughter helps you relax and recharge. It reduces stress and increases energy, enabling you to stay focused and accomplish more.
Humor shifts perspective, allowing you to see situations in a more realistic, less threatening light. A humorous perspective creates psychological distance, which can help you avoid feeling overwhelmed.
Vanderbilt University studied the caloric effects of laughter. Lead study author Maciej S. Buchowski, Ph.D. determined that if you laugh for 15 minutes every day for a year and you could drop up to four pounds. Not to mention the great psychological benefits of laughing.
Combine laughing with hiking and I am a fat-burning machine! Combine laughter with forgiving yourself for not working on your dream and gain the energy to get going again. I believe laughter can help you achieve your dreams. If not, then you'll be one very happy unsuccessful dreamer.
I'll leave you with a laugh
A man is walking down the beach and comes across an old bottle. He picks it up, pulls out the cork and out pops a genie.

The genie says, "Thank you for freeing me from the bottle. In return I will grant you three wishes."

The man says "Great! I always dreamed of this and I know exactly what I want. First, I want one billion dollars in a Swiss bank account." Poof! There is a flash of light and a piece of paper with account numbers appears in his hand. He continues, "Next, I want a brand new red Ferrari right here." Poof! There is a flash of light and a bright red brand-new Ferrari appears right next to him. He continues, "Finally, I want to be irresistible to women." Poof!

There is a flash of light and he turns into a box of chocolates."
Veronica Jacobsen
Veronica Jacobsen manages a sober-living recovery center for women and works to teach women how to live healthy, radiant and productive lives.

Enjoy this special 8WomenDream Guest Contributor story submitted by new and experienced big dreamers throughout the world, edited and published to capture a dream perspective from different points of view. Do you have a personal dream story to share with 8WomenDream readers? Click here to learn how to submit dream big articles for consideration.
Note: Articles by Guest Post Contributors may contain affiliate links and may be compensated if you make a purchase after clicking on an affiliate link.