Last updated on March 19th, 2023 at 03:50 pm
Today, I dedicate my fearless-bravery story submitted here as a big dream inspiration to author, poet, singer, and civil rights activist Maya Angelou.
I am grateful for her shining light of hope and her courageous words of wisdom. May we make her proud today.
In honor of Maya and great women like her, be brave enough to take one step to change your life and manifest your big dream. It was Maya Angelou said, "Nothing will work unless you do."
Once you've taken action toward making your dream a reality today, speak a statement of gratitude to Maya Angelou for her shining example of never letting fear stop her.
Favorite 8 Quotes by Maya Angelou
1. If you don't like something, change it. If you can't change it, change your attitude. Don't complain.
——————–
2. We may encounter many defeats, but we must not be defeated.
——————–
3. What is a fear of living? It's preeminently afraid of dying. It is not doing what you came here to do out of timidity and spinelessness. The antidote is to take full responsibility for yourself –for the time you take up and the space you occupy. If you don't know what you're here to do, then just do some good.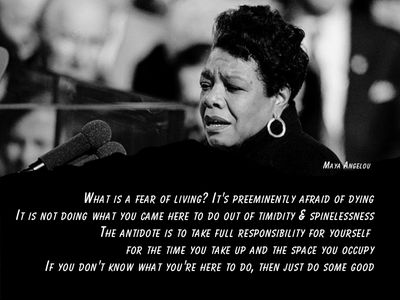 ——————–
4. The need for change bulldozed a road down the center of my mind.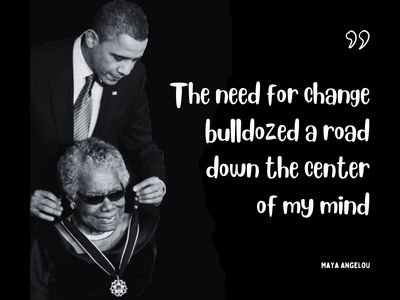 ——————–
5. Life loves to be taken by the lapel and told: 'I'm with you, kid. Let's go.'
——————–
6. My life has been long and believing that life loves the liver of it, I have dared to try many things, sometimes trembling, but daring still.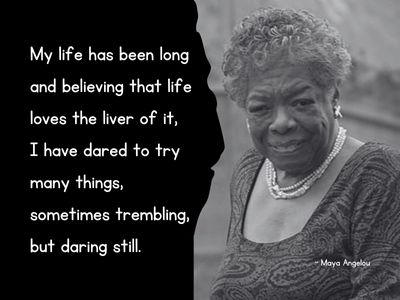 ——————–
7. Success is liking yourself, liking what you do, and liking how you do it.
——————–
8. There is no greater agony than bearing an untold story inside you.
Thank you, Maya Angelou. Today, we are grateful for your fearless bravery.
Sue Faith Levy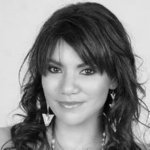 Sue Levy is the founder of the South African Just Pursue It Blog and Inspirational Women Initiative. She's a motivational writer and media designer, who is obsessed with everything inspirational with a hint of geek. She thrives on teaching women how to be brave and take big chances on themselves. You can find Sue on her Twitter page @Sue_Levy.
Note: Articles by Sue may contain affiliate links and may be compensated if you make a purchase after clicking on an affiliate link.