Last updated on November 14th, 2019 at 09:58 pm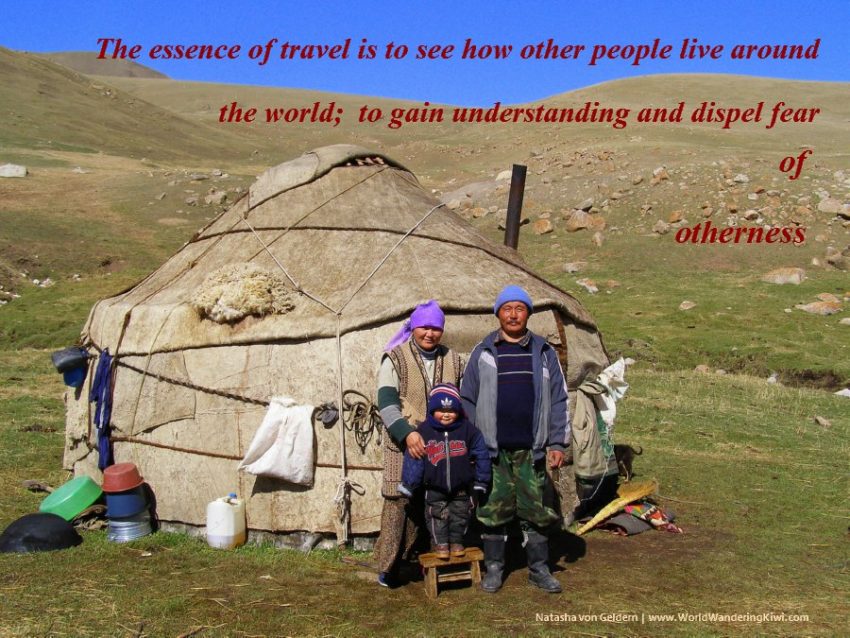 Top travel blogger and world travel dreamer, Natasha von Geldern has put together a collection of the 50 best quotes about travel and traveling the world to inspire you to follow your world travel dreams, leave the comfort of your home, and travel the world just as she has done…
Ever since I wrote my article on inspirational quotes to inspire your world travel dreams, I have collected more quotes about travel.
I thought I would share my 50 best travel quotes that I've collected on travel and traveling the world over the years. Some are philosophical, some wry and self-deprecating. Some examine the reasons for travel and others the impact travel has on us.
They are world travel quotes for achieving your travel dreams from some of the world's most famous travelers and authors.
Feel free to share our words of wisdom about world travel collection with anyone looking for inspiration to make their travel dreams a reality.
The 50 Best Quotes About Travel
1. "The world is a book and those who do not travel read only one page." St Augustine
2. "Twenty years from now you will be more disappointed by the things that you didn't do than by the ones you did do. So throw off the bowlines. Sail away from the safe harbor. Catch the trade winds in your sails. Explore. Dream. Discover." Mark Twain
3. "Not all those who wander are lost." JRR Tolkien
4. "One of the gladdest moments of human life, methinks, is the departure upon a distant journey into unknown lands. Shaking off with one mighty effort the fetters of habit, the leaden weight of routine, the cloak of many cares and the slavery of home, man feels once more happy." Richard Burton
5. "One's destination is never a place, but a new way of seeing things." Henry Miller
6. "Perhaps travel cannot prevent bigotry, but by demonstrating that all peoples cry, laugh, eat, worry, and die, it can introduce the idea that if we try and understand each other, we may even become friends." Maya Angelou
7. "Unusual travel suggestions are dancing lessons from God." Kurt Vonnegut
8. "I [had] added another small piece to the pages of the atlas that were real to me." Evelyn Waugh
9. "Though we travel the world over to find the beautiful, we must carry it with us or we find it not." Ralph Waldo Emerson
10. "If you wish to travel far and fast, travel light. Take off all your envies, jealousies, unforgiveness, selfishness and fears." Cesare Pavese 
11. "I travel not to go anywhere but to go. I travel for travel's sake. The great affair is to move." Robert Louis Stevenson
12. "To travel is to discover that everyone is wrong about other countries." Aldous Huxley 
13. "I have wandered all my life, and I have also traveled; the difference between the two being this, that we wander for distraction, but we travel for fulfillment." Hilaire Belloc 
14. "You know more of a road by having traveled it than by all the conjectures and descriptions in the world." William Hazlitt
15.  "Certainly, travel is more than the seeing of sights; it is a change that goes on, deep and permanent, in the ideas of living." Miriam Beard 
16. "Traveling is the ruin of all happiness! There's no looking at a building after seeing Italy." Fanny Burney
17. "The whole object of travel is not to set foot on foreign land; it is, at last, to set foot on one's own country as a foreign land." Gilbert K. Chesterton 
18. "Perhaps travel cannot prevent bigotry, but by demonstrating that all peoples cry, laugh, eat, worry, and die, it can introduce the idea that if we try and understand each other, we may even become friends." Maya Angelou
19. "Writing and travel broaden your ass if not your mind and I like to write standing up." Ernest Hemingway
20. "I never travel without my diary. One should always have something sensational to read on the train." Oscar Wilde 
21. "We travel, some of us forever, to seek other states, other lives, other souls." Anais Nin
22. "All travel has its advantages. If the passenger visits better countries, he may learn to improve his own. And if fortune carries him to worse, he may learn to enjoy it." Samuel Johnson 
23. "Like all great travelers, I have seen more than I remember, and remember more than I have seen." Benjamin Disraeli 
24. "Own only what you can always carry with you: know languages, know countries, know people. Let your memory be your travel bag." Aleksander Solzhenitsyn 
25. "Life is an unfoldment, and the further we travel the more truth we can comprehend. To understand the things that are at our door is the best preparation for understanding those that lie beyond." Hypatia
26. "The traveler sees what he sees, the tourist sees what he has come to see." Gilbert K. Chesterton
27. "A traveler without observation is a bird without wings." Moslih Eddin Saadi
28. "To awaken quite alone in a strange town is one of the pleasantest sensations in the world." Freya Stark 
29. "A journey of a thousand miles must begin with a single step." Lao Tzu
30. "Our battered suitcases were piled on the sidewalk again; we had longer ways to go. But no matter, the road is life." Jack Kerouac
31. "You have brains in your head. You have feet in your shoes. You can steer yourself any direction you choose. You're on your own. And you know what you know. And YOU are the one who'll decide where to go." Dr. Seuss
32. "Travel is fatal to prejudice, bigotry, and narrow-mindedness, and many of our people need it sorely on these accounts." Mark Twain
33. "The real voyage of discovery consists not in seeking new landscapes, but in having new eyes." Marcel Proust
34. "We live in a wonderful world that is full of beauty, charm, and adventure. There is no end to the adventures we can have if only we seek them with our eyes open." Jawaharal Nehru
35. "Make voyages. Attempt them. There's nothing else." Tennessee Williams
36. "I am not the same having seen the moon shine on the other side of the world." Mary Anne Radmacher
37. "Through travel, I first became aware of the outside world; it was through travel that I found my own introspective way into becoming a part of it." Eudora Welty
38. "Travel is the frivolous part of serious lives, and the serious part of frivolous ones." Anne Sophie Swetchine
39. "I read; I travel; I become." Derek Walcott
40. "Traveling outgrows its motives. It soon proves sufficient in itself. You think you are making a trip, but soon it is making you – or unmaking you." Nicolas Bouvier
41. "No man is brave that has never walked a hundred miles. If you want to know the truth of who you are, walk until not a person knows your name. Travel is the great leveler, the great teacher; bitter as medicine, crueler than mirror-glass. A long stretch of road will teach you more about yourself than a hundred years of quiet." Patrick Rothfuss
42. "We travel, initially, to lose ourselves; and we travel, next to find ourselves. We travel to open our hearts and eyes and learn more about the world than our newspapers will accommodate. We travel to bring what little we can, in our ignorance and knowledge, to those parts of the globe whose riches are differently dispersed. And we travel, in essence, to become young fools again- to slow time down and get taken in, and fall in love once more." Pico Iyer
43. "See the world. It's more fantastic than any dream made or paid for in factories. Ask for no guarantees, ask for no security." Ray Bradbury, Fahrenheit 451
44. "Every dreamer knows that it is entirely possible to be homesick for a place you've never been to, perhaps more homesick than for familiar ground." Judith Thurman
45. "It is a pity indeed to travel and not get this essential sense of landscape values. You do not need a sixth sense for it. It is there if you just close your eyes and breathe softly through your nose; you will hear the whispered message, for all landscapes ask the same question in the same whisper. 'I am watching you — are you watching yourself in me?' Most travelers hurry too much…the great thing is to try and travel with the eyes of the spirit wide open and not too much factual information. To tune in, without reverence, idly — but with real inward attention. It is to be had for the feeling…you can extract the essence of a place once you know how. If you just get as still as a needle, you'll be there." Lawrence Durrell
46. "It is always sad to leave a place to which one knows one will never return. Such are the melancholies du voyage: perhaps they are one of the most rewarding things about traveling." Gustave Flaubert
47. "To my mind, the greatest reward and luxury of travel is to be able to experience everyday things as if for the first time, to be in a position in which almost nothing is so familiar it is taken for granted." Bill Bryson
48. "Why do you go away? So that you can come back. So that you can see the place you came from with new eyes and extra colors. And the people there see you differently, too. Coming back to where you started is not the same as never leaving." Terry Pratchett
49. "Travel is glamorous only in retrospect." Paul Theroux
50. "Every one of a hundred thousand cities around the world had its own special sunset and it was worth going there, just once, if only to see the sun go down." Ryū Murakami
I hope you use these inspirational quotes to provide you with the inspiration to embark on your world travel dreams.
"For me the essence of travel is seeing how other people live around the world; to gain understanding and dispel fear of otherness." Natasha von Geldern
Natasha von Geldern
Natasha von Geldern is a travel writer, editor, and blogger who is passionate about making the pages of the atlas real by traveling the world. She is a contributor to Travel Wire Asia, Wild Junket Magazine, Yahoo! Total Travel, and Travelbite. You can find her on her travel website and blog, WorldWanderingKiwi.
Note: Articles by Natasha may contain affiliate links and may be compensated if you make a purchase after clicking on an affiliate link.