Last updated on July 27th, 2014 at 10:12 pm
How to condition your horse:
From me, at this point, that could be a question or a statement.  On my path to becoming an accomplished equestrian, I certainly cannot put a check-mark next to "Knows how to condition a horse".
Horses are just like people or any other animal – to perform, to compete, they need to be in shape.  Horses need strong back muscles, neck muscles, hindquarter muscles, and leg muscles.
Riders need strong core muscles ("Sit up straight!"), strong legs for staying on and giving aids to the horse and strong arms to hold back all that powerful forward impulsion of the horse, just to name a few.
Nikki  is sorely out of shape.  (I am too but that's a different subject.)  I've gotten on him (yeah, me!!) this past week and his lack of muscle tone is apparent.
His stride is short and choppy rather than flowing and ground-covering.
His back is full of tension.
His hindquarters are tight rather than loosely swinging from side to side with each step.
His neck is balled up and tense rather than carried down and stretched forward.
Nikki is tripping a lot.  The other day he actually fell to his  knees and took 3 or 4 steps with each leg on his knees before regaining his feet.  Scary for him, me, and my husband who was watching (who later admitted he was positive that Nikki was going to go head over heels and roll on top of me.).
But I've got to say – Nikki's one hell of a horse for fighting through that, not saying, "oh, screw it" and falling, and not bucking after he got back on his feet.
Oh yeah, that's why I bought him.
I know what's wrong.  But I'm not 100% sure how to fix it.
Simply more work is one answer and I've been doing that.  We're starting slowly to allow both of our muscles to wake back up. (I promise you – they're doing so, painfully.)  After a few minutes of riding, I often turn him loose in the arena and chase him a bit to get him to really trot out and canter.
This is allowing him to stretch more and find his footing without me tugging on his bridle.  I think that's helping.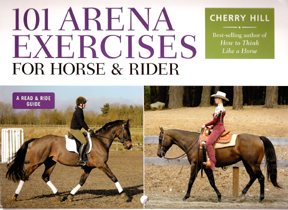 I've considered massage, chiropractic or acupuncture to help release some of the tension in his back and neck.  Yep, all of those are available for horses.
I had acupuncture done on a previous horse and the results were amazing.  As the needles were placed, you could actually see his entire body relax.
There are books on the subject, of course.  The first one that comes to  my mind is  "101 Arena Exercises" by Cherry Hill.  It gives specific exercises with detailed instructions for all three gaits (walk, trot, canter); transitions between the gaits, lateral work, circles, and mini-patterns such as serpentines.  All of these build muscle and flexibility.
I don't own it but certainly could buy it.  The exercises would give some focus to my riding time, which would be good.
As Nikki gets a bit more in shape, there are training devices such as side reins that can be used.  I have a general idea of how to use them but would need more instruction in that area.  Being proficient with a variety of training devices certainly should be part of being an accomplished equestrian.
So, that's my focus for right now.  Simply getting Nikki and myself back into riding shape.  Hopefully we can make some decent progress before the rain starts.
Then, the question will be how to keep that conditioning up when I can't ride in my  muddy arena all winter.
'Til next week . . .
Danelle
(Danelle left 8 Women Dream in March of 2010 and is still working  on her dream is to become an accomplished equestrian)

Enjoy this special 8WomenDream Guest Contributor story submitted by new and experienced big dreamers throughout the world, edited and published to capture a dream perspective from different points of view. Do you have a personal dream story to share with 8WomenDream readers? Click here to learn how to submit dream big articles for consideration.
Note: Articles by Guest Post Contributors may contain affiliate links and may be compensated if you make a purchase after clicking on an affiliate link.