Last updated on July 27th, 2014 at 09:51 pm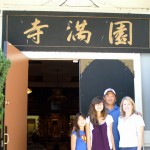 Yesterday was the official kickoff to my new dream of learning Japanese culture. I decided to take the family to a Japanese Bazaar located at the Enmanji Buddhist Temple. It was a great reminder for the kids to different see Japanese traditions, including Buddhism. Â It was simple and painless – just fun.
Getting there in the first place was the challenge. To ensure that I didn't have to hear moaning and groaning about the unknown adventure from my 3 kids for more than one day, I told them the day before what we were doing and where we were going. I got the usual, "Why do we have to go there?"or "What are we doing that for?" and even, "But we're American!" from all of them. But I stood firm. Wait a minute, I only have two kids. Oh yeah, I forget sometimes that one of them is my husband.
It ended up being a nice day and they survived. It even brought back childhood memories from my husband from when his parents took him and his siblings to Japanese Bazaars. He especially remembered his parents playing Bingo, sometimes all day. So we played and the kids got to watch, (no minors allowed) Â I think he'll realize that he knows more culture than he thinks as we progress and memories will come out.
We looked at Bonsai trees, went inside the Buddhist Temple, listened to Japanese live music, watched the Taiko drumming, and had a great chicken teriyaki lunch. We even learned the meaning of the name of the Temple, Enmanji.  "En" in Japanese means garden, "man" means fulfillment, and "ji" means temple. So even though we know these things are Japanese and have seen some of them or had them before, this gets us into the spirit and gets questions going from the kids.
I'm not quite sure what the next step for me to take with this dream. I was thinking of maybe starting with Buddhism and going to Sunday Services. (haven't told the kids this yet), or getting a computer program to learn one Japanese word a day, or finding and going to more events in the area, or all of them. My mom is into Ancestry.com and has been looking into my husband's family history which is starting to get interesting. Talking to his family will help more as well. I do have some kimonos from my husband's grandmother that I will treasure.
So that's my start to learning Japanese Culture. We will see what inspires me for the next step.
Sayonara,
Kim.

(Kim has already accomplished her first big dream by traveling to New York with her teenage daughter June of 2009. She lost 20 pounds and overcame her intense dislike (do we say fear?) of flying to accomplish that dream. She rotated off the blog in February 2010, but still hangs out with 8 Women Dream.  You can find her in the comments section)

Enjoy this special 8WomenDream Guest Contributor story submitted by new and experienced big dreamers throughout the world, edited and published to capture a dream perspective from different points of view. Do you have a personal dream story to share with 8WomenDream readers? Click here to learn how to submit dream big articles for consideration.
Note: Articles by Guest Post Contributors may contain affiliate links and may be compensated if you make a purchase after clicking on an affiliate link.