Last updated on December 31st, 2014 at 01:45 pm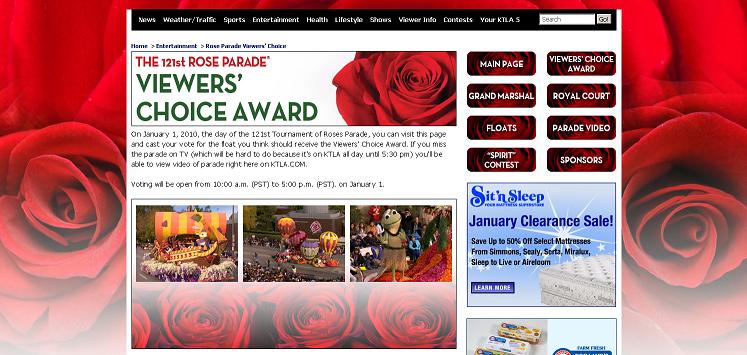 PASADENA, Calif. — About a thousand people were in and around the Rose Bowl on Tuesday afternoon as preparations for Friday's game continued.

Yes, Friday . . . THIS Friday . . . is the Pasadena Tournament of Roses parade.
There's not time for my usual post on equestrian riding dreams, so I'll leave you with a little promo.
For all of you who will be watching for our float in the Rose Parade on Friday, there's a Viewers' Choice Award!
Take part in Tournament of Roses history! The Tournament of Roses Viewers' Choice Award is back for the second year allowing Rose Parade fans the opportunity to give one of the 41 magnificent floats the recognition of being the fan favorite. So vote for the LaCanada Flintridge Float by going to the Rose Parade Viewer's Choice page.
Be sure to vote for our float!
Also, we are updating our page on Facebook here: LaCanada Flintridge on Facebook if you want to see what is going on with us.
Otherwise, I'll see you next week when I will be recovering!
Danelle Jacobs

Danelle left 8 Women Dream in 2010 and is still working on her dream is to become an accomplished equestrian.  She remains involved with the Pasadena Tournament of Roses Parade and each year works like a mad woman to help complete the LaCanada Flintridge Float.

[fbcomments]

Enjoy this special 8WomenDream Guest Contributor story submitted by new and experienced big dreamers throughout the world, edited and published to capture a dream perspective from different points of view. Do you have a personal dream story to share with 8WomenDream readers? Click here to learn how to submit dream big articles for consideration.
Note: Articles by Guest Post Contributors may contain affiliate links and may be compensated if you make a purchase after clicking on an affiliate link.