Last updated on July 5th, 2022 at 01:34 pm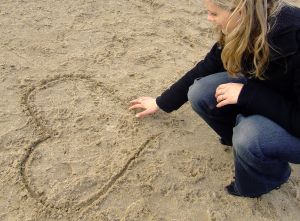 Whether you like Valentine's Day or loathe it, we're giving you plenty to fall in love with: An exclusive interview with travel expert Nicole Hockin.  Nicole shares her best solo travel tips and destinations.
You don't have to be married or see someone to fall in love with your travel dreams, go for them now!
"Sometimes we wait for a partner or friend to travel, but those who are single or find themselves single again don't have to wait to experience the world. " -Nicole Hockin
While a good chunk of the population may be waiting forever to eat dinner this evening, the other 104 million unmarried Americans can skip the candelabra and fall for a Costa Rican solo travel adventure instead.
Nicole's Recommendations for Best and Safest Solo Travel Destinations:
1. New York
2. London
3. South Beach, Miami, FL
4. Costa Rica
Nicole also advises that while solo travel is the ultimate way to experience the unknown, it's also important to be safe. Women especially should be aware of parts of the world that may frown upon women out after a certain time (dusk).
Since Nicole has been a wealth of travel information, I wanted to pick her brain for more destinations and successful solo travel solutions to help you live your travel dreams.
The Nicole Hockin interview
You mention the top destinations for solo travelers. Are there spots that women specifically flock to more than men?
It's not that obvious. Women usually do a girlfriend getaway, tropical destination, or beach destination to relax and read a book. Women by nature are more social so they want to go somewhere comfortable. I suggest going somewhere for three to four days on your own–somewhere historic to learn and see a lot or relax. When you are more comfortable, then go to Europe for ten days.
Is there a particular spot you think women should see by themselves?
The opportunity to embrace independence is very personal. What works for some doesn't work for others. I encourage people to find their innermost desire. You don't have to repel down a waterfall. Maybe you want to visit a castle in Ireland or visit a winery to learn all about the wine-making process.
Sometimes we wait for a partner or friend to travel, but those who are single or find themselves single again don't have to wait to experience the world. Some places have better discounts for one, like seeing a discount Broadway show in New York. New York is great to go by yourself. I love walking around New York City by myself searching for a slice of pizza or a cannoli.
Any advice for how solo travelers can meet people on a trip?
The important piece of solo travel is being social. Introduce yourself to the concierge and the housekeeping staff. The concierge can point you in the right direction and recognize you. You can ask them, "How long does it take to do something? If I'm not back by that time, then look for me."
Take a tour or join a group. For example, on a cruise, you can find a family to adopt you as their own and you can follow them for four days. I know people who have done that.
Look for places with community dining and family-style dining. Kimpton Hotels has free wine receptions every evening with different themes. I was at one with a palm reader in the lobby. Bed and breakfasts usually have social receptions, too. On hotels.com, you can read the reviews to find out about these things.
I want to talk about packing tips. What one thing should women always remember to pack before a solo travel trip?
A book is good for a couple of reasons. One, it's great for dining. You don't know how long the food will take, especially in Europe. It's nice to have something to read instead of staring at the wall to pass time.
On the flip side, lots of women are guilty of over-packing. If we are by ourselves, are there any items you suggest we can leave behind?
Jewelry. Anything that's important will make you a target. Just leave it at home. Too many shoes is another one. Look to pair one or two with everything you need. Flats, flip-flops, walking shoes, or in some places you might need closed-toe shoes.
While people can certainly travel solo, do you suggest they plan to solo, as well, or bring in an agent?
It depends on how involved you want your trip to be. The Internet makes us our own agents, and the more you do it, the savvier you get. With a simpler trip, you're more capable to plan it yourself.
With a more complex trip, there are lots of times and tours. Talk to a friend who has been there before or an agent, by all means. When you travel solo, there's a single supplement charge, and an agent can help you notice these.
For example, cruises and tours automatically factor for two people, so you'll get charged for that second occupant. Holland America Cruise Line has a matching roommate supplement where they will find someone to stay with you. There are actually a couple of weeks from May to August where all-inclusive will waive the single supplement fee.
What Web sites or blogs do you recommend for solo travelers to check out?
There are a number of travel blogs out there that touch on solo traveling. I do on my blog and I also recommend the Condé Nast Traveler blog. Also, there are travel agencies focused on solo travelers. We've seen a rising trend with experiential tour travelers. For people who are single or find themselves single again, they don't have to wait to experience the world.
When you travel by yourself, what motivates you to explore outside of your hotel room?
The opportunity to experience and learn something. I like to take it in at my own pace. Also, the opportunity to make a friend. I love to talk to people. You can learn so much by talking to people who have lived in a place forever, more than you can learn from a travel show. But I also like a great hotel. Unlike the flight, a hotel can really make you love or hate a place. Hotels.com has everything and an opportunity to try everything–bed and breakfasts, boutique hotels, budget hotels. Sometimes I like a good hotel bed that I can cozy up in and read to enjoy a good night.
You're so great at helping us nail down our travel, but what's your dream adventure?
It really depends on who I am with and the purpose of the trip. This spring, my husband and I are going to Northern Italy. I've been looking forward to this for years. The part I'm most excited about is the last night of the trip where we can wander down an Italian square in Florence, stumble upon a cafe and enjoy each other and reconnect. My other goal is to take my kids somewhere domestic and international once a year to experience different cultures.
When did your personal travel dream begin?
I have to give my mom credit for that one. She retired from Delta Airlines after 34 years, and as kids, we were always on planes, internationally and all over. We were fortunate with her flight benefits that we could leave on a moment's notice and fly to Jamaica. I developed an appreciation to see new things. And once you catch the travel bug, it's hard to stop. I know I said I want to keep traveling with my husband and kids, but I also want my mom and me to continue to travel together.
Thank you, Nicole, for sharing your excellent solo travel secrets.
Katie Eigel

Enjoy this special 8WomenDream Guest Contributor story submitted by new and experienced big dreamers throughout the world, edited and published to capture a dream perspective from different points of view. Do you have a personal dream story to share with 8WomenDream readers? Click here to learn how to submit dream big articles for consideration.
Note: Articles by Guest Post Contributors may contain affiliate links and may be compensated if you make a purchase after clicking on an affiliate link.