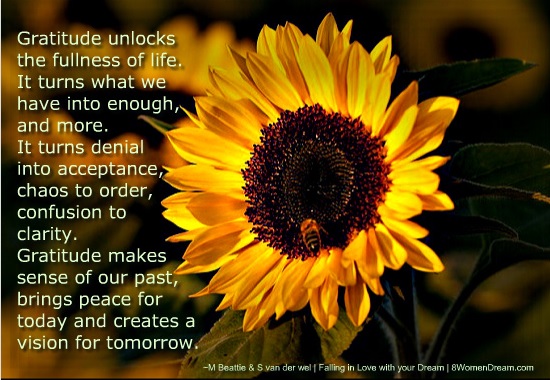 This week is Thanksgiving time in the U.S. and every year I use this time for reflection and I stop to ask myself,
"Who do you want to become next year?"

and

"What do you need to love more in order to transcend from where you are?"
Some years it seems like I'm stuck in some sort of holding-pattern, a period of time when nothing gets better or worse — a place where life loses its brilliance. This past year felt like I was permanently circling the runway without ever landing safely.  And no matter how hard I pushed, cried, wrote, worked, and prayed, life held me in its mid-flight grip.
There is only one thing you can do when you are stuck.  You must find a way to fall in love with your life exactly as it is, and exactly as it is not.  You must practice being fully present in each moment.
When you practice being in the moment, you learn to pay attention to when you doing your best and when you just don't give a crap. Being grateful for all the lessons hidden in these small moments help you see what you may be taking for granted and what is possibly keeping you stuck.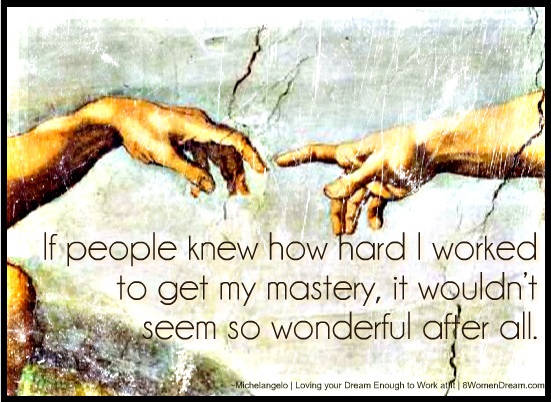 For years writers complained how the barrier to entry into the publishing world was filled with strife, too difficult and often unfair. Some writers worked their asses off to get published in spite of the odds, while others quit in disgust to work in healthcare, or some safe 9-to-5 job.
Fast forward to the Internet with the ability to create a blog in 15 minutes and any writer could be a published author in a day. The gatekeepers were pushed aside and anyone with an Internet connection and a keyboard could call themselves a writer.
It's created a lot of tedium online.
It's as if writers are stuck in a holding-pattern, unable to create anything that brings the recognition they were hoping to enjoy. The written content is thrown up on a blog without regard to the reader. Images don't evoke emotion. Nothing in the writing stands out. It's not a work of art. It's slapped together–last minute and the creator has already moved on to the next thing.
It's not about the excitement of seeing your polished work and being in love with your craft; it's about obligation and wanting to unload rambling thoughts on some obscure reader that we are bored with before we've even tried. The work is not about sweating it out until there's no more to give.
It's not about love. Too many aren't counting their blessings, or seeing the opportunities.
Has this happened on 8 Women Dream? Oh, absolutely. It's how dreamers learn whether or not they have enough love and discipline to become more. It's a test, that many don't pass.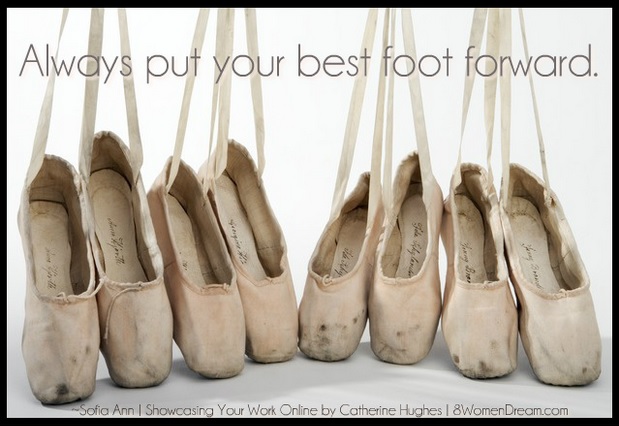 When I was a ballet dancer, it took years to earn a place at the front of class where the top dancers jockeyed for position to be known as the best. If you made it to the front row you were considered the best. You had to fight your way to get there and fight to stay. This ritual cut the wheat from the chaff.
Getting to that front row required a level of love for dance and perfection few understand.
You had to love the dancing more than the excruciating pain that bloody blisters would bring, you had to love the competition and live for the sacrifices needed to push yourself beyond your mental and physical limits. And most of all you needed to be grateful for the experience.
Living in the place of obsessed love over one's work and gratitude for each moment created breathtaking prima ballerinas.
Without gatekeepers to prevent us living out our art online, we can be hindered from seeing what an incredible opportunity we've been given in being able to showcase our work for the world to see with a simple click of a button.
Yet, how many times are you treating the opportunity like a blessing it is? Do you give it your all until you collapse on the couch in exhaustion with your heart rolling around on the floor saying,
"WOW!"?
If not, why?
Why did you even start in the first place?
Success will only come when you can move away from the place of looking at what you are not getting for your work to see what you are not giving of yourself.
If you don't see what a  blessing it is to be able to hit a publish button and offer work that takes a stranger's breath away, then you will never find success online.
You will never fall in love with your work. And the rest of the world won't fall in love with your work either.
Make a promise to yourself this Thanksgiving: promise yourself that this coming year will be the year you will strive to only put out your best work. Be grateful for opportunities to showcase your abilities — however they show up — and start looking at what you will give instead of what you will get.
My Thanksgiving blessing is for this to be the year you really fall in love with your work.
Because that's my plan for the coming year.
Catherine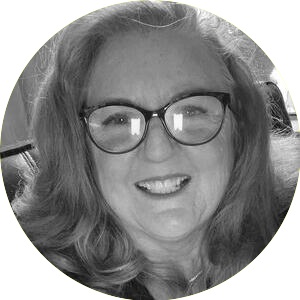 Catherine Hughes is the editor and founder of 8WomenDream. She's also a magazine columnist, content creator, blogger, published author, and former award-winning mom blogger. Catherine collaborates with companies to craft engaging web content and social media narratives. Her work, highlighting stories of the resilience and success of Northern California residents, appears in several print magazines. Outside of work, she treasures motherhood, her close friendships, rugby, and animals.
Note: Articles by Catherine may contain affiliate links and may be compensated if you make a purchase after clicking on an affiliate link.