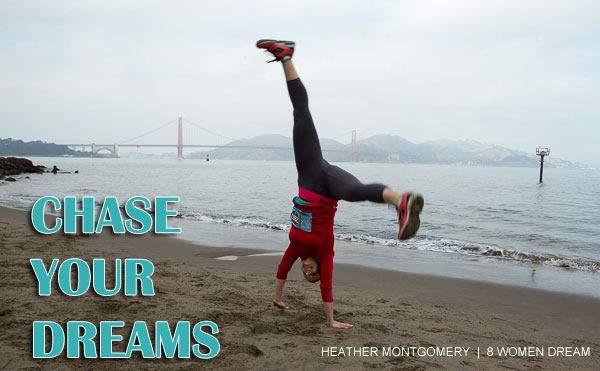 Ask any successful person and they will tell you that along the way, someone was coaching them, mentoring their progress along the way. It may be as simple as a regular phone call, or occasional face-to-face meetings, but odds are their success is due to someone else kicking their butt.
Dreaming means we need to accomplish a lot.You fellow dreamers are pretty easy to pick out. You are the ones researching until all hours in the morning on how to improve you are in the process of mastering.
I the case of my own fitness dream, hiring a coach came from the success I was seeing when I worked with him in a class situation.
Stumbling across his book seminar on triathlons at local running store was my first introduction to Rick Niles. Having just begun my path to triathlon I was nervous about chiming in on the group of triathletes that were gathered to pick his brain.
The way he approached the questions and answered with a smile and positive attitude toward competition peaked my interest. I approached Rick after that seminar and interviewed him about his book in my post Goal Setting: Coach Rick Niles Makes Triathlon Training Fast and Easy.
Running into the right people at the right time doesn't happen very often.
I kept Rick's information handy and remembered he teaches a performance swimming class at our local Junior College. At the time, my own personal training plan included running, biking, swimming. I had a training schedule, but only in the sense that I knew what I was working on from one day to the next. I had no idea how to improve, just do the work.
Jumping into the water at my first class about a year ago I knew having a coach was going to really help me out. When you know someone is staring at you it does keep you moving.
This is when it hit me. I really needed a coach.
It took me 6 months to get to the point that I was ready to hire Rick as my triathlon coach, but here a few tips to help you find your own.
How to choose the right fitness coach
1. Qualified to Coach
Look for someone who is a personal trainer and ideally has an exercise science or kinesiology degree. Understanding how the body works, how muscles work, makes it's easy for them to work with your level of fitness.
2. Experience
How long have they been training? Anyone with more experience being a trainer will be able to support you in different scenarios, and make adjustments to your training as needed.
3. Training Focus
Are you trying to improve your fitness? Lose weight? Some trainers focus on specific clients, and finding one that is a good fit is vital for you both to appreciate the experience.
4. Curious About You
You should get a lot of questions from your trainer. What are your goals? What limitations do you have? Where are you now in your fitness? They need to know what your expectations are so they can plan how best to help get you there.
5. Commitment
Our dream fitness takes up a lot of time. Most trainers may suggest working with them two to three times a week, at least to start. Motivation is one of the reasons for frequent visits, and it helps establish a routine. Find someone that can work with your schedule, but still pushes you out of your comfort zone.
6. Team Player
Is the trainer or coach known in the community? Can they refer you to specialists if needed? Knowing what needs you have, and helping you solve them makes your coach an invaluable health resource.
7. Cost of Fitness
Everyone has a budget and making sure your coach is affordable will make your experience better. Stressing over the cost of a health decision negates any positive effects the work with your trainer will offer. There are trainers available for every budget, so don't be afraid to ask until you find one that works.
8. Keeping it Flexible
You may need several sessions a week to start, but maybe you appreciate working on your own. The trainer should be willing to show you things you can accomplish on your own. This may come at a lower price point, but does require you to be motivated to take on your goals by yourself.
You're going to depend on this person. Know you are a good fit.
I've learned a ton from simply chatting with Rick over the last year. I can depend on him to work me out at a level that will keep me improving, all with a smile on his face.
What are you looking for in your dream coach?
Go get your fit on – Heather

Heather Montgomery is a fitness writer, triathlete, and serial entrepreneur who is devoted to sharing what she has learned about becoming a triathlete after age 40. She uses her Metabolic Training Certification to help other women struggling to get fit in mid-life. She lives and trains in Santa Rosa, California, the new home of the Ironman triathlon. You can find her biking the Sonoma County wine trails.
Note: Articles by Heather may contain affiliate links and will be compensated if you make a purchase after clicking on an affiliate link.