Last updated on June 23rd, 2011 at 10:45 am
My constant companion as I write is my 13-year-old Jack Russell terrier, Whiskey. See him?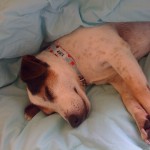 As a puppy he used to sit in my lap while I worked at my home office desk.
I faced the PC screen, so he faced the PC screen.
I was quiet, so he was quiet.
If I cursed, he would growl.
My typing would put him to sleep; yet somehow he maintained his upright sitting position.
As my fingers flew his little apple-shaped head resting gently between my wrists would bobble around.
To this day, if I'm typing he is always nearby.
Even if you have a good dog like mine – a veritable canis scriptus – writing can be a lonely craft. That's why support is so important.
When I worked in a busy newsroom with police scanners going all day, all the horsing around, the televisions blasting from ceiling brackets,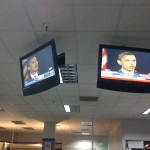 the phones ringing, people talking and laughing — all the noise just blended into a soft hum.
If someone shouted the building was on fire, I doubt I would have taken my fingers off the keys.
When engaged in such a solitary endeavor (deep thoughts!) it's easy to forget about all the support and well wishes fueling your creative frenzy.
That's why I want to remember that readers are rooting for me. Some pray for this project. I'm thrilled by that thought.
So imagine my smile when my own husband recently exhibit support that was totally unexpected.
Some background:
I'm accustomed to my mister being supportive of my writing in general. I know he believes in my work but we have had a few run-ins when I felt he didn't pay enough attention to published stories. Especially stories that required weeks of police stake-outs to amass enough information to write a long feature.
On publication day my husband didn't find time to read it. He wouldn't read it the next day, either. I complained.
"Rayne, you've been talking about this story for weeks! I know every single detail and more. I don't need to read it!" he said with a sigh.
Of course he had a good point. Reporters. They fall in love with the story, the photos, the headline, the pull quote, THE PACKAGE.
I hated to set the precedent but I had to admit he was right.
My mister has been super supportive of "Confessions of an Undutiful Daughter" in his own way. He often compliments me on the concept and execution. He praises the generosity of readers who fill out the questionnaire each time he pats the growing stack of stories on our dining room table.
But he surprised me recently when he told me this story.
He had a work meeting with a public official who happened to be a woman. Her office walls are filled with framed accolades and community appreciation plaques.
She is smart, down to earth yet obviously driven.
"And the whole time I'm thinking, I wonder if her mother was good or toxic," he said adding, "And if she had a toxic mother I was thinking wouldn't she be fabulous to include in your book. Of course, I cant ask but I wish there was a way to know."
I didn't know whether to kiss him or cry. I was so thrilled that he got it and was out there practically scooping up voices for me.
It made me realize that so many people are shaking pom-poms for me in their own ways.
A woman that I've known for many years recently threatened to complete a questionnaire. We joked about it. I understood her mom was pretty rough. She went to "Got a Dream? Ask for Help" and copied the questions.
Mind you, most completed questionnaires run two- to three-pages printed out. I've had people bang 'em out in twenty minutes. A few days went by when she called me to say she was so overwhelmed by the emotional process that she needed more time.
Several apologetic calls later she said she was ready but wanted to warn me that I might be shocked.
I'm a fast reader.
It took me over an hour to read her completed questionnaire because I had to put it down multiple times. I had to catch my breath. I had to wait for my temper to cool. I had to resist the urge to get in my car, drive over the hill and hug her.
When I was done reading my first thought was about the statute of limitations on crimes against children. I shuddered at some of the details in her memories.
She was so strong to not block or banish those memories. I think I would have been tempted to gloss over or dilute. I'm still shaking my head.
If that's not support for this project I don't know what is.
I have received several reader messages along the lines that it must be hard on me to take this all in. I find those messages extremely intuitive and thoughtful.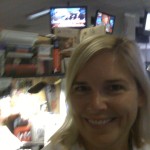 Years ago I did a long newspaper Christmas season "Helping Hand" series based on interviews with 13 kids in our local childrens' home.
Keep in mind that children are removed from their homes for a lot of reasons including neglect, abuse or say, their parents are arrested and jailed.
These children could be any child you know and they are at the childrens' home through no fault of their own simply for their own protection.
I kept my game face on during each interview. I thanked each child for talking to me and wished them well. Would I come back again and visit them, they always wanted to know.
By the time I got my car I was usually tearing up.
I'd sit there wanting to bang my head on the steering wheel. (Not a smart thing to do while driving.) So I'd sit there for a new minutes going over my notes waiting for those feelings to settle into safe-to-drive sniffles.
That experience helped condition me for what I'm doing now.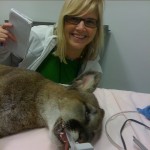 Being a reporter teaches you that nothing is too scary to face, write up and put it in the public forum.
I'm glad I did a few scary reporting jobs, everything from getting in cages with wild animals to interviewing movie stars.
The only time I run is if I see firemen running past me.
What's harder:
Hearing a child tell facts without any understanding of the larger meaning, or hearing an adult with full comprehension, tell stories about their abusive childhoods?
It can get very emotional, but I know that sucking up these stories into my little cranium is what I'm good at. I'm in my zone, I've got support and Whiskey's snoring. I know that I can process it all to help others.
SNEAK PEEK AT NEXT WEEK: I got to thinking and it's only fair that I fill out and post my own questionnaire.
Hopefully, it won't be too long.
Rayne Wolfe's dream is to write her first book Confessions of an Undutiful Daughter by the end of 2011. She completed her dream journey May of 2011 on 8WD after a year living her dream. You can find her at Toxic Mom Toolkit on Facebook.

Enjoy this special 8WomenDream Guest Contributor story submitted by new and experienced big dreamers throughout the world, edited and published to capture a dream perspective from different points of view. Do you have a personal dream story to share with 8WomenDream readers? Click here to learn how to submit dream big articles for consideration.
Note: Articles by Guest Post Contributors may contain affiliate links and may be compensated if you make a purchase after clicking on an affiliate link.