Last updated on April 1st, 2012 at 02:39 pm
Most comics have a few mom jokes but only one has made a career letting others laugh along with her regarding her loving, ever-vigil, almost always worrying cheer-leading mom.
Amy Borkowsky used to toss her filled answering machine tapes — 99% packed with concerned messages from her mother — Â in a drawer.
Her big dream was to be a nationally known stand-up comedian.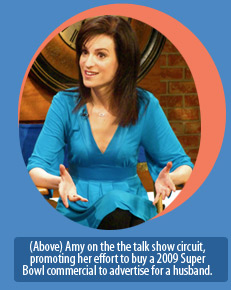 Like a lot of us dreamers it took her a while to realize she could have the kind of professional life she wanted if only she mined that junk drawer.
"When I started doing stand-up comedy and knew that real material from your own life always strikes the best chord with audiences; I thought, what could be more real than playing the actual message tapes from my mother on stage?"
Why was her mother in particular such a good source of laughter?
"My mother's parenting style when I was growing up could best be described as Orange Level — she was in a constant state of high alert.  Even before I had an answering machine, she'd leave me little notes in my lunch bag, like, "Amila, when you eat the peach, be sure not to swallow the pit."
Borkowsky grew up with the antithesis of a toxic mom, the anti-venom to mom toxicity — and through her CD's at www.sendamy.com, she's willing to share her super mom with all of us.
Imagine growing up with a mom so loving, so concerned about your life, that you always felt safe.
Even during a fight over a healthy lunch.
"I remember Mom as being a tough negotiator when it came to eating.  We had a set of bowls with a floral design and then a gold band about midway down, and I remember some tense bargaining where I only wanted to eat my Chicken and Stars down to the top of the first rose petal, and my mother always pushed for at least the gold line."
It didn't take long for Borkowsky to realize that her mother was not like other mothers.
"When I was a teen, I began to realize she was more than just my mother.  She was Al Roker and Walter Cronkite.  She was constantly reporting the weather and the news to my sister and me :  'They're expecting gusts up to fifty miles an hour so put up your hood.'"
Check out this happy birthday call from Amy's mom on YouTube:
As the years passed, her mom just found more things to worry about.
A typical call:
"They just issued a recall on Bumble Bee, so don't go accepting any tuna sandwiches."  (Like a stranger was really going to come up to me in the park, "Here little girl, have some tuna on rye with mayo.")
We've all been embarrassed by our mothers.
Amy Borkowsky has only been embarrassed by her mother's spectacular levels of thoughtfulness.
"Sometimes I saw my mother as a source of embarrassment because of her over protectiveness — if there was even the slightest drizzle, I'd find my mother outside the school the minute we got out, and she'd be holding a raincoat, a huge plaid umbrella and my boots.  Apparently it was tough to find a Hazmat suit in a 6X."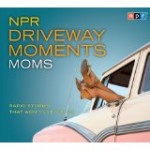 Featured on National Public Radio's "Driveway Moments" moms edition, she's a stand out stand-up comic offering up "pull over" moments on subjects as simple as why you shouldn't wear a red bathrobe – – according to her mother.
No doubt about it, growing up like Amy with a supportive mother, had life-long benefits.
"It did give me a sense of confidence as I ventured out into the world.  Knowing she was there always worrying about me, I felt like I could do anything — from getting hit by a bus to choking on a chicken bone."
Even though Amy's mom passed away not long ago, she left behind a loving legacy for mothers and daughters. She may not be a mother to emulate exactly, I mean, who has that much energy?
That much time?
That many kookie concerns?
Yet, we could all take a page from her mom playbook. Who needs to hear a concerned message from you today? Go on! It'll only take a minute.  And don't forget to say "I love you – – Bye!"
__________
Part of my effort to write "Confessions of an Undutiful Daughter" includes gathering stories of other women who grew up with or are struggling with aging toxic-moms.
Which reminds me, have you filled out your Undutiful Daughter questionnaire?
Here's the link: Got A Dream — Ask For Help.
Rayne Wolfe's dream is to write her first book Confessions of an Undutiful Daughter by the end of 2011. She completed her dream journey May of 2011 on 8WD after a year living her dream. You can find her at Toxic Mom Toolkit on Facebook.

Enjoy this special 8WomenDream Guest Contributor story submitted by new and experienced big dreamers throughout the world, edited and published to capture a dream perspective from different points of view. Do you have a personal dream story to share with 8WomenDream readers? Click here to learn how to submit dream big articles for consideration.
Note: Articles by Guest Post Contributors may contain affiliate links and may be compensated if you make a purchase after clicking on an affiliate link.