Last updated on December 1st, 2013 at 08:11 pm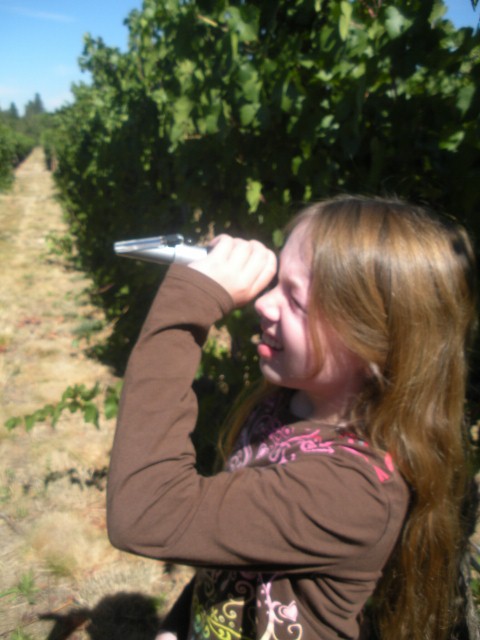 Once upon a time, when I was a little kid at home in bed suffering yet again with a bout of chronic acute bronchitis, I watched wide-eyed with amazement, this fantastic movie, "The Long Long Trailer".
In addition to being a faithful follower of both "The Ricardos" and Lucille Ball and Desi Arnaz as my favorite dynamic duo, I became OhOhObsessed with the idea of spending a long, long, period of time in my life touring and exploring this amazing country of mine in a super cool motor vehicle.
Also, as a child I got to live out an incredibly fun fantasy of riding with my next door neighbor, Kimmy's family, in her grandparent's motor home from Chico, California to The Cow Palace in San Francisco, and then back.  I remember we four kids; Kimmy, Danny, Shellie and Debbie still in our jammies, all loaded up in the big ol' RV so comfy and cozy.  About five minutes down the road to the big city, Kimmy's mom began handing out the hot chocolate.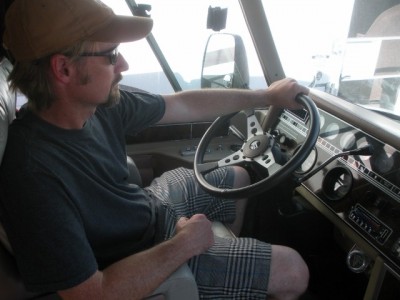 Wow!  It was so awesome.
You could sleep, you could eat, and at a real table.  If you had to go to the toilet, you had your own private, clean and safe place to do so.  All of this and more, while somebody was driving the great big beauty.
This was the life!  It was also when I shifted my desire from trailer pulled by car, to the need for a full on self-contained motor home.
I knew this kind of comfort just had to be part of the experience of my life.  I used to close my eyes and daydream about making my future husband a bologna sandwich, while he carefully and confidently drove me and our children down route 66.
Certainly a most defining moment in my life.
Who I was to be as an adult was taking shape in the form of dreams, that when riddled with as much of an all encompassing feeling like this movie and then the wonderful northern California ride with Kimmy, were not to be dismissed, never discarded, and only pursued with my whole heart.
This particular dream is one I have held tight to.
As a young woman, whenever I found myself in any really serious relationship with a man, I would always slip this life dream in at some point, with the caveat that this interest of mine was not about any sort of retirement picture, it was about manifest destiny.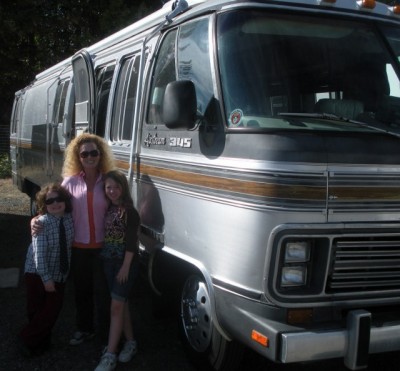 I wasn't interested in traveling around America without my children.  Heck no! I didn't relish the thought of waiting until they were grown up and I was trying to compensate for an empty nest.  No thanks, and also, retirement from what?
Well of course, I shared my hopes and dreams of motor home living and country touring with my husband Bryan and a long, long couple of harvests ago, we rented one when our baby girl was just nine months old.
For a little more than a month, the three of us lived out back of the winery building during harvest 2001.
I cooked and cleaned, cared for the baby and always had yummy, hot meals ready for Bryan.  He would pop up to the RV, tag me and I would slip on my cellar boots, skibble down to the lab and tank room to mix the yeasts and track fermentations.  I would then switch, take a shower and give the baby her bath and tuck us in.  Somewhere between 1 a.m., and 3 a.m., my tired, wonderful winemaker would quietly come up to "home", take a shower, and rest his head for a few hours before the next early morning grapes were to meet the crush pad.  Then we began again.
I loved these days.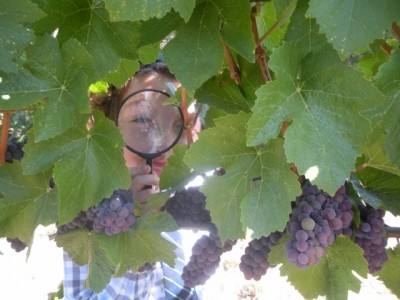 Here we are, now the four of us, just days before the grape harvest, 2012 and this week I share with you from our "tour" of the beautiful Rouge and Umpqua valleys and up through Pendleton in our beloved  Oregon.
As we check on the sugars and stats of the grapes that grow oh so sweet in vineyard after glorious vineyard, my Bryan steers me to a dream, once again.
To begin to describe what it was like to see the next chapter of my wonderful life crack wide open, in front of God and everybody, is simply beyond my capabilities as an illustrator of events of my daily living.
When I met my vintage Airstream on Thursday, and stood in my kitchen, caressing the four burner cook top and marveling at the built-in knife sharpener, microwave/convection oven and hickory spice rack, I tell you, right here and now my knees buckled.
I also admit to quivering and quaking, jumping and shouting, laughing out loud and smiling until my cheeks ached.
Having a dream is important and wonderful.  Believing that I am worthy of having my dreams come to pass, because I am created in the image of God, is essential.  Expecting that my dreams, no matter how great or small are never too difficult or insignificant for my God to bless me with, is how I live.
It's called Faith.
Faith in God, faith in love, faith in all that is goodness and light.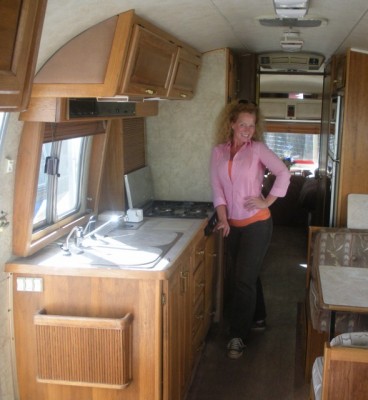 With this as my final post here, for 8 Women Dream after finishing my year of dreaming as a blogger for this publication, I share the very basic and beautiful values which have so brilliantly shined in my life, and have made for the fairytale not just existing in my own head, but coming true and truer still.
The magic is easily recognized in the miracles of my life and the miracles are pure magic.
It's all right here every day.  I see these elements in the expressions on my children's faces.  I am transformed by the acts of devotion to our love and marriage that my husband shares with me, practically hourly, steadily and consistently.
I joyfully embrace an attitude of gratitude for all that I have and open my arms to receive in more of life's treasures.  How can I not?
For the great blessings of my family and friends, the great adventures of the days of my life, the experiences that prove time and again to teach me what I am supposed to learn about living in grace and enjoying all that this life can be and then sharing the joys with all who care to follow along with my little stories, I AM GRATEFUL.
My fairytale lives on, an American dream picks up speed, and a family grows in love for all things bright and beautiful, all things great and small.
This post is dedicated to my "new" favorite red-head, Editor-in-Chief, beautiful dreamer, Catherine Hughes.
Shellie
 Shellie Croft spent a year sharing her American dream stories on 8 Women Dream.  You can now find these stories on her blog Shellie's Consumption.

Enjoy this special 8WomenDream Guest Contributor story submitted by new and experienced big dreamers throughout the world, edited and published to capture a dream perspective from different points of view. Do you have a personal dream story to share with 8WomenDream readers? Click here to learn how to submit dream big articles for consideration.
Note: Articles by Guest Post Contributors may contain affiliate links and may be compensated if you make a purchase after clicking on an affiliate link.