Last updated on July 1st, 2022 at 02:49 pm
There's a war raging inside of me right now, sort of an Achilles wound lying dormant, only to rise up in battle when I push myself to grow in new ways toward my big dreams. It's a battle between the whole, complete and competent parts of me against the scared, insecure child buried deep inside of me.
This latest battle commenced soon after I was accepted to be a presenter for the first Ignite event being held in Petaluma, California – a town just south of where I live. Ignite is a geek event (because I am one) that happens in over 100 cities worldwide. Ignite "presenters" share their personal and professional passions, using 20 slides that auto-advance every 15 seconds for a total of just five minutes in front of a group of strangers.
At some point in the distant past, I completed an online form (at some website I don't even remember) and submitted a topic idea, thus throwing my hat into the ring of presenter possibilities for this year's Ignite. I tend to "just go for it" with the many ideas/opportunities that often pop into my life, which have played themselves out with both positive, and negative outcomes. Let's not talk about who I've dated.
Just as fate would have it, a week before this big event (and me completely forgot I entered), I receive an email congratulating me on being accepted as a presenter. I immediately let out a triumphant "Yippie!" only to hear my Achilles child inside me say, "Oh dear lord Catherine, what have you got us into this time?! You are really freaking me out!"
Gulp.

"And I don't want to do that!"
"Please don't make me do that!"
Here I am, the woman who hates to be photographed – planning on dawning a suit – memorizing a topic and speaking in front of 75 strangers – while Powerpoint slides move behind me – while being filmed – to be shared on YouTube.
Maybe my inner Achilles-child is right: I am certifiably nuts!
What was I thinking?
These past few days my Achilles-inner-child and my Catherine-confident-outer-adult have raged a mighty mental battle with each other over this event. Achilles reminds me how much I've changed physically since being diagnosed with Hashimotos – don't I get that the camera adds on 200 more pounds? She would rather I didn't venture out into the world so publicly . . . so scarily. While the adult Catherine yells back at her to calm down and take a chill pill (which is really me meditating twice a day).
I should know better and just ignore Achilles, for she is the child who also urges me to eat bread because it will calm my nerves and make me sleepy, even though bread is the last thing I should ever have – just Google Hashimotos and gluten and you'll see – bread to a Hashimotos patient is like sunbathing to a skin cancer patient.  It's definitely not good for you.
She is also the one who will tell me that I can't do certain things, or I shouldn't do them, or will always be the first to question changes that move me out of my comfort zone, stretching me to become more. Ignite is just the event to bring her out in a full-on tantrum, as she quips Thursday night that I will never be able to find the right twenty slides to go with a speech.
I ignore her as best I can, until I was putting the finishing touches on my speech and matching it with my final engaging images, when she suddenly shouts, "I don't think these are that funny . . . will they even understand the correlation? . . . you haven't done anything like this in years . . . WHAT WERE YOU THINKING BY AGREEING TO DO THIS? ARE YOU MAD? . . . STOP! YOU ARE SCARING ME! STOP! EMAIL THEM AND CANCEL!"
Deep breathing ensues
I managed to find final images in spite of her negativity, put together my 5-minute story, figure out the timing and email it to one of the event coordinators on time, all while she tried to convince me otherwise. However, it did take me four days to silence her in my head long enough to sit down and actually do it.
My Achilles child's real name is F E A R.
Have you ever met her?
She is a bitch.
And she can really get in the way of your dreams if you let her. She will bring up any old insecurity she can get her little hands on and throw it up at you when you are at your weakest. It's why we need support groups to help us with our dreams.
Even my ex-husband could see it in my face Friday night and counseled, "Oh, you'll be good at that, you are a natural storyteller. Just be you – it will be fine. I'll help you practice." The Achilles child nodded inside me, but I'm not quite sure she believed him.
I can feel my nose burn with her presence as I type this.
We all have a little child inside of us who speaks out against change because she is trying to protect us from getting hurt. She's worried about anything that seems too big, too expansive, or too painful. Except for her type of protection can get in the way of living a full, rich life. She can stop our dreams cold in their tracks. She can even be really bad for us. The only way to calm her and make her voice go away is to do the thing you think you cannot do, for it is in the doing of the thing that we transcend into something more and she is silenced.
When you are done, she is usually the first voice in your head who'll say, "Whew. That wasn't so bad. I think I could do that again. See I told you it wouldn't be so bad . . .why were you worried?"
Finding calm in the midst of battle . . .
While a battle raged in my head this week, I thought a lot about Frank Ferrante, the man featured in the movie May I Be Frank that some of us dreamers went to see a few weeks back. While watching his documentary, I was most impressed with his bravery in the face of public ridicule, how he put himself all out there (even naked on a toilet), and how the audience couldn't get enough of his story. There was just something so deeply memorizing and brave about him taking on his demons and silencing them in front of the world.
His vulnerability made him soulful and wise beyond measure. I thought if that man can go on camera and do all that, then I can do a simple little story – a speech that lasts 5 minutes with slides. So what if there are cameras. So what if there are 75 people. So what if I can't have notes. So what if I mess up. The scared Achilles fear child inside of me is just going to have to deal with.
At least I am not sitting on a toilet naked.
If I let her rule my life, I will never step out beyond this Hashimotos disease ( just look at how much Oprah handles in dealing with it) and I will lose the opportunity to change my stars. Achilles doesn't quite understand yet, but I'll get her there. Who knows, maybe I'll become the spokesperson for this disease, instead of waiting for Oprah.
And inspire others to change their stars.
Just as watching Frank Ferrante helped me.
Then who will say that an Achilles child can't heal?
I have to go read more cue cards now . . . she's trying to tell me I don't have enough time.
Hey – it's a process.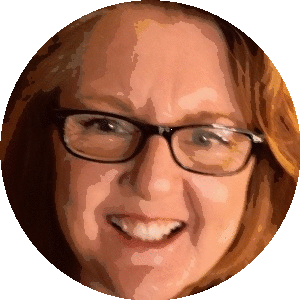 Catherine Hughes is the founder, content director and editor-at-large of 8WomenDream. She is passionate about helping women step out of their own way and strike out into a world waiting for their special talents. She's a published author and a former award-winning mom blogger. Catherine has helped companies both large and small create engaging web content, social media narratives, and unique blogging platforms. She claims to be a redhead, but don't hold that against her.
Note: Articles by Catherine may contain affiliate links and may be compensated if you make a purchase after clicking on an affiliate link.