Last updated on April 2nd, 2012 at 12:29 pm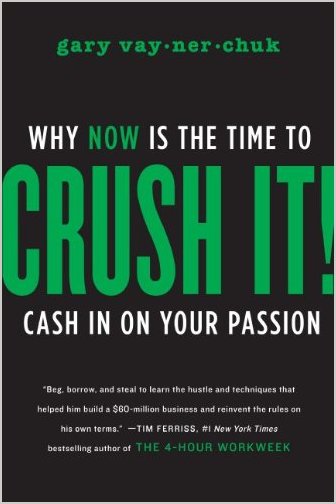 Yeah, I'm the entrepreneurial dreamer – and bookshelves are full of the tips to make you or I the next entrepreneurial star for what we do.
But Gary Vaynerchuks voice is what sets his book and ideas to CRUSH IT! apart.
Just in case you aren't sure what the title is about, here's a clue from Urban Dictionary:

Crush it – To accomplish or take in, ingest.
I'm not finished with the book yet and already the ideas are flying. The "why haven't I thought of that?" moments are stacking up. As an online marketer involved with social media, this book completely speaks to me.
Here's a few ways to find out if this book will speak to you:

– Are you open to new media online?
– Do you admit that new media outlets have value?
– Have you considered an alternate marketing option in the last 12 months?
I think most business owners and entrepreneurs are already answering YES to all of the above.
If you are scratching your head, not sure what the hell we are talking about, this book may not be for you. It's not there to explain the HOW of using this media, only the vital WHY you need to be building your personal brand using new media, and suggestions on platforms that may work for you.
A little background on Gary directly from his own About page…

"With a wealth of knowledge and an entrepreneurial spirit, Gary spent every weekend of his college years at his parents' store, re-branding the family business as Wine Library and establishing himself as a respected expert. As the store's only wine buyer, he sampled every wine that entered the store. Customers depended on Gary for his advice and within a five year time period, Wine Library grew from a $4 million dollar business to a $45 million business.
But Gary's career took a new turn with the advent of Wine Library TV. Gary's key goals are twofold: "First, I want people to try different wines. How can you have a favorite if you only know a few? Second, I tell people to trust their palates. If a wine appeals to your palate, then it's a good choice. Don't feel pressured to like popular brands or what experts recommend. Buy what 'brings the thunder' for you."
What stands out about Gary? Major personality.
Those who follow his uber-successful Winelibrary TV are familiar with an in-your-face attitude and real advice about wine. I've worked in the wine industry and there is a lot of intensity around the product, brand, and perception.
Getting a down-to-earth review is a rarity.
Gary is a firm believer in working with the time you've got, whether you are working full-time, or already on your way to your online empire, you've got to work it.
One of my favorite quotes from Gary's presentation at the 2008 Web2.0 conference (see the rockin video below):

"Everybody has time. Stop watching f*cking 'Lost'… 7-2 in the morning is plenty of time to do damage."
Do you love what you do?
Are you following your passion?
You have to do what you love, or the work it takes to win will exhaust your acceleration.
What's coming in the next few weeks will be my implementing tips, plans, and setting goals based on Gary's advice in his best selling book CRUSH IT!
I can't wait to share the results.
So as I'm doing final editing on this post at 12:15am (working with the time I've got!), I am looking forward to hearing what YOUR next move to CRUSH IT will be . . . comment or I'll never know!
~ Heather
Heather's dream is to have multiple streams of income, starting with launching an e-commerce website that showcases her one-of-a-kind designer jewelry, which are crafted by her. Her newly launched sites are couture jewelry available through For Your Adornment, and Twitter background designs on Twitter And Beyond Dot Com. She also teaches Social Media tactics for business, besides being CEO of her own web design company. Heather's post day is Thursday.

Heather Montgomery is a fitness writer, triathlete, and serial entrepreneur who is devoted to sharing what she has learned about becoming a triathlete after age 40. She uses her Metabolic Training Certification to help other women struggling to get fit in mid-life. She lives and trains in Santa Rosa, California, the new home of the Ironman triathlon. You can find her biking the Sonoma County wine trails.
Note: Articles by Heather may contain affiliate links and will be compensated if you make a purchase after clicking on an affiliate link.