Last updated on June 4th, 2012 at 10:34 am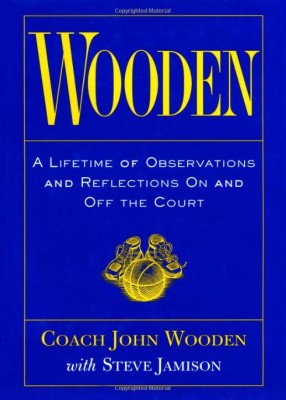 It's the little details that are vital. Little things make big things happen. – John Wooden.
Saturday afternoon, retired UCLA coach John Wooden was on the bay area PBS channel 22, in a program titled John Wooden: Values, Victory and Peace of Mind.  Luckily for me and my dream of understanding how we are inspired, this show saved me the trouble of having to go to Borders and find a new book.
I am a fan of coach Wooden because I remember those amazing basketball years when he was the coach at UCLA.  If you ask any sports fanatic, they will tell you that John Wooden is the greatest coach who ever lived.
Back then I was dating a cute, great basketball player myself.
Unfortunately he didn't live by John Wooden's pyramid of success.  But  – neither did I.  If you ask UCLA basketball players what coach Wooden taught them, they will say that he taught them to put on their socks correctly and to be a success. He felt the socks were the most important thing.
Looking at my teenage son's dirty socks strewn about our place – I am inclined to agree.  I digress.
On Saturday, while lounging with my son, I channel-surfed to PBS channel 22 just as this John Wooden special appeared.
John Wooden is a depression era baby – just like my mother.  While watching him on PBS, I realized we are slowly loosing our greatest generation.  The generation who fought in WW1 and 2 – the generation who made the 1960's possible.
The generation who sparked our generation to change.
We still have  so much to learn from them.
Coach Wooden is a little old fashioned, and I say this endearingly, because I would say this about my 81-year-old mother.  As much as I might want to lament about aging parents — I do need old-fashioned people in my life.
They are like the arguing counsel in a lawsuit: they force  us to look at our best intentions.
Coach Wooden still teaches his pyramid of success – which he taught to all his basketball players.  He believes that if we build a solid foundation in life, then the rest (the top of the pyramid) will naturally happen.
I offer you John Wooden's pyramid for success –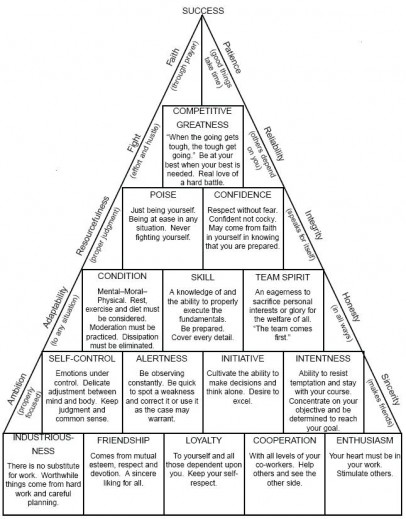 He emphasizes that the bottom floor of the pyramid is the most important part -Â  the foundation.
I notice here how friendship is one of the building blocks at the bottom of the pyramid, which makes me think about each of the women in 8 Women Dream.  8 building blocks, or really, 8 foundation blocks.
I offer an 8 Women Dream version of this pyramid –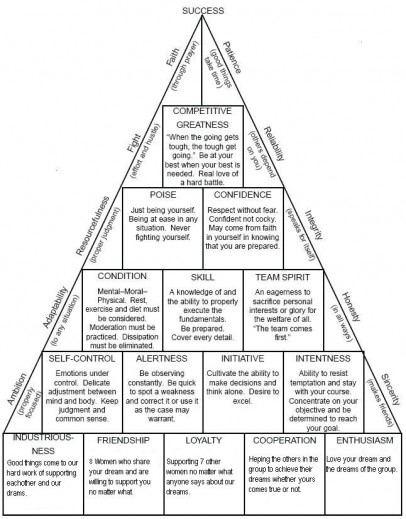 As my son and I watched the TV program we were told of the 7 point creed that coach Wooden lives by.
John Wooden's 7 Point Creed was given to him by his father Joshua upon his graduation from grammar school – it is:
Be true to yourself.
Make each day your masterpiece.
Help others.
Drink deeply from good books.
Make friendship a fine art.
Build a shelter against a rainy day.
Pray for guidance and give thanks for your blessings every day.
Which made me think of what a Dream creed could be  –
Be true to your dream.
Make each day your masterpiece.
Help others achieve their dreams.
Drink deeply from good books, especially books about dream achievement.
Make friendships and support the group like a fine piece of art.
Build a shelter against a rainy day.
Meditate for guidance to help you with your dream, and give thanks for your blessings every day.
If you are interested in hearing John Wooden theories first hand, he was interviewed by Charlie Rose in 2000 –
On THAT note, I'll leave you with one final Wooden quote –
The main ingredient of stardom is the rest of the team.
Like the women of 8 Women Dream, along with our significant others, children and the greatest generation to guide us.
And you will be a dream success.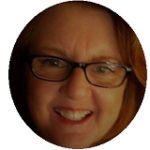 Catherine Hughes is the founder, content director and editor-at-large of 8WomenDream. She is passionate about helping women step out of their own way and strike out into a world waiting for their special talents. She's a published author and a former award-winning mom blogger. Catherine has helped companies both large and small create engaging web content, social media narratives, and unique blogging platforms. She claims to be a redhead, but don't hold that against her.
Note: Articles by Catherine may contain affiliate links and 8WD will be compensated if you make a purchase after clicking on an affiliate link.