Last updated on October 2nd, 2019 at 01:19 am
This week's motivational video features Lisa Nichols, a motivational speaker and co-author of the "Chicken Soup for the African American Soul" series discussing her latest book: No Matter What.
She is also the founder of Motivating the Masses and CEO of Motivating the Teen Spirit. Lisa has been honored with several awards in recognition for her empowering work, including the Humanitarian Award from South Africa, the Ambassador of Good Will Award, the Emotional Literacy award, The Legoland Foundation's Heart of Learning Award.
I hope you enjoy her sweet nature as much as I do.
I find her sweetly touching, and hey she is a FEMALE motivational speaker!
———–

This week's inspirational blog award goes to Mir Kamin of Woulda, Coulda, Shoulda and Want Not blogs. From her sites, she writes:
"I'm an over-educated, under-appreciated, divorced remarried mom to two. I used to say that I was "perpetually unemployed," but I am now actually working quite steadily*, which doesn't make for quite as dramatic a self-description, but comes in handy when paying the bills. I have a lot of "how exactly did I get here?" sorts of moments. Trying to figure out what you want to be when you grow up when you're already into your 30s and two small demanding creatures underfoot assume you know and understand everything can be a daunting task. Sometimes, you've just gotta laugh. Other times, you've just gotta scream. I prefer the former."
Ms. Kamin manages two personal blogs, both of which generate ad revenue–one of which generates affiliate shopping revenue (make money writing. Who knew?).  It is obvious she is doing something she loves.  Her writing is smart, sharp and honest.
This week Mir, 8WomenDream salutes you for being an inspiration to women to follow our dreams –even if we get divorced, go broke and must rebuild a new life in the process!   You inspire us.
May everyone have an inspirational week and keep on dreaming.
Catherine Hughes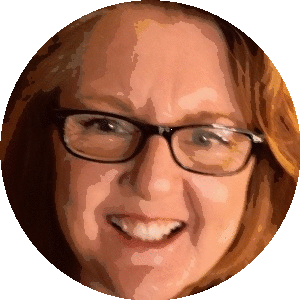 Catherine Hughes is the founder, content director and editor-at-large of 8WomenDream. She is passionate about helping women step out of their own way and strike out into a world waiting for their special talents. She's a published author and a former award-winning mom blogger. Catherine has helped companies both large and small create engaging web content, social media narratives, and unique blogging platforms. She claims to be a redhead, but don't hold that against her.
Note: Articles by Catherine may contain affiliate links and may be compensated if you make a purchase after clicking on an affiliate link.