Last updated on March 18th, 2023 at 09:33 pm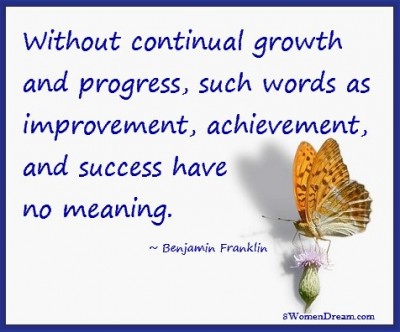 Too often dreamers make what their big dream all about themselves (because they invented the product, the idea, the story, etc) without considering if their audience will have any use for it, or even like it.
And once the dream is launched, they continue this behavior by ignoring all feedback.
Now, I am not talking about feedback that asks people to design your product or re-design your website.  The kind of feedback I am talking about is the type that tells you that by 15 minutes into your speech you've lost them, or the color of your web background makes it impossible to see your site on their phone, or the cover of your upcoming novel is confusing, or you talk too fast when you explain concepts on your videos.
This is the kind of feedback you want to hear.
Motivational speaker, Jack Canfield, may choose the subject he wants to talk about in a speech (so one might argue his dream is about him) but his chosen subject is something he is 100% sure the audience wants to hear.  Even knowing this, when he is done speaking he asks for feedback from the audience on how he can be better next time.
He then uses the audience suggestions to perfect his next speech.  He never stops changing, growing and becoming more.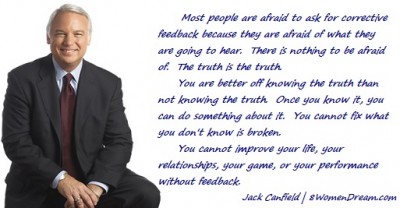 If you study people who are successful in any field you will find that their motivation is based on helping/pleasing others, whether those "others" are a board of directors and stockholders, clients, audience members, customers, constitutes, or students.  It's always a part of the success equation.
This is doubly true if you want to be a success online.
You will live and die by your traffic numbers and social media interactions and if you aren't providing something that people want in the way they want to see it, at the time they want it, in a way that speaks to them –then you will just tread water.
You cannot launch a website then leave it alone. A website has more needs than a hungry newborn child and can be twice as frustrating to understand.
So you have to test, test and then test some more.  Then you have to change things up and test some more.  Then change again.  You have to be willing to fail then change until you get it right. You can't ever be satisfied. You can't ever look at your project and think, "I'm tired. This is good enough."
"Good enough" won't make it.
You have to solicit feedback and look for those who offer constructive advice.  The ones who understand what you're doing can be better.  You have to ignore those who tell you they love what you are doing only because they are afraid to tell you otherwise. While the adoration feels great, it won't keep you upping your game and staying ahead of your competition.
Change should be your favorite word.
Long time readers of 8 Women Dream will tell you how much this site has changed over the years. I've tested every type of layout you can imagine, along with colors, logos, taglines, fonts, and even how we write our posts on 8 Women Dream.
It will never be done because 8 Women Dream will always be evolving into something more based on what the visitor's response. If you haven't changed the look of your website in the last two years then eventually your audience is going to find a more interesting site. It's just the way of the Internet.  There are so many other choices.
Remember MySpace? Netscape Navigator? AOL dial-up? AOL messenger?
How about your local newspaper? Has it been struggling because they didn't adapt to the ever-changing Internet landscape early enough to ride the content wave? If you look at sites like Gawker and Huffington Post you get just how badly your local paper missed the boat.  They could have been big online.
They ignored what their customers wanted until it was almost too late.
The changes I make to 8 Women Dream are based on the feedback and researching how we come across to visitors.  I alps spend an inordinate amount of time making sure the site works for users utilizing new technology.  You never know when the next hot browser will become the new hot trend or a new device that renders your site obsolete.
I study:
1. Website load times.
2. Site Navigability.
3. Site colors.
4. Site fonts.
5. Content length.
6. Titles.
7. Images.
8. Device compatibility.
9. Search terms.
10. Analytics.
11. Visitor interaction.
12. Other websites that appeal to our demographic.
13. Trends.
When 8 Women Dream first started, we had a logo with a glass slipper and fairy godmother stardust to create the air of magic in making our dreams come true . . . but really. . . if you think about it . . . it was rather an immature way of looking at making big dreams a reality.
A prince is not going to bring your dream to your front door.
Besides, the message I wanted to share was that as women we can buy our own glass slippers and get our own ride to the ball and if the prince doesn't like how we are dressed, then he's not the guy for us and we'll just dance with our girlfriends.
I very quickly realized that we needed to change the logo and feel of the site.
8 Women Dream them morphed into a shooting star — something to wish for — because our visitors voted for that design (yes! We asked).  But again, the idea of wishing on a shooting star wasn't giving women credit for having the ability to make their dreams come true themselves.
Our dear readers wanted real dream stories about both the good and the bad of taking big risks. The 8WD logos (although beautiful) didn't match who were were growing into and didn't match who our audience was becoming.
That's the thing about dreaming — it is always evolving.
You grow, your audience demands more and you either step up to the plate and take a shot, or you quit.
8 Women Dream has grown from a small, local community team to become popular in countries outside the U.S., like South Africa and Australia.  Now our logo, colors and design needs to reflect who we have become. We now welcome dreamers from all over the world who want real answers about dreaming big.
It's with this knowledge that I hired a young graphic designer, Laura from outside of the 8 Women Dream circle to look at 8Women Dream.com, as well as our presence on Twitter, Facebook, Pinterest and other social channels online.
It's time to move 8 Women Dream forward again.
She sent me some mock-ups of how she sees 8 Women Dream and this was one of her ideas: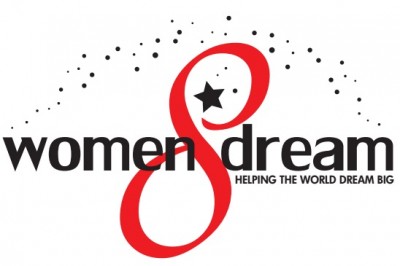 I'd been using the look of 8 women holding hands on Twitter and Facebook with positive feedback from visitors.  After she sent me her point of view on 8 Women Dream, it initiated a conversation about what logo should represent.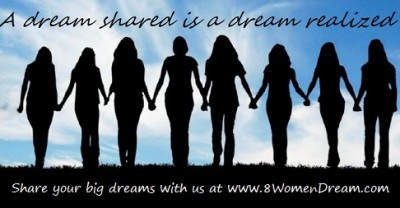 We talked about how 8 Women Dream now appeals to all women around the world — not just the 8 dream leaders on the site (right now but we are interviewing and looking for the next number 8-FYI!).
We began to look at what the number 8 should represent.
Her ideas made me look at 8 Women Dream in a new way –from an outsider — from someone fresh into graphic design. She made me realize that I still wasn't thinking big enough. I couldn't see how this was possible, but as soon as I looked at her specs I realized that 8 Women Dream was ready for another bump.
Change needed to happen.
I then installed the first part of making 8 Women Dream a community site –something that has been on my list for several years now, but I didn't like any of the interfaces offered until I recently had the opportunity to use WP Symposium on another site.
It's a plugin that turns 8 Women Dream into a community.  I installed it last Sunday.
Part one of this change was to create a forum where visitors could share their dreams and we could offer advice and encouragement. I named the forum "Vision Post" after and idea I had seven years ago for a community billboard where everyone posts and shares their big dreams. I also wanted a place for the 8 dreamers to lead the way.
The idea behind 8 Women Dream is to let all women know that it's OK to have big dreams and you don't have to be rich to create an amazing dream life. That is the timeless message of 8 Women Dream–and to know that a dream shared is a dream realized.
Know that you can't be successful unless you are willing to change, grow and accept feedback. The fastest way to make your dream come true and be successful is to help someone else make their dream come true.
Even on Oprah's site her content is all about YOU.  Go look if you don't believe me.
Loving feedback and constant change is a big pill to swallow, but it means everything if you wish to succeed with your dream and be an online success story.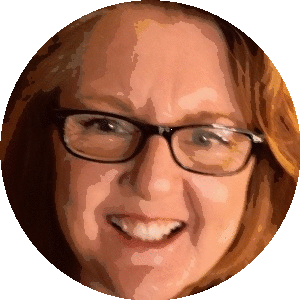 Catherine Hughes is the founder, content director and editor-at-large of 8WomenDream. She is passionate about helping women step out of their own way and strike out into a world waiting for their special talents. She's a published author and a former award-winning mom blogger. Catherine has helped companies both large and small create engaging web content, social media narratives, and unique blogging platforms. She claims to be a redhead, but don't hold that against her.
Note: Articles by Catherine may contain affiliate links and may be compensated if you make a purchase after clicking on an affiliate link.