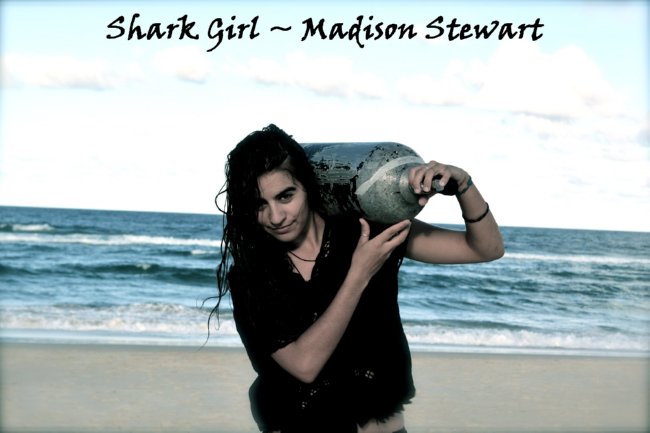 Besides dreaming big dreams, practicing gratitude and demanding that you do the same, I also spend time speaking to girls about becoming more than what they can imagine.
Today, I'd like to share with you the story of Madison Stewart.
Madison Stewart is an inspiring young woman with a passion to protect the creatures most people fear: sharks.
Yes. You. Read. That. Correct. S H A R K S.
Madison lives to protect sharks.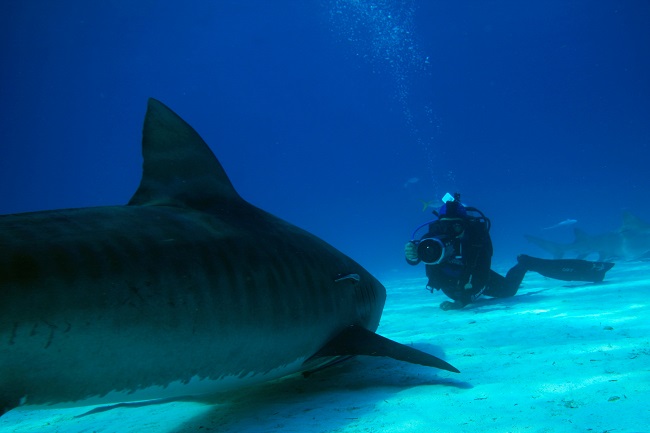 Known to many simply as "shark girl," she's been diving with sharks since the age of 12. At 14 she dropped out of school to be home-schooled so that she could spend more time in the ocean and film her experiences underwater.
Now 20, Madison has made it her life's mission to safeguard the creatures and the reefs she loves. Her unconventional journey as a conservationist, filmmaker and activist is the subject of a new one-hour documentary, SHARK GIRL, premiering June 15 on Smithsonian Channel.
Madison understands the power of gratitude when going for your dreams. She just happens to be grateful for sharks.
She says, "My family and morals have made me the person I am today. When I speak of family, I speak of sharks," says Madison Stewart. "I have witnessed the decimation of shark populations within my lifetime … my mission in life is to do everything in my power to protect them."
Having grown up on a boat since the age of two and crisscrossing the Great Barrier Reef, Madison calls the ocean home. Never having a fear of sharks, Madison dives without the protection of a cage and swims face to face with every kind of shark on the Great Barrier Reef and in other waters.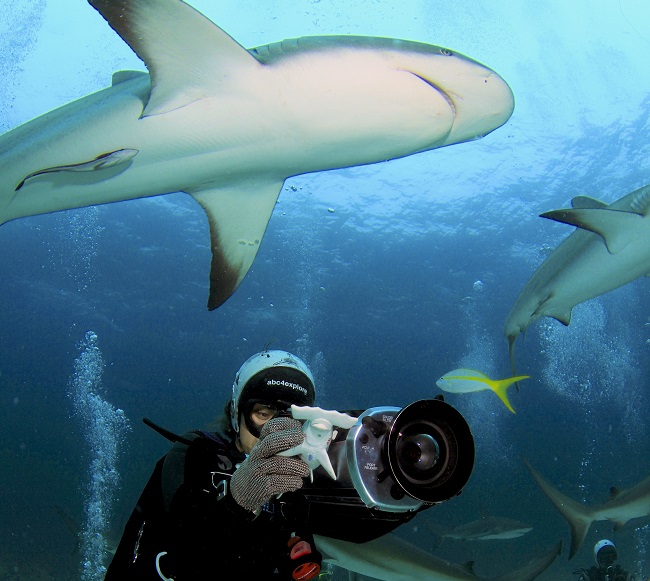 OK. So here it is girls … those of you too afraid to put on a pair of pumps and go ask for the job you dream of … there's a girl named Madison swimming with sharks.
Real ones. Armed simply with an underwater video camera and an adventurous spirit to fight the misconceptions surrounding her spectacular creatures.
I think you can find the spirit within you if you look for it. Part of it is certainly doing something you are passionate about, but it's also about not letting fear stand in your way — or become your excuse for not even trying.
Madison's upcoming movies, Shark Girl will take you inside Madison's underwater world, following her journey from Australia to Mexico, Palau and the Bahamas, where Madison's extraordinary relationship with these wild animals unfolds. Madison will debunk the myth of the man-eater by swimming fearlessly with tiger sharks, feeding a rowdy gang of Caribbean reef sharks, and extracting fishing hooks from the mouths of ocean-going silky sharks.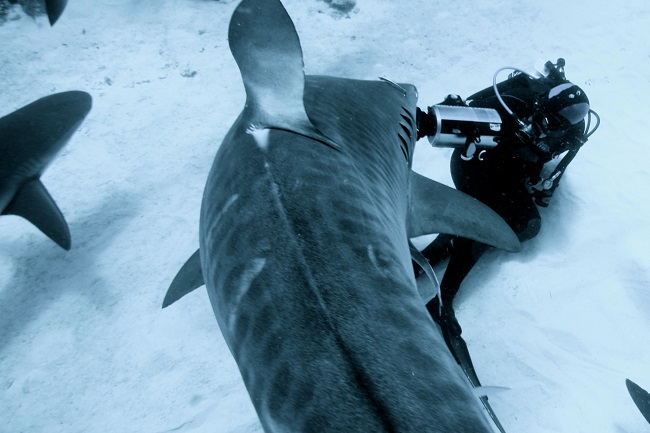 Madison reveals how sharks are vital to the health of our oceans. If they are endangered, so is the entire underwater ecosystem. She demonstrates how the entire marine system suffers irreparably without these top predators as the "police" to keep the balance.
She believes that because sharks are not protected from commercial fishing in many parts of the world, the creatures she loves the most will disappear. Her journey is a powerful wake-up call and a moving record of one determined young woman devoted to protect the animal and underwater ecosystem she loves so much.
Unbeknownst to most, there is something alarming going on in Madison's home, the Great Barrier Reef Marine Park.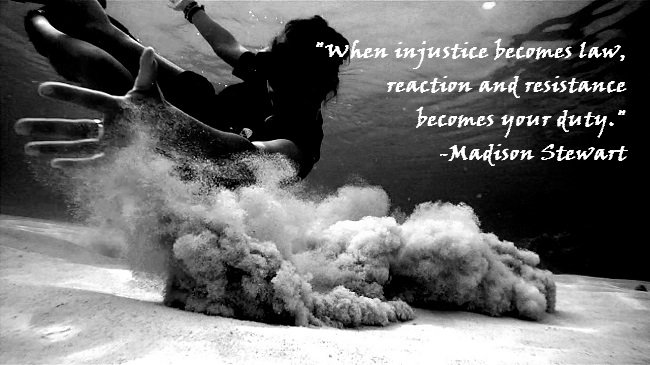 Every year a staggering 80,000 sharks are legally caught inside this supposedly protected world heritage area. They are targeted for their fins and the majority is exported directly to Asia, where they end up in shark fin soup. This multi-million dollar industry can quietly thrive because everyone is terrified of sharks. (Source: Documentary Australia Foundation)
And the sharks are disappearing.
Scientists and divers confirm that numbers are dangerously low, and continue to decline every year. From Madison's favorite sharks, the infamous Tigers, to Hammerheads and smaller species, fewer and fewer can be encountered around the reefs where Madison grew up.
In some areas, the populations of Grey Reef Sharks are down by a devastating 97%. Madison's mission is to change this and change this now: stop the shark killing and allow the reefs to return to their natural balance. (Source: Documentary Australia Foundation)
"Sharks strike fear into many people. But where they see terror, Madison sees the importance and beauty of a keystone species. She is an extraordinary example of a brave and passionate young woman determined to fight fear and ignorance to make a difference," said David Royle, Executive Vice President, Programming and Production, Smithsonian Channel.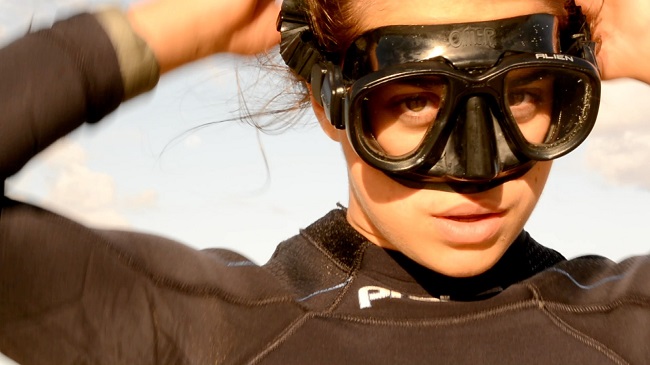 Madison's one hour special will premiere on the Smithsonian channel on June 15.
What will you be doing by June 15?  Will you be making that call?  Will you be attempting something new?  Will you start again and get back on your dream journey?
If you aren't sure, find a way to watch Madison in action.
And just imagine that you happily are swimming among sharks.
Sue
Click on the video image below to watch the movie trailer on Vimeo:
Shark Girl Trailer from Kaufmann Productions Pty Ltd on Vimeo.
SHARK GIRL is produced by Kaufmann Productions in association with Smithsonian Channel. Executive Producers for Smithsonian Channel are David Royle and Charles Poe.
ABOUT SMITHSONIAN CHANNEL
Smithsonian Channel(TM), owned by Showtime Networks Inc. and the Smithsonian Institution, is where curiosity lives, inspiration strikes and wonders never cease. This is the place for awe-inspiring stories, powerful documentaries and amazing entertainment across multiple platforms. Smithsonian Channel combines the storytelling prowess of SHOWTIME® with the unmatched resources and rich traditions of the Smithsonian, to create award-winning programming that shines new light on popular genres such as air and space, history, science, nature, and pop culture. Among the network's offerings are series including Aerial America, L.A. Frock Stars, Secrets, Mighty Ships, Mighty Planes and Air Disasters, as well as critically-acclaimed specials that include Civil War 360, 9/11: The Heartland Tapes; MLK: The Assassination Tapes and The Day Kennedy Died. Find out more at www.smithsonianchannel.com.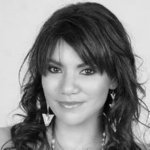 Sue Levy is the founder of the South African Just Pursue It Blog and Inspirational Women Initiative. She's a motivational writer and media designer, who is obsessed with everything inspirational with a hint of geek. She thrives on teaching women how to be brave and take big chances on themselves. You can find Sue on her Twitter page @Sue_Levy.
Note: Articles by Sue may contain affiliate links and may be compensated if you make a purchase after clicking on an affiliate link.