Part of my dream journey is to meet amazing women who inspire me along the way to becoming an International Speaker. I was first introduced to Serenity by her PR agent earlier in this year. Her story captured my heart as her courage made me fall inlove with her willingness to not give up on her dreams. I would love to share the interview I did with her.My interview with Serenity reminded me of this Quote:
"Reach high, for the stars lie hidden in your soul. Dream deep, for every dream precedes the goal".

~Pamela Vaull Starr
Here is some information about this real life Dreamer Serenity: Serenity Stewart (www.serenitystewart.com) is an underground music sensation. She has survived hardship, single parenting, divorce, custody battles, entering the workforce and figuring out how to survive during times of great stress and frenzied fatigue.  Song was her lifeline, her coping mechanism.
The tapestry of her life and experiences was woven together at first by music and dance.  As a youngster she sang endlessly for hours and danced like no one was watching.  She adored all music and particularly found that the old records housed in the basement of our home became my favorites.
She studied old movies on Sundays, after Sunday school when I had no other commitments and could totally immerse myself into another world and secret longing. She worked long hours at the office and longer hours at home with 4 children.  Music faded into the realm of singing on the freeway to bide the drive time and to satisfy a hunger to mesh music with long lost memories.
A well designed diversion to the pain and sting of life. It was only after an unexpected turn, a twist of fate that offered me the opportunity to see that life is a finite experience, that she changed courses.  In July of 2004, she suffered a brain aneurysm.  That year put a lot of things into perspective.
Serenity spent time travel to Cabo and Puerta Vallarta and at that moment decided life was too short to not pursue her dreams. Serenity is now doing what she loves which is bringing quality music to the masses. As a contemporary jazz artist with a Vegas style show band, she is making a household name as a sultry seasoned performer and an award-winning actress. She is classically trained as a soprano and has released her first album "P.S. I Love You."
The Interview with Serenity Stewart
Describe your profession and what it is you do?
I am a vocalist and a recording artist.  Daily I sift through volumes of sheet music to find vintage pieces that I might love to bring the Serenity sound to.  I consider a piece of sheet music a form of communication, but it is not music until I "color" it and shade it the way I believe it should be presented.  I spend some time listening to pieces I would like to record and more time sitting at the piano playing out the melody lines and reading through the lyrics.
I rehearse ongoing music that I am currently planning to record in the studio 3-4 hours a day. I work with my keyboard player 3 hours two days a week to go over new arrangements and to polish numbers. During breaks in rehearsals and meetings I love to scope out new gowns and jewelry at some favorite vintage shops.  I respond to e-mail, press inquiries and do additional online research for and about music in the evenings and early morning over coffee.
Which obstacles did you overcome on your journey in order to find your dream or true calling?  
I did a new "arrangement" on my mind and spirit.  I had to overcome the idea that I needed to hold a main stream job in order to be successful. More importantly, I established a new measure for success with myself.  Instead of using my title or pay scale as a yardstick, I began to weigh success by how much of myself I was able to give back to the world each day. My new perspective allowed me to measure success in terms of how much personal satisfaction and self fulfillment I enjoy from my endeavors.
Would you say that you are living your dream life?  
Yes, I am.  In so many ways.  I am able to live my dream now that I have let go of old programming. I was not that person that wanted to live on "Someday Isle".  I had to let go of old idea's and realize that living your dream and doing what is really important to you makes you wealthy beyond compare.  There is no price tag on living a dream.
No price on the richness of experience and friendships and being at peace within yourself.  My biggest reward is giving back to others.  Although it may sound trite, it is a simple truth.  Americans like to live large, but living smaller allows you to embrace the greater more important components of life.
This year instead of "super-sizing" your fries and diet coke, super-size your returns on life by really investing in yourself, your dream and giving back to the world each day.
What advice would you give someone who dreams to pursue a similar profession as yourself?  
If it's what you REALLY want – do it.  Do not wait and do not allow others to take your dream and realign it with some ideal of theirs that doesn't belong to you.  Keep it real, keep it yours and follow through.  Anything worthwhile takes time and hard work, but if you love what you do, each day is a new beginning that you look forward to. Hold onto your dream like the tail of a kite that you want to take you to the highest height.
Please share a motivational message for someone who wants to be in your shoes and follow their dream as you did?
The best days are those that take me to places where I look into the eyes of an elderly person who maybe hasn't spoken two words to a loved one in many many months.. BUT through the power of song and the pathways of the mind that allow song to take us back in time on a journey that defies the logic of language, I personally get to bring the experience of Music to many.  I see the eyes twinkle and the smile broaden and the body move to a language all its own, called music.
And if by chance, by some miracle I get the pleasure of spending time with children, small voices just waiting to be heard.  Small hands reaching out to touch you because the music and movement touches them, well there is no better landing that that for the soles of my shoes and my soul period.  I say often that if in my life, I inspired just one child I would be happy.  I truly hope to inspire many.
Where do you draw motivation from and what inspires you?  
Music Inspires me.  The innocence of children inspires me.  Knowing I can give something back to the world from myself is very inspirational. I am inspired by others giving from themselves within their communities and embracing working together for the common good. AND I love a good flash mob!
I am motivated to continue to work and give because enjoyment is derived from my giving.
I am motivated in knowing that I will leave behind a story, part of it in my music, that has meaning and will become a part of the tapestry of my children and grandchildren's lives.
What is your favorite motivational quote and why?  
Every Possibility Begins with the Courage to Imagine It.
I believe this and am encouraged by the thought of all things being possible.  Imagine and Implement.
You can keep up to date with Serenity on these following links:
With this amazing interview I have learned so much from a Women who had been through challenges that would cripple our spirit, But she has so much courage and has proven that when you have a dream, nothing will stop you in attaining it. Thank You Serenity for this honor. You are a true Inspiration to me.
Sincerely Sue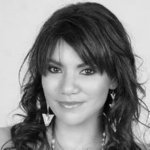 Sue Levy is the founder of the South African Just Pursue It Blog and Inspirational Women Initiative. She's a motivational writer and media designer, who is obsessed with everything inspirational with a hint of geek. She thrives on teaching women how to be brave and take big chances on themselves. You can find Sue on her Twitter page @Sue_Levy.
Note: Articles by Sue may contain affiliate links and may be compensated if you make a purchase after clicking on an affiliate link.