Last updated on April 8th, 2012 at 01:01 pm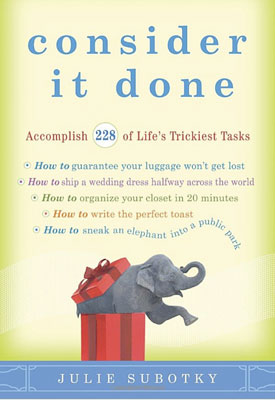 With all dreams there are to-do lists.
Some lists could reach the space shuttle with their length. Are any of those tasks over-the-top hard or even mundane, but time consuming?
In Julie Subotky's book "Consider It Done: Accomplish 228 of Life's Trickiest Tasks" she covers topics ranging from dealing with travel snafu's, financial tips and tricks, and business organization.
Julie Subotky is founder and CEO of Consider It Done, a high-end lifestyle management and personal concierge firm dedicated to finding solutions, saving time, and making life easier so that you can do what you love.
The tasks cover the details to accomplish a lot, even some things I hope I'll never need, like how to get rescued on a desert island. The information has a fun delivery, offering a sense of humor for the solutions, no matter how serious they appear.
A good example is in the travel section titled "Around the World"
How to guarantee your luggage won't get lost: This includes an interesting tip that seems a bit edgy… but you'll have to check it out and see if you are willing to try it out for the sake of safe luggage!
How to know what to bring when traveling with a baby: I know I completely over-packed when my now teenager was a tiny tot. This helps you narrow down
How to find a dentist in another country: Not something I would initially consider knowing, but now that I think about it is a great thing to know how to do
One of my favorite sections is titled "Annoying (but necessary)"
How to keep your linen shirt from wrinkling: I didn't think this was physically possible, but with a little prep linen will stay unwrinkled… a little longer
How to get remove any stain: As a parent of a teenager, who is also a clothes horse, these tips may just save a few of those fashion items from the donation pile.
How to write Thank-you notes in no time: This is a task I always let go and with this fun tip, I may be on top of this for the next event.
I can recommend Consider It Done: Accomplish 228 of Life's Trickiest Tasks for those with a need for eclectic knowledge, travelers, business people and as a gift to friends that fit that bill. Plus, if you ever need to sneak an elephant into a public park, this is the book that can help you get it there!
What daunting task is next on your to-do list?
Share in the comments. You never know who might have a tip to get that task done.
– Heather
Heather's dream is to have multiple streams of income, starting with launching an e-commerce website that showcases her couture jewelry, which are crafted by her. You can find Heather online at For Your Adornment and Twitter And Beyond Dot Com. She also teaches Social Media tactics for business, besides being CEO of her own web design company. Heather's post day is Friday.

Heather Montgomery is a fitness writer, triathlete, and serial entrepreneur who is devoted to sharing what she has learned about becoming a triathlete after age 40. She uses her Metabolic Training Certification to help other women struggling to get fit in mid-life. She lives and trains in Santa Rosa, California, the new home of the Ironman triathlon. You can find her biking the Sonoma County wine trails.
Note: Articles by Heather may contain affiliate links and will be compensated if you make a purchase after clicking on an affiliate link.