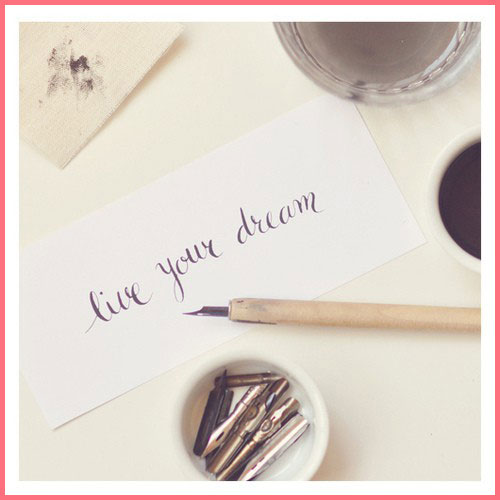 This year of blogging has given me an amazing gift: the license to dream freely.
Freedom to change my life.  Freedom to become someone new.  Freedom to face my fears. Freedom to make my dreams come true. And freedom to inspire others to do the same.
This year of blogging on my own personal blog, and on 8 Women Dream has given me the strength to make so many amazing changes in my life.
It's true what they say: blogging will change your life.
Today is my blog's one year anniversary and I am 10 posts shy of 250 blog posts.  If I was writing a book, I'd be at 240 pages.
Further proof of what a determined heart can achieve if you want something badly enough.
I was moved to start my blog because of my friend who passed away in September 2011. Her words still linger in my heart.  I remember sitting with her under blankets talking about our dreams. She said, "Sumia….you should start a blog! You have a lot to give to people out there!" I shrugged it off with, "Yes… I will…when I'm ready."
Then she died.  Not long after her death, I had a dream where she told me to stop wasting time. I awoke in a cold sweat, embroiled in anger and sorrow — missing her deeply.
I decided right then to use my design skills to create a blog.  I did it in all in one night. The name I chose for my blog, "Just PurSUE It" was a saying that many people said to me over the years.  In fact, people said it to me so much that I thought it was meant to be my nick-name — especially since "Sue" formed part of it.
I felt like it was my sign to pursue my dreams and inspire others to do the same.
Once I began blogging, I immediately found that I needed structure. I quickly decided that each day of the week should have an inspirational theme. My two rules: 1) Blog from the heart (hence my logo having a heart on it) and 2) No negativity or whining.
I used blogging to change the way we think about our week:
Motivational Monday: I was tired of hearing people complain about going back to work. I took it upon myself to give readers some motivation to live their Mondays to the fullest and change how they looked at this first day in the week.  Mondays are an opportunity to start anew.  Rejoice at the week that lays out before you.
Technology Tuesday: I come from a very technical background. I received my degree in Multimedia Technology.  I decided to make Tuesdays the day I'd invite Industry professionals to give their advice to readers. New technology teaches people not to be afraid of change, and with change comes opportunity.
Thankful Tuesday: I am a huge fan of gratitude. I believe that when we humble ourselves by saying thank you and recognizing all that we should be grateful for in our lives, our hearts fill with immense joy.  We suddenly see the little blessings and the small gifts that enrich our lives everyday.
Women Wednesday: This day is the day I dedicate to women around the world.  I publish the interviews I've done with ladies from around the world. I love this day.  It gives me hope about the world makes me realize that there are still good souls out there. These Women Wednesdays have helped birth my Inspirational Women's Initiative here in South Africa, where women give back to youth.
Thursday Thought-of-the-Day: This is my day to reflect on one Important lesson learned during the week. I love that I can use this opportunity to turn any negatives into positives and make peace with things that have challenged me through the week.  I ask my readers to do the same.
Feel-Good Friday: This is my argument for ending the work week on a positive note. On this day a professional Life/Business Coach writes articles based on her successes and offers advice for changing your life.  I am blessed to feature her wisdom on my blog.
In a sense, I am forced to be positive in my life because of what I share on my blog.  It's interesting when you are forced to focus on only the positive how much your life improves for the better and how fearless you become.  For this reason my blog is one of my greatest achievements to date.
I've learned that if you can dream it, you can achieve it with hard work and faith in God and your abilities. I am in love with blogging and dreaming big.  It has become my passion.  It is something I feel I must do everyday.
I advise you to not be discouraged if you are blogging and you experience days when writing is difficult.  Writers block is a pain at times, but you have to believe that you CAN do it and begin writing — even if your first sentence is, "I don't know what to write…"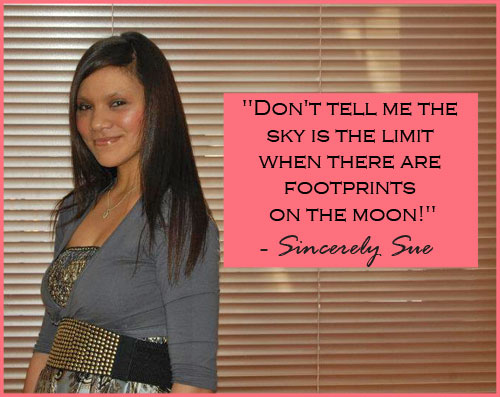 Blogging has given me permission to be myself and freely express my hopes and dreams with the world.  At first, it seemed raw and intimidating, but over time I have found that the writing heals your soul and strengthens your resolve.
It teaches you that you have the ability to change and become the person you were meant to be.
I'll leave you with this quote by singer Paul Brand: "Don't tell me the sky is the limit if there is footprints on the moon."
Remember to "Just Pursue it!" this week and embrace your dreams.
And cheers to a year of blogging!
Sincerely,
Sue
If you are thinking of starting your own blog, but don't know where to begin, see: How To Start A Blog by Badi Jones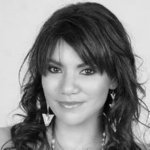 Sue Levy is the founder of the South African Just Pursue It Blog and Inspirational Women Initiative. She's a motivational writer and media designer, who is obsessed with everything inspirational with a hint of geek. She thrives on teaching women how to be brave and take big chances on themselves. You can find Sue on her Twitter page @Sue_Levy.
Note: Articles by Sue may contain affiliate links and may be compensated if you make a purchase after clicking on an affiliate link.