Last updated on September 28th, 2018 at 03:53 pm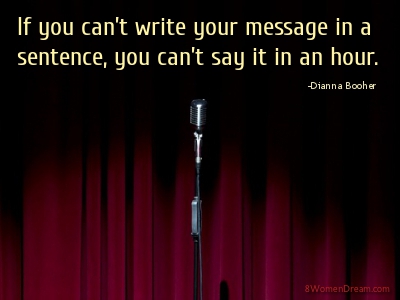 Is your big dream to be a great public speaker? Are you looking to change your career, live a bigger life and develop a large public speaker following?
Then you've come to the right place!
Let's face it, nowadays with social media, your big dream success may increasingly depend on your public presentation skills. This is especially true if you need to share your dream with others in order to move ahead on your dream journey.
You may need to pitch for funding, sell your idea to an investor, convince someone you are perfect for a job, get people to believe in and buy your art, and much more–the list is endless.
Public speaking skills aren't just about standing on a stage and talking in front of a crowd of people. Public speaking skills help you present yourself confidently in any situation.
No matter how frightened you might be about getting up in front of people, learning public speaking skills will help you make your dream come true.
Now that I've freaked you out by saying public speaking skills are an important component of dream achievement, I want to share my list of the best motivational speaker books for anyone looking for inspiration on speaking in public, gaining self-confidence, or inspiration on being a great leader.
8 Best Motivational Speaker Books
You can change the world—one audience at a time! Today's challenging times call for passionate visionaries who are authentic and articulate communicators. Speaking coach and consultant Gail Larsen presents a proven program that liberates the "speaker within" and transforms even the reluctant orator into an agent of change.
While most books on public speaking focus on polishing your presentation and overcoming fear, Larsen's holistic blend of spirit and logic goes far beyond the standard format, making Transformational Speaking a must-read for even the most seasoned speechmakers. With her uniquely inspirational approach, Larsen reaches out to those who want to make a genuine difference in our world by changing minds through touching hearts.
Transformational Speaking offers insightful advice on everything from defining your message and refining your delivery, to managing the dynamics of a room, handling logistics like a pro, and building a connection with an audience of any size. Larsen has helped business executives and entrepreneurs, community and social change leaders, and healers and life coaches become active movers and shakers through the power of effective communication. (Credit: Amazon)
Talk about motivation!
Professor Stephen Lucas has directed the introductory public speaking course at the University of Wisconsin-Madison since 1973. Over the years he has been responsible for numerous teaching innovations and has supervised the training of hundreds of graduate assistants.
In addition to participating in public speaking workshops and colloquia at schools throughout the United States, professor Lucas has served as a judge for the major national English-language public speaking competitions in China, has lectured at numerous Chinese universities, and has conducted workshops for Chinese instructors on teaching public speaking.
In his best selling textbook, The Art of Public Speaking, professor Lucas personalizes learning for every student no matter whom they are or where they are, ensuring that they come to your public speaking class confident, prepared with the principle foundations, and ready to participate in your teaching and coaching. (Credit: Amazon)
Talk about inspiration!
Ideas are the currency of the twenty-first century. In order to succeed, you need to be able to sell your ideas persuasively. This ability is the single greatest skill that will help you accomplish your dreams. TED Talks have redefined the elements of a successful presentation and become the gold standard for public speaking. TED―which stands for technology, entertainment, and design―brings together the world's leading thinkers. These are the presentations that set the world on fire, and the techniques that top TED speakers use will make any presentation more dynamic, fire up any team, and give anyone the confidence to overcome their fear of public speaking.
Public speaking coach and bestselling author Carmine Gallo has broken down hundreds of TED talks and interviewed the most popular TED presenters, as well as the top researchers in the fields of psychology, communications, and neuroscience to reveal the nine secrets of all successful TED presentations. Gallo's step-by-step method makes it possible for anyone to deliver a presentation that is engaging, persuasive, and memorable.
Many people have a fear of public speaking or are insecure about their ability to give a TED-worthy presentation. Carmine Gallo's top 10 Wall Street Journal Bestseller Talk Like TED will give them the tools to communicate the ideas that matter most to them, the skill to win over hearts and minds, and the confidence to deliver the talk of their lives. (Credit: Amazon)
Talk about meaningful!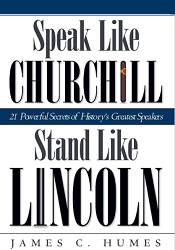 Ever wish you could captivate your boardroom with the opening line of your presentation, like Winston Churchill in his most memorable speeches? Or want to command attention by looming larger than life before your audience, much like Abraham Lincoln when, standing erect and wearing a top hat, he towered over seven feet? Now, you can master presentation skills, wow your audience, and shoot up the corporate ladder by unlocking the secrets of history's greatest speakers.
Author, historian, and world-renowned speaker James C. Humes—who wrote speeches for five American presidents—shows you how great leaders through the ages used simple yet incredibly effective tricks to speak, persuade, and win throngs of fans and followers. Inside, you'll discover how Napoleon Bonaparte mastered the use of the pregnant pause to grab attention, how Lady Margaret Thatcher punctuated her most serious speeches with the use of subtle props, how Ronald Reagan could win even the most hostile crowd with carefully timed wit, and much, much more.
Whether you're addressing a small nation or a large staff meeting, you'll want to master the tips and tricks in Speak Like Churchill, Stand Like Lincoln. (Credit: Amazon)
Talk about Noble!
Discover how to become the best public speaker you can be with this valuable and accessible guide from the world-famous Dale Carnegie!
Drawing on Dale Carnegie's years of experience as a business trainer, this book will show you how to overcome the natural fear of public speaking, to become a successful speaker, and even learn to enjoy it.
His invaluable advice includes ways to: Develop poise, Gain self-confidence, Improve your memory, Make your meaning clear, Begin and end a presentation effectively, Interest and charm your audience, Improve your diction, Win an argument without making enemies. (Credit: Amazon)
Talk about instructive!
This best-selling brief introduction to public speaking offers practical coverage of every topic typically covered in a full-sized text, from invention, research, and organization, to practice and delivery. Its concise, inexpensive format makes it perfect for the public speaking course, and any setting across the curriculum, on the job, or in the community.
The latest edition offers even stronger coverage of the fundamentals of speechmaking, while also addressing the changing realities of public speaking in a digital world, with a new chapter on online presentations, and new tools and advice for finding and evaluating online sources. (Credit: Amazon)
Talk about powerful!
In The Quick and Easy Way to Effective Speaking, Dale Carnegie offers a fast track to understanding the fundamentals of talking to large groups of people. It's great as a beginner's introduction or an easy reference for professionals.
Now streamlined and updated, the book that has literally put millions on the highway to greater accomplishment and success can show you how to have maximum impact as a speaker–every day, and in every situation that demands winning others over to your point of view. (Credit: Amazon)
Talk about enjoyable!
Presentations are meant to inform, inspire, and persuade audiences. So why then do so many audiences leave feeling like they've wasted their time? All too often, presentations don't resonate with the audience and move them to transformative action.
Just as the author Nancy Duarte's first book helped presenters become visual communicators, Resonate helps you make a strong connection with your audience and lead them to purposeful action. Nancy's approach is simple: building a presentation today is a bit like writing a documentary. Using this approach, you'll convey your content with passion, persuasion, and impact.
Presentations don't have to be boring ordeals. You can make them fun, exciting, and full of meaning. Leave your audiences energized and ready to take action with Resonate. (Credit: Amazon)
Talk about educational!
So there you have it–8 ways to find inspiration to become the public speaker you dream of being–or to engage with people more fully to make your big dream come true!
Have a glorious week speaking to others about your big dream, dreamers.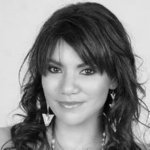 Sue Levy is the founder of the South African Just Pursue It Blog and Inspirational Women Initiative. She's a motivational writer and media designer, who is obsessed with everything inspirational with a hint of geek. She thrives on teaching women how to be brave and take big chances on themselves. You can find Sue on her Twitter page @Sue_Levy.
Note: Articles by Sue may contain affiliate links and may be compensated if you make a purchase after clicking on an affiliate link.