Last updated on March 7th, 2023 at 04:17 pm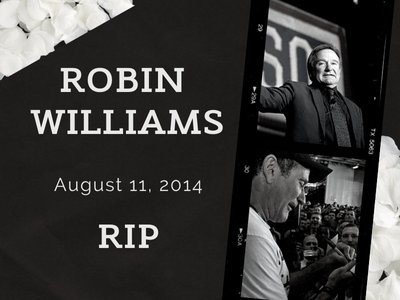 Today I say goodbye to a hero of mine Robin Williams.
As a motivational speaker, I'm always trying to make people happy. Robin Williams always reminded me it's not that easy. And some darkness is just insurmountable.  Even in death, Robin teaches me to see those suffering from depression through the eyes of compassion.
Today I write this not-so-dreamy dream story with a heavy heart. Because  No, I didn't know Robin. We had no chance encounters. No chatting over cocktails. I never even saw him up close.
But I feel like I knew him.
We all did.
Because he made us laugh repeatedly and worked his way into our hearts, every decade of my life has his footprint. I experienced him from an audience. I learned from him as another funny person studying the art of humor.
His characters in Mork and Mindy, Patch Adams, Mrs. Doubtfire, and all the others he played gave me laughter, hope, wisdom, courage, and belief. He embodied the art and soul of making people laugh and feel something.
The Dark Side of Comedy
While I haven't suffered from as dark of depression as he did, I will not try to say I know how he felt. I do know what it feels like to be seen by the world as the one always laughing even when you're not laughing on the inside.
Even funny people have pain.
Comedians learn to laugh at it, or rather laugh through it.
To Those Who Understand How Robin Felt
I would also like to make a quiet plea to anyone reading this who understands how Robin felt and who faces darkness each day that threatens to overwhelm them. Please don't wait for us to pick up on a silent clue. Please don't suffer in silence.
Please don't go through this alone. Please reach out and get the help you need. There may be people out there who can help you find the light again.
Gone But Not Gone
Robin may not be here, but his legacy will live on forever through his characters and his movies, his goofy smile, contagious laugh, and wise eyes. Robin, you always have and always will make many people in this world happy.
My heart breaks that you weren't able to find it yourself. Rest in peace and laughter.
Need help? Know someone who needs help? In the U.S., call 1-800-273-8255 for the National Suicide Prevention Lifeline.
Kelly Swanson is an award-winning storyteller, motivational speaker, published author and TV personality who is passionate about helping women harness the power of their stories to connect, influence, and get the results they dream of accomplishing. Laughing the whole way, Kelly teaches women how to master the art of connection through the power of strategic storytelling. You can find her on The Fashion Hero show airing Fall of 2017 on Amazon Prime or on her website MotivationalSpeakerKellySwanson.com.
Note: Articles by Kelly may contain affiliate links and may be compensated if you make a purchase after clicking on an affiliate link.