Last updated on January 22nd, 2019 at 01:50 pm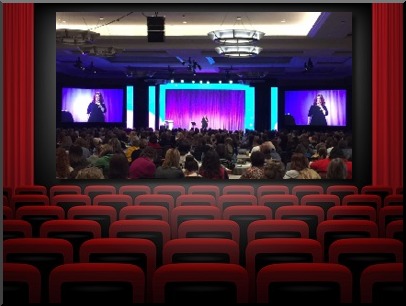 I know. You thought your dream of being a big-time paid public speaker was going to be easier than it has been, right?
The truth is that the public speaking business is a crowded market.
Every minute of every day a new person is launching a public speaking dream by stepping up to a podium to share the speech they have prepared.
Becuase the market is saturated, having a satisfactory speech is no longer good enough. Meeting planners and audiences want a GREAT lecture.
And even more–a speech that is relative to the listening audience. It's a tall order when you're giving three speeches in one week.
But offering a canned talk won't help move your speaking dream into the big leagues. You must be able to customize the information in your speech to fit the audience before you.
But how do you do this–especially when you aren't sure what customizations you should add to your speech?  Well, dreamer, it's your lucky day! Here is my advice on how you customize your speech without rewriting the whole darn thing.
7 Easy Ways to Quickly Customize Your Speech:
1. Do Your Audience Homework Ahead of Time.
Ask your client about the people in that audience. What is difficult for the crowd when they are at work. Find out their common pains and desires and come up with suggestions to help.
Make sure you understand how what you teach applies to what they do.
2. Network With the Audience Before Your Speech.
Arrive early to the event so you can take the time to meet some of the people in the audience before giving your speech. Figure out a way to throw out a comment or two to a couple of them while you are delivering your speech.
e.g., "I was talking to Joe earlier, and he said…"
3. Speak to the Elephant(s) in the Room.
While networking before the start of the event, discover if anything happened at the meeting site that you may have missed and make a joke about it during your speech. Make fun of the venue (e.g., the parking, the drive there, the bright colors, etc.) or something everybody knows about in the room.
Figure out what everybody's talking about and weave it into a place within your speech.
4. Establish a Common Ground Early in Your Speech.
If you have friends or family in the same profession as your audience, acknowledge it early in your speech. Show the audience that you understand where they are coming from and how you can relate to their pains and desires on a personal and or professional level. Either come right out and tell your audience or show them how you've felt their same types of pains and desires in your own life and business.
You want to show the gathering that you get what their jobs are like and how you understand the industry.
5. Share a Story From the Audience's Industry.
Find one example or story about someone in their industry and what happened. Google news search is a great place to start. Place quotation marks around the company name or the name of the sector in the news search box and see what stories Google returns and what people appear in the news. Searching the company and industry is also good to do the morning of your speech to ensure nothing suddenly happened in their industry that you need to be aware.
Try to do your research on someone you know or can talk with ahead of time, if possible.
6. Customize the Application–Not the Content.
You can still give the same talking points in your speech that you always do. But go one step further. With each delivery, talk about how it could apply in their workplace, business or industry at large.
Even better, ask your listeners! Get your audience to come up with the answers.
7. Have a Sentence that Always Spins Your Point Back to the Crowd.
A significant sentence to put in your speech in several places is, "How does this apply to you?" Another good one is "What have we learned here today and how will you use this?"
Today's meeting planners and audiences don't want speeches that are all about the speaker. They want lectures that are about THE AUDIENCE. You don't have to write a new speech or rewrite an old one, just make sure that on several talking points, you are taking the time to make your speech about your audience.
The speech customization techniques I've listed above offer ways to connect with your audience and make an impact with your words–the rest is up to you! Try it and let me know how it helps advance your public speaking dream.
Kelly Swanson
Kelly Swanson is an award-winning storyteller, motivational speaker, published author and TV personality who is passionate about helping women harness the power of their stories to connect, influence, and get the results they dream of accomplishing. Laughing the whole way, Kelly teaches women how to master the art of connection through the power of strategic storytelling. You can find her on The Fashion Hero show airing Fall of 2017 on Amazon Prime or on her website MotivationalSpeakerKellySwanson.com.
Note: Articles by Kelly may contain affiliate links and 8WD or Kelly will be compensated if you make a purchase after clicking on an affiliate link.