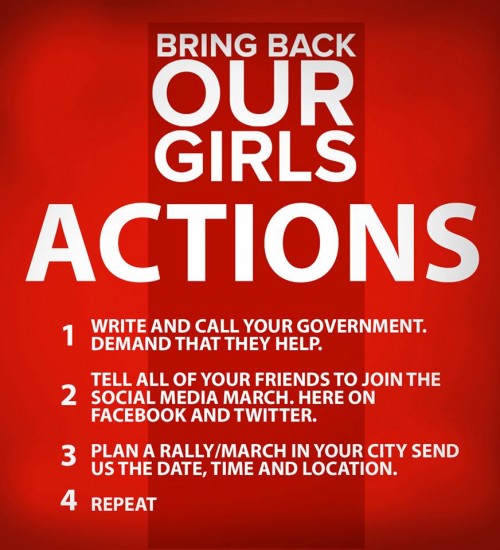 As many know (thanks to the Internet) last month in Nigeria, more than 200 girls were abducted from their school by the terrorist organization Boko Haram.
Since their disappearance, an international movement has grown around the hashtag #BringBackOurGirls, forcing mainstream press worldwide to cover the issue and pushing the Nigerian government – and other world leaders – to step up their efforts to retrieve the kidnapped youth.[1]
Jennifer Siebel Newsom, Imran Siddiquee & The Representation Project team have a message they would like to share:
It should be no surprise that the #BringBackOurGirls movement was sparked and has been led by the passion of mothers in Nigeria, who have taken to the streets to demand the return of their daughters. These women have started #BringBackOurGirls petitions and inspired rallies all over the planet.
We're reminded of the power of social media to amplify voices marginalized by the mainstream, but also, specifically, of the under-appreciated value of motherhood – or those things we traditionally associate with it.
In a society where caring and nurturing are too often devalued, it's moments like this that we truly understand what's at stake. Compassion is negated – labeled as something "feminine," and thus somehow less worthy of praise – and yet it's compassion which brings us all together now.
Just as it's the lack of empathy, the pursuit of hypermasculine dominance, which leads the men of Boko Haram to kidnap girls and threaten to sell them into slavery.[2]
This week, as we continue to amplify the #BringBackOurGirls campaign, let's also support those organizations working daily to improve the lives of mothers all over the world.
And well beyond Mother's Day, we can make the consistent effort to value the guardians and role models of all kinds in our personal lives whose voices and actions have taught us the true meaning of compassion. Let's celebrate those who have nurtured us to become more caring individuals, and who hold our families and communities together.
The world needs far more of their kind of love and empathy, and far less of the aggression and dominance spread by groups like Boko Haram.
Please forward this message and say a prayer on Mother's Day for all the mothers in Nigeria and those young girls impacted by this violence against women.
This message comes to you from Jennifer Siebel Newsom, Imran Siddiquee & The Representation Project team and 8 Women Dream is proud to share it.
Sources:
1. What Can I Do to #BringBackOurGirls?
2. Nigeria's Boko Haram threatens to sell kidnapped schoolgirls
Natasha von Geldern is a travel writer, editor, and blogger who is passionate about making the pages of the atlas real by traveling the world. She is a contributor to Travel Wire Asia, Wild Junket Magazine, Yahoo! Total Travel, and Travelbite. You can find her on her travel website and blog, WorldWanderingKiwi.
Note: Articles by Natasha may contain affiliate links and may be compensated if you make a purchase after clicking on an affiliate link.