Last updated on July 6th, 2022 at 03:51 pm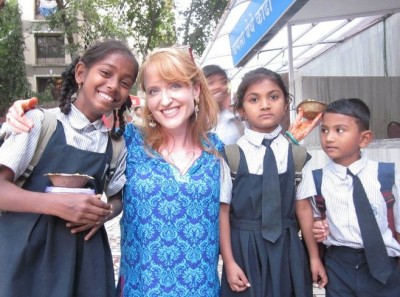 It can be exciting, and a little frightening, when your dreams start to come true, in ways bigger and wilder than you ever envisioned.
In the past week, another big dream came true. I've been invited to return to India to teach a class called "The Dance of Leadership" at the School of Inspired Leadership in Gurgaon, India.
This will mean an all-expenses-paid trip to India, traveling back to this country where I felt a strong soul connection and fell in love with the spirit of a nation, the people, the culture, colorful clothes, spicy food, and music. And I will have the chance to teach strategic planning and visioning, incorporating movement and dance.
This will allow me to combine some of my greatest passions–dance, helping others live their dreams, creating a vision for the future, for teaching–and then I'll be able to share the stories afterward through my writing. It also allows me to manifest my dream of traveling the world, teaching, and inspiring others.
I wrote this vision down in a "strategic plan" for my own life five years ago. I aspired to travel the world, writing, teaching, and dancing. Suddenly, I am doing all of these. And getting paid for it.
My biggest dreams are coming true, one at a time.
How Did This Happen?
When I headed to India this past January, my primary intention was to do a good job co-facilitating workshops with my mentor and friend, Nithya Shanti, and to make the most of my time with Nithya and other friends there. My secondary intention was to see, explore and enjoy as much of India as possible. And my third intention was to deepen my own spiritual practice and to learn and grow from the experience.
The first workshop I led with Nithya took place at the School for Inspired Leadership, also known as "S.O.I.L." Nithya and I led a weekend-long workshop for 77 MBA students.
He led exercises and shared stories for about three-quarters of our time there, and I used the remaining time to lead the students through life visioning exercises to help them map out both long-term and short-term visions, goals, and dreams.
A Fun Experiment
I also led some of the fun breaks between exercises. Nithya and I decided that it would be fun to teach the students a few belly dancing moves since that's one of my specialties (besides lindy hop, belly dancing is my favorite dance, and I've performed it in the U.S. and abroad).
We hadn't picked out music in advance, so I was Googling belly-dancing songs with the students on YouTube. We finally settled on a number by Shakira.
I know I was supposed to teach the students moves, but first, my hips just started moving. I did a quick impromptu demo — hip shake, shimmy, circle around, body roll, and again. My body just naturally wants to move to that music. Nithya later said he'd never seen the students at such rapt attention as when this redheaded stranger from the U.S. tied her scarf around her hips and started to shake 'em. What can I say? It was fun!
We then formed a circle at the back of the room and invited all interested students to join us in learning a few simple moves. Watching Nithya circle his hips, and shake them, was worth the price of admission.
And all of the students, male and female, got into it, so we soon had a circle full of gyrating hips, the beats of the music accented by each hip shake and punctuated by fits of giggles. Doing the dancing circle lightened the mood in the afternoon before we dove into more "serious" exercises again. It was a big hit.
And It Evolved From There
I didn't expect anything to come of this brief and silly belly dancing lesson and demo. But some of the faculty who were in the room loved it, and word got back to the director of the MBA program.
The day after Nithya and I taught at SOIL, I met with Anil, the program director. To my surprise and delight, Anil proposed returning to SOIL again for the next school year to teach a class as part of their international guest faculty. To my even greater sense of astonishment and delight, he proposed incorporating elements of dance into the leadership class.
Anil asked that I submit a curriculum proposal for 30 hours of teaching (3 hours a day for 10 days over a period of two weeks). We decided that I would teach strategic planning and visioning, and also incorporate a dance lesson into each class.
Anil had the brilliant idea to call the course, "From Your Head to Your Feet: The Dance of Leadership."
This Was A Leap For Me
Teaching a full two-week course would be a leap for me. I have guest-lectured at many colleges locally on topics like leadership, communications, and marketing. I've presented at national conferences on best practices in city government. I've taught weekend and day-long workshops. All of the above are in my "comfort zone" now, although I had some trepidation before I leaped into each one.
I prepared well, envisioned success, did my best, and had fun, in each instance.
Leading an entire two-week class would be new to me. But I knew that it was something I could do well and would enjoy, and I am always up for new challenges. I have studied strategic planning for years and put together strategic plans for government, private sector companies, and individuals. So I felt confident in my ability to lead and teach this work.
And of course, teaching dance is something that I did for five years, so introducing that into the curriculum would be pure joy.
So when I returned to the US in February, I set a deadline in my calendar to complete and submit my curriculum proposal before the proposals were to be reviewed in March. I asked friends of mine who are professors to see their curriculum outlines, just so I'd have a model from which to work.
I was a little nervous about "getting it right" and wondered what the leadership at SOIL would think. But I forced myself to just put the time in to come up with a draft, edit it, and polish it some more until it felt "right." It was fun weaving together the lessons from the dancing with the core elements of strategic planning. I was sure I could add value to the students' lives.
And so, when the deadline arrived to send it, off it went, then I waited, holding my breath… hoping they would like it.
Next Steps
Anil soon wrote back and let me know his staff would be reviewing the proposal. It took another week or so before he wrote again to say that they would like to schedule a Skype call with me. We talked at 7:30 a.m. my time. Turns out, they loved the proposal, they want me to teach, and now we simply need to work out logistics, details, and timing.
Another trip to India! And the chance to teach strategic planning, which I love, and dance, which is a passion and a joy. Could I possibly be the luckiest girl in the world?
Can We Make Our Biggest Dreams Come True?
For me, this little success story of mine is just one more example of how following our heart where it leads us can open new doors, and help us to live our dreams in even bigger ways than we had imagined.
When I traveled to India for the month of January to co-facilitate workshops with Nithya, I didn't know that I would end up teaching 77 MBA students or get invited back to be guest faculty. I didn't know that I would have the pleasure of introducing another passion, dance, into the weekend workshop.
Having the courage to make the leap and travel to India ended up creating new opportunities like this one that synthesizes so many of my passions into one fun career opportunity. This is the kind of work I would do even if I were not getting paid to do it, and I will be handsomely paid and have an all-expenses-paid trip to India as well. What could be better?
My soul is happy to get to return to that beautiful country. My heart is happy to get to dance. My mind is happy to be challenged through growing as a teacher and workshop leader. It's all a joy.
What I learned from the serendipitous way this opportunity mapped out
1. Follow your dreams where they lead you, even when it scares you.
I was nervous about traveling to India, about teaching in the MBA program, about each lecture I have given in the past–before doing it. I never let the fear stop me.
2. When a door opens, walk through it!
Following my heart to India opened the door to teaching at SOIL. It was another leap for me but I decided to go for it. Who knows where it could lead, and what do I have to lose? I knew I needed to at least try it.
3. Trust that you have what it takes to take your dreams to the next level!
Sometimes an opportunity may arise that feels "bigger" than you are ready for. Trust that you have within you what it takes to jump to the next level. And go for it.
4. Prepare well, envision success, do your best, and have fun!
When the time comes, be sure you've done your homework, then just give it your best! Enjoy every moment of the dream you are living, and what you have created.
Lisa Powell Graham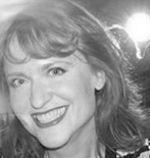 Lisa P. Graham is an inspirational writer, life coach, TED motivational speaker, and globe-trotter whose passion is to help others to find happiness and meaning in their daily lives. A political activist at heart, Lisa would like to empower more women to run for political office as a way to create positive change in the world. You can find her on her website or watch her TEDx speech on YouTube.
Note: Articles by Lisa may contain affiliate links and may be compensated if you make a purchase after clicking on an affiliate link.