Last updated on July 14th, 2022 at 04:07 pm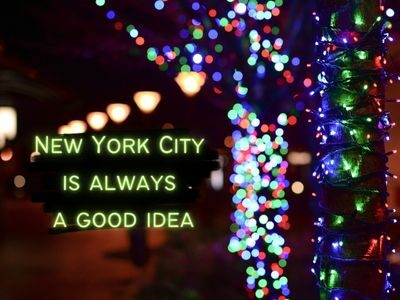 The plan was to ice skate at Rockefeller Center in a little Miss Santa dress, complete with a short poufy skirt and crinoline.
I had ordered it online for this occasion and was wearing the velvety red dress with a fake-fur-lined hood and pom-pom ties under my long black down coat, which was zipped up high for the element of surprise.
My entourage, which consisted of my mom, sister Margaret, brother Shanti, and best friend from college, Georgia, had piled into my dad's SUV earlier that morning and driven from Massachusetts to New York City.
We had a leisurely morning since we'd been up late the night before for a double surprise 65th birthday party for my parents.
The house was still littered with balloons, streamers, champagne flutes, and little red napkins that said: "Happy 65th Birthday Joe & JP!"
A Dream Party
It has been a dream party, tons of fun, with both of my parents completely shocked and surprised. My four siblings and I had cooked it up and then raised the money to send my parents on a 10-day dream vacation in Ireland on St. Patrick's Day in 2012.
The house was packed with about 50 family friends and colleagues of my mom and dad. We toasted them with champagne, ate pizza and cake, and had an impromptu band form consisting of a family friend, Dave Potvin, and my best friend from college's three kids, ages two, four, and six years old.
It was a trip! We were all tired enough that we scrapped the original plans to get up bright and early and head to NYC on a bus with my mom's colleagues since the bus was leaving at 7 a.m. We went with the rise when we felt like it and have a relaxed morning plan instead, leaving the house at about 10 a.m.
After making a few stops along the way for gas and food, we coasted into NYC at about 2 p.m.
To Rockefeller Center, We Go!
We found a parking garage right near Rockefeller Center and merged into the sea of people near Rockefeller Center Plaza.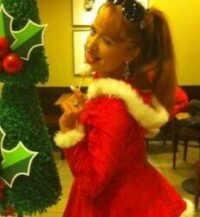 As bright as Times Square usually is during the rest of the year, this neighborhood seems to be twice as flashy and bright for the Christmas holiday season. Trees and bushes were trimmed with red and white LED lights everywhere you turn. Of course, the heart of Rockefeller Center featured the famous tree, angels, and Nutcracker-inspired soldiers who must have been 12 feet high.
I am like a very small child or a crow, as someone who loves shiny things (crows are known to love tin foil!). So I was in my element and in my glory!
We made our way through the crowds, looking for my mom's favorite coffee shop, Dean & Deluca. We were there on her birthday, December 3rd, and she wanted to stop there for a coffee or hot chocolate. I planned to ice skate while she relaxed with a hot beverage, and then we all planned to head to Carmine's Restaurant in the Theater District for a late lunch/early dinner.
We wandered all over looking for Dean & Deluca and finally asked a policeman for directions. As it turns out, the cafe had closed and been replaced by Bouchon Bakery.
The line inside the bakery was long, and the line to go ice skating in the famous Rockefeller Center rink was even longer. Way longer. It seemed that my plans to twirl about in my little Santa dress on the ice skating rink beneath the famous Christmas tree were being foiled.
A New Plan Emerges
Just as well, really, since I am hardly the world's best ice skater, and hadn't skated since I was a kid. I would probably have fallen on my butt and made my Santa red velvet and crinoline skirt all wet and icy.
This way I could still look cute and avoid looking foolish. Maybe it was for the best. We decided to skip ice skating and the cafe and head straight to Carmine's Broadway Feast instead.
Carmine's had been a long-time family favorite and was where my parents would eat when they came into town for Broadway shows periodically. One of our favorite comical family stories is about the first time that my dad ate there, in fact.
He was in the city at lunchtime alone and decided to try out this Italian restaurant in the Theater District. My dad sat at the bar, perused the menu, and decided to order a salad, veal saltimbocca with a side of ziti, and tiramisu for dessert. He thought the items were a little pricey but figured, well, this is New York City after all.
Little did he know that Carmine's is famous for its family-style serving sizes. Every dish is designed to serve 4 to 6 people. My dad was horrified. It looked like he was eating for a family of six. He ate what he could, boxed the rest, and gave the dessert away to a couple at the next table.
Off to Carmine's Next!
We made our way to Carmine's in mid-town which is located at 200 West 44th Street. It was about 3 p.m. at this point. There was, not surprisingly, a line. We were told we would likely have to wait 45 minutes to 1 hour to get seats at the bar. My mom mentioned that there was also a Carmine's located at the edge of Harlem on the Upper West Side at 2450 Broadway. We gave them a call and found that they were accepting people without reservations and the wait would likely be shorter.
We hopped in two cabs and were on our way.
Dinner at Carmin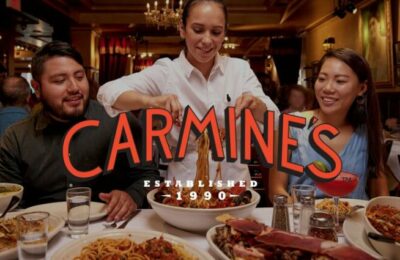 e's
Luckily at this location, we breezed in and were seated in five minutes (Readers take note: you may be able to save yourselves a long wait as well by going to the "original" Carmine's on Broadway vs. the Theater District as we did!). Everyone was ravenous so we ordered a big green salad and grilled portobello mushrooms immediately, and they brought baskets of bread and focaccia. Dinner was shrimp fra Diavolo, rigatoni and broccoli and veal saltimbocca, family-style, with a side of garlic broccoli.
As a vegetarian who mostly eats vegan at this point, I skipped the veal of course although I did indulge in a few shrimp (I'm a part-time pescatarian as well!) and sprinkled a bit of parmesan cheese over everything.
I really wanted to try the Pappy Van Winkle 20-year-old bourbon, but they were out, so I sipped on Bruichladdich, Islay scotch, which is aged in Italian wine casks. It is smoky. And to be sipped very slowly.
Enjoying Fine Dinner Conversation
My family is very close-knit and we love each other's company, so we talked and noshed, noshed, and talked, for a few hours. My mom and best friend from college, Georgia, sipped pinot noir, while I slowly drank my scotch. After a few hours of enjoying all the big platters of food, which we demolished, stopping just short of licking the plates, we ordered some cappuccinos and relaxed while sipping the foam. Our waiter brought us a complimentary shot of Sambuca, licorice-flavored liquor, to pour into our hot drinks.
We finally finished our relaxing holiday meal together at about 6:30 p.m. We decided to go for a walk along the edge of Central Park.
Central Park West!
We strolled along the edge of the park to burn off a few calories from that giant dinner, popped into an art gallery along the way, and after walking for 45 minutes or so I was tempted to dash into a gelato shop to buy my favorite flavor, Bacio, which is dark chocolate and hazelnut gelato, something I enjoyed every day while I was in Rome years ago.
My mom and siblings had to head out of the city by 8 p.m. and Georgia had to catch a flight to Moscow at 11 p.m. So we wandered back to the parking garage and my family took off. Georgia and I decided just to split the cost of a cab to JFK so we'd have more time to talk. We got her checked in on AirFrance and then headed upstairs to camp out next to the Christmas tree at the airport Starbucks. I sipped a peppermint mocha with soy and we chatted for another hour and a half until Georgia had to head through security.
My evening wasn't over yet… I was going to be staying with an old friend in Brooklyn that night, my friend Maria who had been my best friend when I was two years old and who was still like family to me. I hopped another cab to her Park Slope neighborhood.
Gingerbread Hot Toddy in Park Slope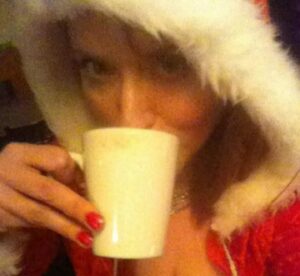 Maria was out to dinner with friends and I beat her to 5th Avenue, so to pass the time while she was traveling back, I popped into Comida, the bar and restaurant at the corner of 5th and Garfield.
I ordered a gingerbread hot toddy from the lovely and friendly bartender, Gwen, and sipped it slowly, while making friends with everyone at the bar. By the time Maria arrived 15 minutes later, I was Facebook friends with Gwen and the ladies sitting next to me at the bar.
Maria just laughed when she saw my Santa suit and took note of the fact that I was already friends with everyone there. "You're crazy!" she said.
Maybe, yes, and also okay with that! It was the perfect nightcap to end the perfect day.
4 Recommendations for the Best NYC Holiday
New York City is magical at Christmas time. My recommendations for a trip there include:
1. If you live close enough, make it a day trip, and otherwise find NYC-area friends to stay with. Booking a hotel room in NYC during the holiday season is not cheap.
2. Try Carmine's on the Upper West Side vs. waiting in line at the Theater District location. The food is just as good and the ambiance is lovely as well. The staff dim the overhead lights and turn up the Christmas trees after about 6 p.m. so head there at 6 or later if you want the most romantic ambiance.
3. Stroll around the city to enjoy the people watching, lights everywhere, craft fairs, and more. On the edge of Central Park, where we walked, there were craft vendors, and the museums in museum row were all lit up. The city is simply magical at Christmas time.
4. For the most holiday fun, I highly recommend dressing up, whether in a Santa Suit, life-sized dreidel costume, Kwanza costume, or angel suit! I got so many comments from people who appreciated the fun attire.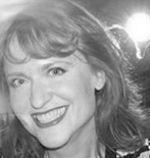 Lisa P. Graham is an inspirational writer, life coach, TED motivational speaker, and globe-trotter whose passion is to help others to find happiness and meaning in their daily lives. A political activist at heart, Lisa would like to empower more women to run for political office as a way to create positive change in the world. You can find her on her website or watch her TEDx speech on YouTube.
Note: Articles by Lisa may contain affiliate links and may be compensated if you make a purchase after clicking on an affiliate link.