Last updated on July 14th, 2022 at 10:12 pm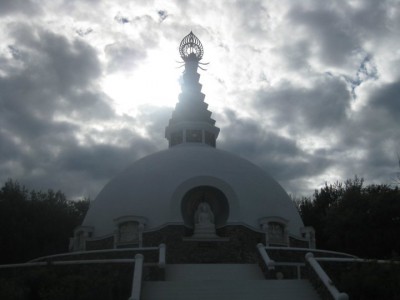 My friends and I had made the plan weeks ago to visit the Grafton Peace Pagoda, so despite the bitter cold with the temperature hovering just above zero degrees, and despite the fact that I had only 48 hours to unpack, repack and organize my life in-between trips to London and Hawaii, off we went to enjoy a Zen moment together.
I'd warned my friends that we'd be walking around outside in the snow since the beautiful gleaming white dome of the Pagoda topped by a gold stupa is outdoors.
There is no "indoor" section to the Pagoda.
You can walk around the exterior and read about the Buddha's life, depicted in embossed stone sculptures on the Pagoda walls. And you can stop and pray at the temple on-site, although it is not heated either.
The one warm section in the whole peace-loving complex is in the kitchen, near the sleeping loft where Buddhist nun Jun-San lives. There is a wood stove that heats the kitchen and keeps it and the sleeping area toasty in sub-zero temperatures.
A Cup of Tea?
I was just back from London, having flown into Hartford, Connecticut two days prior. I'd stayed at my parents' house in Longmeadow, MA for two days before returning to my home in Troy, New York.
For two weeks, in early January, I had been treated to the time-honored British tradition of afternoon tea, and here we were back in Grafton, New York, at tea-time, sipping herbal and black teas prepared on a small wood-stove by a diminutive Buddhist nun with a giant heart.
Instead of scones with clotted cream, we nibbled on Ritz crackers. We sat cross-legged on cushions around a low Japanese-style table, while Jun-San told us about the upcoming peace walk from New Jersey to Vermont, designed to call attention to the dangers of nuclear power, in the hopes of having more U.S. power plants shut down.
My friends were enchanted with Jun-San, who despite being pint-sized is a force of nature who can move small boulders by herself, as I have witnessed in the past.
She touched everyone's heart by performing a small but significant act of kindness: simply warming our boots by the woodstove while we were in the temple praying so that by the time we were ready to leave they were toasty, warming up our toes.
The Storm Inside
We'd braved the extreme cold to make the trip to the Pagoda, and I'd left behind a house that looked like it'd been hit by a hurricane. Despite my best intentions to head to Hawaii with an immaculate house, there were clothes strewn about my living room and dining room.
I'd had to unpack several bags from the London trip, bags which were full of boots and jeans and sweaters and New Year's Eve and clubbing outfits, hats and gloves and wool tights and scarves. I'd separated things out: this for the wash, this to be hung up in the bedroom closet, this to be put in the hat and scarves bin. I'd hung up most of the fancy dress clothes and done a load of laundry, and there still seemed to be clothes everywhere.
I also had Hawaii clothes spread out over the dining room table. These of course were the clothes one wears in Paradise, so basically bikinis, flip-flops, cute little summer dresses, and tank tops.
I'd been really determined to let my inner Martha Stewart out and to beautify my house again before I left, but body and soul were cravings for some down-time, some relaxation, some rest, after a long day of flying on Wednesday and two long days of work on Thursday and Friday. Saturday was supposed to be the day I conquered my house.
Movies with the BFF
Instead, I did some errands and played on Facebook, and rested. I just couldn't seem to bring myself to clean the house. My soul seemed to have decided that it was more important to refresh and rejuvenate than to win a Good Housekeeping Award for the prettiest empty apartment when I am, once again, gone for three weeks, in Hawaii this time.
My best friend once again reminded me why she is the world's best friend by inviting me over for homemade veggie pizza, on a flax crust with pesto sauce, and by insisting that I stay afterward to cuddle on the couch and watch the '80s classic movie, "Better Off Dead," rather than cleaning my house at 9 p.m. on a Saturday night.
Smart best friend.
Living the Travel Dream
I love living the travel dream, jetting from London to Connecticut, heading back to New York for a few days, and then flying to San Francisco and Hawaii, all within one week!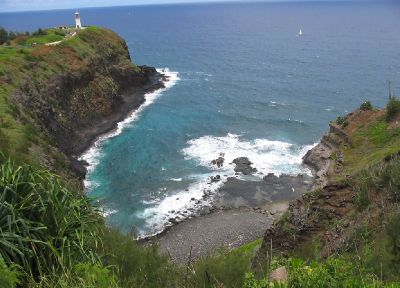 I definitely have a gypsy soul, and often feel like my home is "on the road," so I'm content packing and repacking bags and flying for hours at a time.
That doesn't mean I don't like to relax and regroup at my own home, however, or to get reacquainted with my family and best friend after being away for weeks at a time.
I am discovering that even as I live the travel dream, it's important to make sure I allow time for myself to just relax at home, and to spend time with people I love.
I love my life, so I'm not complaining, and yet I get exhausted sometimes jetting from place to place without breaks in-between.
I know, I know, what problems to have, right?
Poor me – only two days back home between trips to London and Hawaii. I don't really expect a sympathy vote.
But I am happy that I am learning my own needs and patterns, as I go so that as I plan and live out more travel dreams in the future, I can be sure I am honoring my soul's need to plant my feet in one place for a period of time, and to allow time to take a breath, relax, regroup, just be.
Living The Rest of My Dreams
The fact is, as most veteran travelers know, jetting from place to place can be disruptive to our usual routines, whether we're talking about sleep and flying across several time zones, or whether we're talking about exercise routines, diet, or working habits.
The London diet, for example, seemed to consist mainly of fish and chips, bread and cheese, tea and scones with clotted cream, beer and ales, and sticky toffee pudding – in other words, oodles of carbs and oodles of sweets. I wouldn't say that it was the ideal pre-Hawaii diet since I'm about to hang out in a bikini for three weeks.
Luckily I can regroup in Hawaii, living on tropical fruit and green smoothies, take lots of yoga classes with my sister, and spend time chasing my three-year-old niece around the beaches, so I should be able to work off that extra London padding from bread-and-fried-things pretty quickly.
The truth of the matter is, for me at least, I perform at my highest levels when I'm feeling healthiest, rested and relaxed, eating healthy, and exercising. I look forward to getting back into healthier routines in Hawaii, and to working on some of the rest of my dreams while I'm there.
Finishing the Book
For example, this year will be the year that I finally finish the book that I started writing two years ago. I am working on growing my life coaching business and will complete my coaching certification with a life coach and best-selling author Martha Beck, who is also a producer of Oprah's Live Your Best Life show, later this spring.
I want to be in my best shape and health, yet, which for me means lots of exercises, including plenty of yoga which is good for body and soul, and eating a mainly vegan diet. I plan to drink loads of green smoothies and eat more "superfoods."
Hawaii will be good practice for me in terms of maintaining healthy exercise and diet routines, working on my book, and still enjoying my time in "Paradise."
I am always determined to make the most of my travels and want to explore the world, wherever I am, so I obviously don't plan to spend all my time in Hawaii at the gym, yoga studio, or on the computer. I'll be out and about, hiking and on the beaches, plenty.
But as the gypsy soul, I am, as someone who plans to keep globe-trotting for decades to come, I need to maintain a modicum of discipline wherever I am to make sure that my travel dreams don't interfere with my other life dreams coming true as well.
The Challenges We Face
I wouldn't trade my life or my "problems" as it were with anyone else's, because I love the life I have created for myself. Yet in my life, as in any life, I have to find ways to "stay the course" to live my dreams, despite whatever external challenges or changes I may face.
In my globe-trotting life, this means finding ways to grow my business and finish my book, keep up my healthy routines, and keep in touch with family and friends from wherever I am based. I love having "location-independent"  work, so again, am not complaining.
I simply am reminding myself that making my dreams a reality is going to take time, effort, focus, and some plain ol' hard work. Even in "Paradise," I am going to have to set time aside for my book, my business, and for fitness.
My Challenges to Myself
I am challenging myself to get some exercise every day, whether it's yoga class, chasing my niece, or taking a walk on the beach.
I am challenging myself to do some writing at least five days a week so that I'm making progress on my book and of course sharing travel adventures here on 8womendream while in Hawaii!
And I'm challenging myself to launch some new coaching offerings for 2012 in the next few weeks, so I can expand the circles of people whose lives I touch, as I help others make their dreams come true.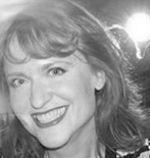 Lisa P. Graham is an inspirational writer, life coach, TED motivational speaker, and globe-trotter whose passion is to help others to find happiness and meaning in their daily lives. A political activist at heart, Lisa would like to empower more women to run for political office as a way to create positive change in the world. You can find her on her website or watch her TEDx speech on YouTube.
Note: Articles by Lisa may contain affiliate links and may be compensated if you make a purchase after clicking on an affiliate link.