Last updated on July 14th, 2022 at 04:42 pm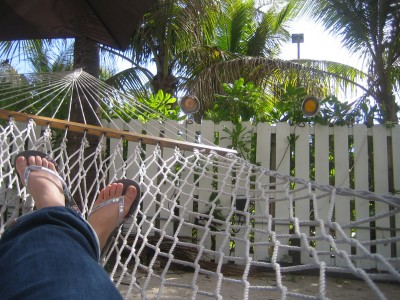 Dreaming big dreams isn't easy, my friends. (Don't let the breezy palm tree picture fool you). Just ask anyone going for it.
They'll tell you. Dreaming sucks–sometimes. It's not all pool-side hammocks and wishing upon stars on a white-sand beach. Dreaming, and for me, travel dreaming requires work.
It requires (brutal) honesty. You have to be clear with yourself if you are really doing something that you are passionate about–or if you are dreaming the dreams others expect you to do.
You have to look at yourself in the proverbial mirror and ask those lame questions, everyone, dreads in a job interview:
"What are your greatest strengths? Your biggest weaknesses?"
"What can you be the best in the world at doing?"
And finally, "Do you really want this?" (This one usually comes after the job interview is over and the analysis kicks in.)
Part of dreaming is like going to this nerve-wracking job interview with yourself over and over again. "OK, self, what skills can you bring to this dream? Why are you the best person for this dream?" This is all, of course, if you really want to live out your dream–and why not? We all deserve to live our dreams. Just make sure it's the right dream for you.
That's what I have learned by working on my travel dream over the past year: I have to be honest about what dream is the best fit for me.
What dream is going to keep me up all night, make me lose track of time when I'm involved in it, and not feel like it's hard work? That's what I have to find. And with the help of Catherine Hughes, I found it. I finally found a dream to pursue–hooray! It sounds cheesy, but I am being honest with you. I struggled with dreaming this past year.
I am finally OK admitting this because I think more women need to hear it.
It's OK to mess up.
It's OK to get off track.
It's OK to not have a clear direction.
We all tend to over-promise from time to time. Our digital lives make it really easy for us to post glamorous photos of lives we all might not lead. Have you ever seen someone not looking their best in a social media image? Exactly. We always see the smiling sunset shots of people on tropical islands, but we never see their rainy days.) If we don't talk about the rainy days, then we are not being honest with you and with ourselves.
I promise I won't lead you, or this post, into a Seattle fog, but I wanted to be upfront with my travel dream journey. So if you are up for it, we can live this travel dream together.
Katie Eigel
Katie Eigel is a world traveler and self-proclaimed Wine-Geek-In-Training who spends her days writing for various wine and travel publications.

Enjoy this special 8WomenDream Guest Contributor story submitted by new and experienced big dreamers throughout the world, edited and published to capture a dream perspective from different points of view. Do you have a personal dream story to share with 8WomenDream readers? Click here to learn how to submit dream big articles for consideration.
Note: Articles by Guest Post Contributors may contain affiliate links and may be compensated if you make a purchase after clicking on an affiliate link.