Last updated on January 23rd, 2019 at 10:36 am

I have a confession.
I've never been into weddings. I wasn't even into MY wedding. I hated the expectations of doing things just because that's what others do. (I've been a rebel for as long as I can remember.) Even with my photography dream, I refused to do things if the reasoning was "because that's the way it's always been". But sometimes your dream process makes you eat your words.
I've said, "No weddings!" pretty much my entire career.
Not because I'm a love Grinch. (Well. Maybe I'm kinda of a wedding Grinch.) Partly because of the reality show Bridezillas. Have you seen those? But mostly because it was an enormous responsibility. There are no second takes, no re-shoots. If you miss a moment in one of the most memorable days of a couple's life, it's gone. And when I do things, I want to do them well.
The other big factor was my health and managing the Lyme disease.
I try not to let my health dictate my career. But a year or two or three ago, I couldn't have even dreamed of having a body strong enough to handle a wedding.
A couple years ago my friend and wedding photography mentor Hope Duffy invited me to second shoot an amazing wedding she had booked.
She is SO good at her craft and at creating images from the dreams the couples have. It was nothing short of awesome. The couple and their family were warm and welcoming. The location was stunning and Hope knows how to manage it all while keeping everyone laughing. She was so amazing to be mentored by. She was inspiring and a little intimidating. I enjoyed the whole process but it took about a month for my body to recover.
Enter Erica, a beautiful inside and out friend from high school in Germany.
She's one of the people who helped me get through the divorce with my sanity intact. She and Rob have an incredible love story. We're talking story book, feature film, make-you-sigh-inside "love story".
When they got engaged and she asked me about wedding photography, I knew I wanted to do this for them.
They're very sophisticated but also down to earth and laid back. Her sense of style is classic and I knew that the dress and details would be stunning. And the fact that they're both ridiculously photogenic doesn't hurt.
I flew down to Florida for their big day and reconnected with friends from high school. It was loaded with fun.
I really wasn't sure if my body could handle it… My backpack that day weighed around 25 pounds. But everyone was supportive and kind and helped wherever they could.
So the girl that said "no weddings" might be eating her words.
My downtime was just a few days. I loved being there. I loved helping with things outside my job description. I loved playing with the kids and helping them open up so the photos would show their true selves. I loved thinking outside the box. I loved being challenged in ways I never am in the studio. I loved editing the photos! I loved delivering them. I loved making the video and finding the best way to tie music and words together to emulate the feelings of being there that special day.
Here is their wedding video.
Here are a few photos: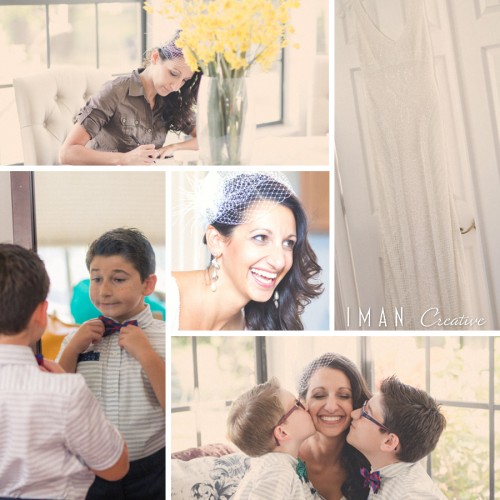 Erica and Rob's beautiful wedding cured me of my wedding Grinchiness. Excuse me while I chomp on my words for awhile.
Iman Woods
Heal through Photography.
[fbcomments]

Iman Woods is an American artist who specializes in pin-up photography. Through a unique and therapeutic process, she's spent over a decade in perfecting, Iman helps women undo the damage from a negative self-image and unrealistic beauty industry expectations. She helps women embrace their own style of beauty and see themselves in a new light. You can find her on her website, ImanWoods[dot]com.
Note: Articles by Iman may contain affiliate links and may be compensated if you make a purchase after clicking on an affiliate link.