Last updated on January 22nd, 2019 at 02:56 pm

I can't even remember where I got it. But that old folding chair with the wood slats and great, simple lines sat on my back porch year after year.
The light-colored wood was unfinished and rough. It had years of water stains and the scars of a blemished past from head to toe. Each spring, I would put a pot with flowers on the seat, but the porch was too hot in the summer and the pot had to be moved, so it went back to a chair with no purpose.
My little porch was too small and too hot to enjoy most of the year. When I first got the chair (can't remember where), I had a plan. I was going to paint it. But two things were working against me; my father's voice and my own procrastination.
I was raised by parents of the depression. They worked hard for everything they had.
My parents took care of the things they acquired and that included, as the times dictated – a lot of pieces of furniture that were made of solid wood. They took pride in their wooden pieces, polishing them, and not allowing food or drink to touch their surfaces.
Needless to say, I was raised to believe that painting such objects was very close to sinful. So, that chair, the one I had plans for, just sat on my back porch.
I like to buy items of possibility. Maybe they're slightly broken. Maybe they have good bones but need the surface cleaned or shined.
Or maybe I've thought of a way to re-purpose the piece. It fits right in with the current wave of shabby chic decor.
But there's a problem:
Try as I might, I almost never follow through on what I intend. I'm sure there's a psychological reason for this, but darned if I know what it is. Sometimes I even purchase everything I need to re-do the piece; the stain, fabric, sandpaper, tools.
And then it sits.
It gradually gets pushed to the back, tucked in a closet, stuck in a corner. Or put on the back porch. Every time I come across that object, there's a niggling feeling of failure. And yet, that doesn't push me to do something about it.
And so sit my projects, a constant reminder that I am incapable of taking even the smallest steps toward change.
Then . . .
Several months ago, and after many years of marriage, I was finally moving out. My Soon-To-Be-Ex (STBX) had moved out already, and now it was my turn. We'd lived in our home for more than 20-years.
I'd spent weeks packing up everything from paperclips and jewelry, to blankets and furniture.
The process made me realize something I hadn't before: I was really alone in this.
I have friends, and I have family. But packing things up, knowing what will move with me and what will go to Goodwill or the trash, wasn't something I could delegate. I was exhausted, but I had to keep moving.
It was the night before my rented moving truck would be coming. I'd put out a distress call to all of my son's friends – the ones who own a weight lifting studio, and they were set to arrive at 8am to help me pack up and move all of my possessions to my new house. I'd walked past that dingy chair dozens of times, and now I was packing up cans of spray paint, and sandpaper.
Spray paint, I thought.
This time I didn't just glance at the chair as I passed it. I actually stopped and looked at it.
The sun was going down – it was nearly dark. But something propelled me forward. I grabbed the can of turquoise paint with one hand and the chair in the other. My weary body was suddenly energized. I didn't think. I gave the wood a quick sanding.
And then, I just started spraying.
It got darker and darker as I sprayed one coat after the other, taking it up to the porch under the light to see if I'd missed any spots. Then I'd go back down to the grass, where the grass was slightly blue now, to put on another coat. Five coats later, it was dark. I pulled the chair up to the porch for the last time, so it wouldn't get hit by the sprinklers in the morning.
Pleased with myself, I went back to packing boxes and carrying them to the carport for the morning crew. Every time I peeked out at the chair, it made me smile.
I went to bed dead-tired that night. It was the last night in my married home.
Early the next morning, the guys got to work. They packed the U-haul from side to side, and front to back. It was jammed (carefully) with everything I owned. I didn't want to make multiple trips. I wanted it to be done – finally. The truck heavy with my life's belongings, I went through the house one last time to be sure I hadn't forgotten anything. On the back porch was my now-turquoise chair, again making me smile.
"Aw . . .I'm sorry. I almost forgot you," I said.
Yes, I was talking to the chair.
I packed it up. When I arrived at my new house, I symbolically took my chair out and set it by the back door, where it has remained. My daughter noticed it first, asking me when I painted it.
"Last night," I said.
She just laughed.
Spring turned into summer and summer into fall. As I write this, it is mid-winter and spring is trying to push through the frozen ground.
As I venture into this new life, I am reminded that I can take small steps. I can get things done. That chair, small as it is, is a daily reminder of that. It's a baby step. And it represents something else too–color. Somehow over the years, for a couple of reasons I understand and many that I don't–the life I built around me had become very bland.
My living room at the old house was almost completely brown. Brown sofa, dark woods, tan carpet and so forth. It's time to bring color back into my life. My little chair was as good a place as any–to begin.
Sometimes it's the journey that teaches you a lot about your destination. –Drake
I've been in my new house for eight months. Doing everything that needs to be done is overwhelming some times, exhausting other times, and rewarding all the time. Starting over at midlife alone is something I never thought I'd be doing.
But I'm doing it.
I may feel completely incompetent most of the time, but at the end of the day, I am doing it; one day at a time.
In the weeks to come, follow me on this unknown, scary, and exciting journey – starting over at 50.
Next week: A photo tour of my 105-year old house, and I begin to seek an answer to the question; Where do I begin?
Karen Fisher-Alaniz
Hitting the Reset Button at Midlife
[fbcomments]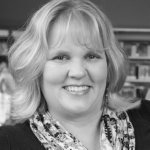 Karen Alaniz is a writer, published author, and a home renovation expert now that she's remodeled an old farmhouse by herself. She strives to help women who are scared it may be too late to start over after a certain age and she encourages empty-nest women to invent a new, prosperous and full life–just like she has done. You can read more about Karen on her Amazon Author page.
Note: Articles by Karen may contain affiliate links and may be compensated if you make a purchase after clicking on an affiliate link.